THA 011: Your Website – Tactics To Improve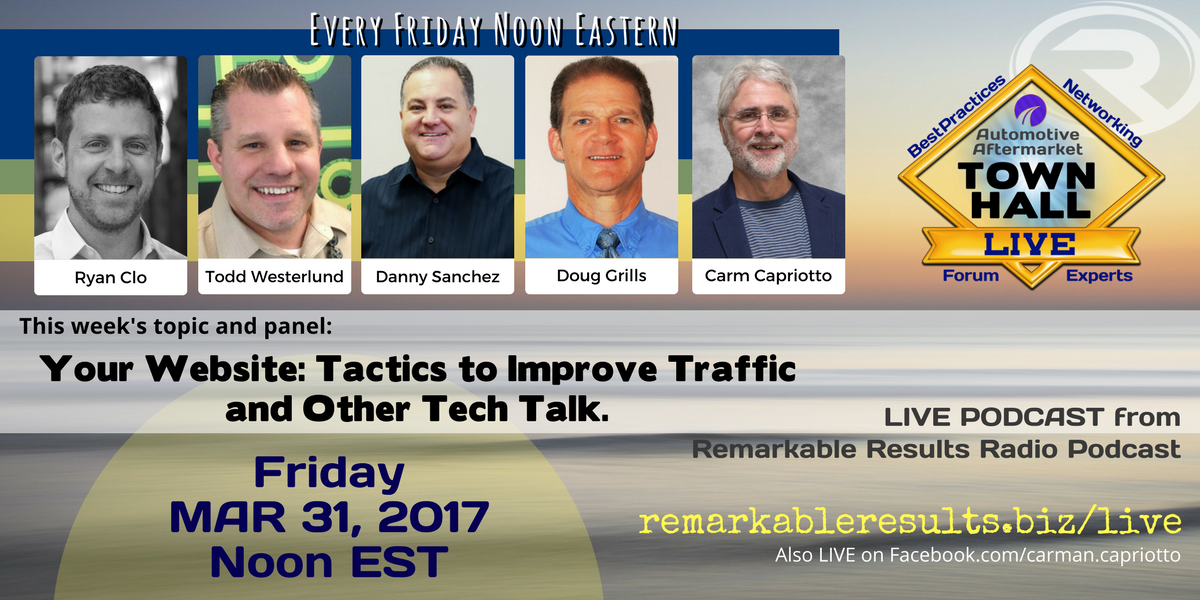 >
Learn from your industry peers in a round-table forum. Get new ideas, perspectives, trends, insights, best-practices and expertise from aftermarket professionals.
Watch like a DOCUMENTARY … Learn like a SEMINAR.
Helping automotive aftermarket professionals improve; one lesson at a time.
Academy Panel (Alphabetical Order):
Ryan Clo
Ryan Clo owner of Dubwerx in Cincinnati, OH is an eighteen-year veteran in the Automotive Service industry. He currently owns two specialized Automotive Service businesses located in Cincinnati, OH. Ryan grew his enterprise from a single customer into a multiple highly profitable business with 12 employees, 99% customer satisfaction, and he has automated his business so that his presence is not required.
Ryan currently consults for the Institute of Automotive Business Excellence providing guidance to automotive businesses including on-site evaluations, off-site coaching, business plan development, and one-on-one coaching with owners and staff. He is known at The Institute as the "Systems and Processes guy." Ryan teaches several business management classes for the automotive industry.
For full disclosure Ryan is a client of our guest Todd Westerlund from Kukui.
Doug Grills
Doug Grills from AutoStream Car Care Center is a chain of FIVE family-owned, automotive service facilities that deliver honest and professional automotive repair and maintenance services to customers in the Greater Baltimore/Washington/Washington, DC area. Doug along with his partner Rick Levitan have been around the service station business for over 25 years and have built their reputation by offering best-in-class service to their customers.
All AutoStrem Car Care technicians are ASE Certified and the shops are AAA approved.
For full disclosure Doug is a client of Danny Sanchez from Autoshop Solutions.
Danny Sanchez
Danny Sanchez owner and founder, of Autoshop Solutions.  Danny Sanchez, grew up spending countless hours working around his dad's auto repair shop in California, eventually taking over and running the business himself. Autoshop Solutions started in 1998, when Danny founded Auto Web Solutions. The Internet was starting to take off, and Danny took great interest in the powerful marketing benefits it could provide. As a successful shop owner himself, Danny used Auto Web Solutions to consult with other repair shops on their business and web presence.
In 2005, when Google launched AdWords and changed its search engine to favor local businesses, Danny saw a huge opportunity for the automotive industry to draw more clients from the Internet. With just a handful of clients and a few websites, Danny built the foundation of his company – quality, affordable, automotive websites and Internet marketing solutions, designed exclusively for the auto industry.
Todd Westerlund
Todd Westerlund, CEO of Kukui has been in the automotive industry for 28 years. Todd spent 15 years as an ASE Certified Smog Technician California and also spent two years at a dealership. In 2013, Todd joined Kukui, a marketing software company with a mission to improve technology for the betterment of people and businesses worldwide.
As the CEO of Kukui, Todd is consistently studying, attending business classes and consulting with shops all over the United States. Some of his duties include: keeping industry leaders informed about new technology, setting Kukui's growth strategy including event planning, and planning industry sponsorships and partnerships.
Talking Points:
SEO
Mobile Friendly – Mobile First
Is your site working to convert customers?
Google is really your partner.
Generating 5 star reviews is very important to get good rankings in Google.

You must create an exceptional experience first.
Asking for review gets easier.

Review marketing.
Google Analytics
Long Tail Keywords vs Short Tail Keyword