THA 012: What Keeps You Up at Night?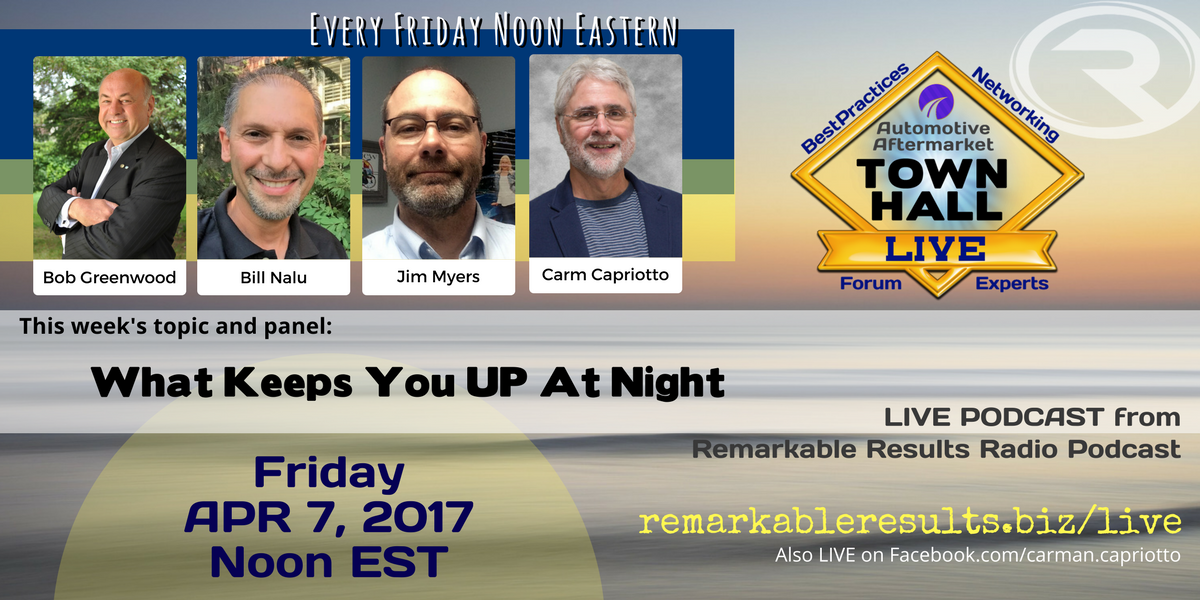 >
Learn from your industry peers in a round-table forum. Get new ideas, perspectives, trends, insights, best-practices and expertise from aftermarket professionals.
Watch like a DOCUMENTARY … Learn like a SEMINAR.
Helping automotive aftermarket professionals improve; one lesson at a time.
Academy Panel:
Bob Greenwood, AAM, is President and CEO of Automotive Aftermarket E-Learning Centre Ltd has over 40 years' experience working with Independent shops developing their business to maximize business net income.
Bob writes management articles for ASA's magazine Auto Inc as well has developed live business management classes for ASA , writes monthly management articles for Motor Age magazine in the USA and  writes semi-monthly shop management articles for CARS Magazine.
Nov 2012 Bob was one of 37 Canadians out of 400,000 people in the Canadian Automotive Industry awarded the Queen Elizabeth 2nd Diamond Jubilee Medal by the Governor General of Canada for significant contribution and achievements to Canada.  (Listen to Bob in EPISODE 49, 200 and Town Hall: Preparing Your Business for Sale or Succession)
Bill Nalu is President of Interstate Auto Care in Madison Heights, Michigan and has been in business for 30 years.
He collaborates with industry professionals, in building today's "high-tech/old-fashioned" customer service system.
He currently serves on several industry and educational advisory councils including AutoValue/Bumper to Bumper, Dorman Industries and Cardone.—-
(Listen to Bill in these episodes: 39, 69, 100, 118,  200, THA: Resolutions and How to Manage a Negative On Line Review)
Jim Myers from Eau Claire Auto Parts serving the Chippewa Valley, WI. for 25 years. Jim owns 4 Auto Value part stores, a machine shop and a hydraulic repair center. He fields sales reps and the service professional is the main focus of his business. He started stocking shelves, was a service writer at a dealership, then worked for Gates Rubber as a district rep and then on to BIG A Auto parts in a sales position.
With loans from friends and family he started Eau Claire Auto parts and never looked back.  (118)
Talking points:
Why are we letting our brain trust leave the industry without replacements.
Amazon is a learning machine. It is so easy to order a part from Amazon without thinking of the value of a relationship and follow through service.
The internet of things cannot be ignored.
Business Model Transformation (BMT)
In the future, the government will consider that an Autonomous car will be considered a driver.
Gasoline was the original commodity. We move from Commodity to Camaraderie with Gasoline and we will need to do it with the advent of ecommerce. How do we reach out to the world?
Shops that are going out of business did not want to embrace change.
You'll need to re-invent your business model every three years if not you will die.
Should a business be valued on its ability to forge into the future?
What other special services will you need to survive and become a specialist?
There needs to more looking into future than in the past. Prove it out mathematically. ROI. You cannot live in the rear-view mirror.
As the CEO of the business you must develop your company and set the vision. No working in the business only working on it. (The world is moving too fast)
You must relearn the business gain. If not, you must get out because you are effecting the lives of the people who work for you.
Let's talk about the Why along with the How Much!
It may be time to let the young generation take over, but they must learn that relationships are very important in business.
Parts distributors have an important role and has the same challenges that the service professional and must find their next transformation.
Your value add package can keep you up at night.
Run toward the new opportunities. Talk about it.
Find new fleet business. Do the math.
Do we miss the opportunity? If we don't embrace it someone else will pick it up. It is only missed by you if you ignore.
The phone is the most important tool you have in your shop. Move your customer from how much to the why how much.
We must always know what is going on and to position the company for rapid change.
You do not want to go through a 2AM wake-up alone. Many successful entrepreneurs have a business coach, belong to associations, have a mentor and trusted advisers.
A lively debate on supporting the local supplier.
Be socially involved and in touch with the show:
Facebook   Twitter   Linked In   Email