THA 016: Lean Processes – Relentlessly Work On Eliminating Waste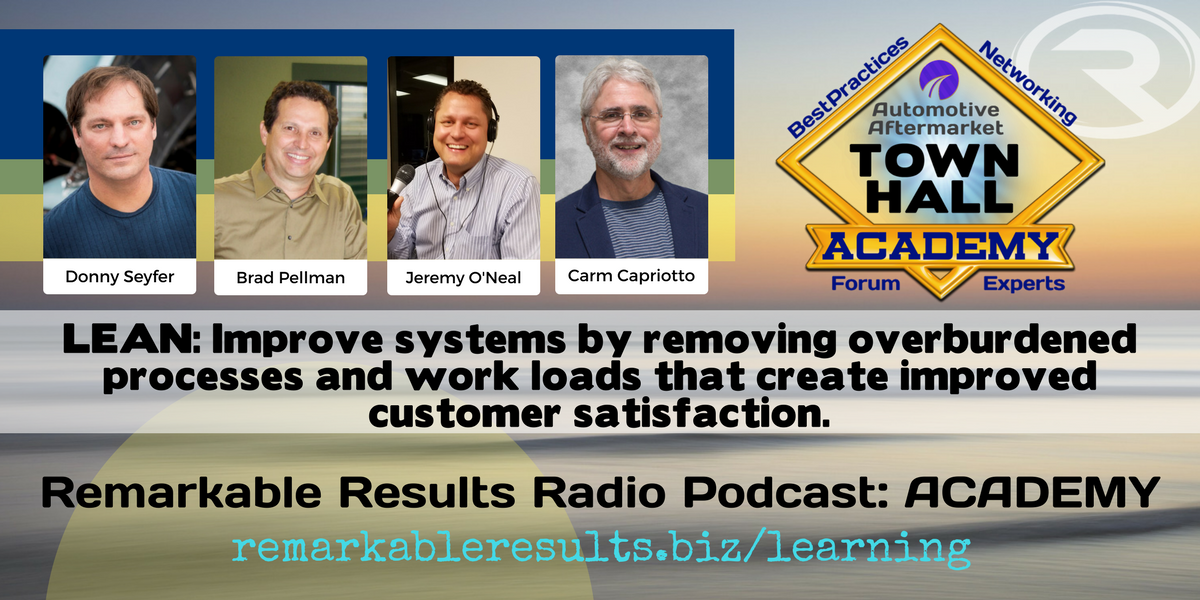 >
Learn from your industry peers in a round-table forum. Get new ideas, perspectives, trends, insights, best-practices and expertise from aftermarket professionals.
Watch like a DOCUMENTARY … Learn like a SEMINAR.
Helping automotive aftermarket professionals improve; one lesson at a time.
Academy Panel:
Donny Seyfer is a second-generation repair shop owner and ASE Master Technician. An active industry educator Donny is past chairman of the Automotive Service Association  and works nationally to help repair shops with IT and service information utilization.
Donny is also a member of the board of trustees of NATEF and a trustee of AMi. Hear Donny is episode 30 (ASA), 33 and on ASA Connected Cars Detroit.
Brad  Pellman first started working in the automotive industry at the age of 15 and over his career has held a wide variety of jobs at both dealerships and independent repair shops. In 1995 this dream of owning his own shop became a reality when he opened up Pellman's Automotive in Boulder, CO with his wife, Lisa.
Brad is ASE master certified and AAM designated as well.  He is currently on the Board of Directors for ASE and ASA Colorado, with past board involvement with CCPN and the TECHNET Automotive Council. He has had the added privilege of being designated as one of the Motor Age Top shops in the country. And hopes to continue to raise the awareness and importance of Independent automotive repair across the country.
He is implementing LEAN at this shop.
Jeremy O'Neal is President and lead sales trainer for Advisorfix, began his career as a Service Adviser and quickly moved into Service Management at the dealership level for VW, Audi, and Porsche. His strong customer satisfaction scores and ability to increase sales consistently placed him in the top 3% of Service Advisers across the nation.
Jeremy also owns an independent auto repair shop. With a passion for helping others Jeremy started coaching Service Advisers in 2007. Since that time Jeremy has logged more than 16,112 hours of high performance coaching sessions with his clients.  Listen to Jeremy in Episode 124, Round-table in episode 178,  the Service Professional Round Table, the Digital Sales Process, and on the 200th retrospective and and Academy session on Concierge Service.
 Talking Points:
Application of LEAN is not exactly like manufacturing. In the repair shop you DO 5s. Many LEAN coaches don't like to make 5S an event but in our environment, it is the only way I have seen to get 5S rolling in the shop. Minimize tech activity outside of their work bay.
Organize parking based on status of repair.
Benefits of hiring alternative staff for cleaning needs throughout the shop.
Organize and enforce placement of equipment throughout the shop space.
Correct technician matched to every job when possible, play to their strengths.
Lean Behavior is a skill that can be trained.
Story of an oil filter that cost a shop $48.00 to get from the parts room.
Lean Leadership from the bottom up, even your shuttle driver needs to understand Lean and create the right behavior.
Lean production.com Website
Be socially involved and in touch with the show:
Facebook   Twitter   Linked In   Email