THA 015: How to Improve Employee Loyalty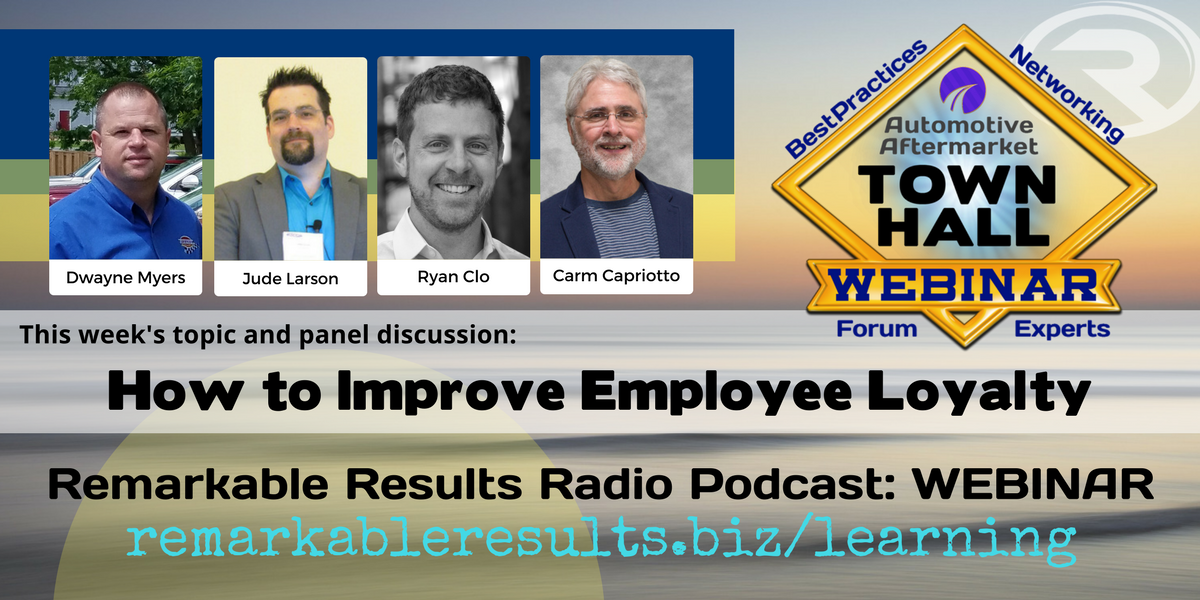 >
Learn from your industry peers in a round-table forum. Get new ideas, perspectives, trends, insights, best-practices and expertise from aftermarket professionals.
Watch like a DOCUMENTARY … Learn like a SEMINAR.
Helping automotive aftermarket professionals improve; one lesson at a time.
Academy Panel:
Dwayne Myers With Dynamic Automotive, This MSO group was selected top 10 automotive shop in 2014 from Motor Age and has just opened their 4th shop. Dwayne invests time in the industry with the Auto Care Association and serving on the education committee with CCPN (Car Care Professional Network). Dwayne was recently honored as one of only 17 outstanding individuals that qualified for the prestigious 2017 World Class Technician Award presented by The Auto Care Association and  ASE.
Dwayne was on episode 2, 3 and 4 with his partners Jose Bueso and Lee Forman and A Round Table on Technician Training in Episode 59, and on a Supplier Needs Roundtable (118). Listen to episode 222 with Dwyane as we talk about his 2017 World Class Technician honor and more.
Ryan Clo
Ryan Clo owner of Dubwerx in Cincinnati, OH is an eighteen-year veteran in the Automotive Service industry. He is a multi shop owner. Ryan grew his enterprise from a single customer into a multiple highly profitable business with 12 employees, 99% customer satisfaction, and he has automated his business that gives him time to consult.
Ryan consults for the Institute of Automotive Business Excellence providing guidance to automotive businesses including on-site evaluations, off-site coaching, business plan development, and one-on-one coaching with owners and staff. He is known at The Institute as the "Systems and Processes guy." Ryan teaches several business management classes for the automotive industry.  Listen to Ryan also in E092 and Town Hall on Websites)
Jude Larson
Jude Larson is the president, owner and lead consultant for JML Real Solutions. He is a frequent speaker and trainer at industry events. Jude has vast business experience including being a highly successful service advisor, the owner and operator of a hybrid on-line and print marketing company, a top performer in the financial industry, and a record setting career in retail management. Jude uses his rich experience and business success as he consults, trains and coaches results focused solutions with clients. He recently became a shop owner. Listen to Jude in episode 170.
Talking Points:
People want to work for a progressive company (New and changing)
Do you know your Why? Share your purpose.

Do your people know.
Why are you here and in business?
Share your vision with your people.

Share your numbers.

A clear idea where you are at and the expectations.

Working hard does not mean making money. Working smart does.
The more you develop your people the better for the business.

They will care about the customers more.
When you empower your group, you would be amazed where they can take you.

The work-space is critical.

Well lit, windows.
Front of house needs updates.
People want to work at forward thinking shop.
Artwork on the wall vs. advertisements.
Are uniforms nice or plan?
Environment

Kitchen, training area, lockers, games

Company culture

All that you do contributes to the whole environment.

The power of gratitude.

Take care of your team is as important as taking care of your customers maybe even more important.
Take care of your people they will take care of your customer.

There has been backward thinking that the customer comes first.

Don't leapfrog over your employees, make them first. They will make the customer first.
Focus on the employee they will focus on the customer.

A rookie is nothing less than part of the team.
When change happens, you may lose people. That may not be a bad thing.
Shop meetings can be an important time to engage and empower your team.

Focus on appreciation and give everyone a voice.

Mistakes are an opportunity to learn.

Performance plus commission pay programs work.

Good pay and bonus plans must be easy to understand and realistic.
You need to pay good money for good talent.

There are also import things you can do for your team such as training and venues like Vision, Automechanika and AAPEX. Take your team out for a great dinner while at these venues.
Mentoring is important for employee loyalty.

We all need help.
Some are more receptive than others.
Check your ego at the door.

Create a learning environment with a book club. The learning extends to home life.
Be socially involved and in touch with the show:
Facebook   Twitter   Linked In   Email