THA 014: Customer Retention Strategies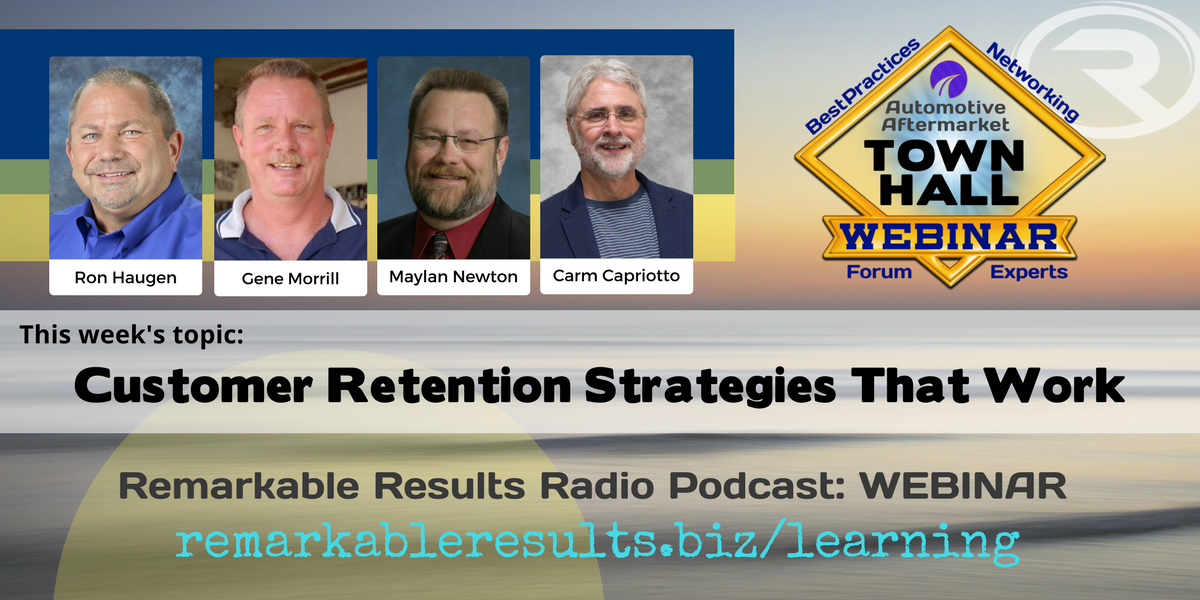 >
Learn from your industry peers in a round-table forum. Get new ideas, perspectives, trends, insights, best-practices and expertise from aftermarket professionals.
Watch like a DOCUMENTARY … Learn like a SEMINAR.
Helping automotive aftermarket professionals improve; one lesson at a time.
Academy Panel:
Gene Morrill opened Certified Automotive in Glendora, CA in 1978 and has accomplished something that has never been done before. He won Motor Age's top shop 5 out of seven years. (2008, 2009, 2011, 2012, 2013)
We interviewed in episode 6 & 7. What I love about Gene is his commitment to the customer and in his interviews, you will learn a lot about Gene's remarkable results and how he has worked hard to get where he is. He was also on a round-table on The Value of a Business Coach.
Recently Gene has become a business development coach with Elite Worldwide.
Ron Haugen owns Westside Auto Pros in Des Moines Iowa. Celebrating their 20th year in business in 2017 Ron has a staff of 25. Ron is an ASE Master Technician, has his AAM certification and is an AMI Certified instructor. Ron also provides coaching and consulting for auto shops across the country.
Ron is Co-Chair of Vision, Hi-Tech Training and Expo,  President of the Des Moines ASA chapter and wants to be in Puerto Morelos Mexico whenever he is not in Des Moines!  You can hear Ron is episode 107 and on Town Hall Webinar on 'The Great Qualities of a Service Writer' and the very powerful webinar on 'Business Succession: Selling your business". Ron was also on a Vision KC round table.
Maylan Newton from ESI – Educational Seminars is a business coach, trainer and industry speaker.  Maylan is no stranger to the podcast having paid it forward on two episodes … 108 and 140.
Maylan is no stranger to the power of the customer as he speaks and trains on Professional Business Development, Service Writers School of America and In Shop Training and Support.  He is an approved AMI Trainer.
He is a much sought our speaker at industry events in the US  and Maylan will speak at this year's  Automechanika among others.
Talking Points:
You need to know your customer profile. Have an avatar of your 'perfect' customer.

When they walk in the door you'll know 'this person needs to be my customer'.
If you have the perfect customer you will do everything to keep them.

Social media is important to talk to your customer.

Become top of mind awareness in the palm of their hand.
Social is social not sales media
Create organic content

You go to Disney for the experience not for the price

Make your customer feel special
Focus on the people not the cars

Is Loyalty a factor?

Not as it used to be
You can build loyalty one transaction at a time.
Older generations are more loyal than younger.

Younger generations are not build that way.
They will go to another shop and they do not see it as not being loyal. It may be convenience.

We need to treat millennials differently (special)

They have money to spend
Loyalty is different

Communicating differently (texting)

Explain what your benefits are and be sure the customer understands the value they have received.
Adapt to current communication styles of your customers
Walk them out to the car, be sure it is clean and give a comprehensive explanation of what you did and what is next and what may happen next.
What we want is not what they want. Keep an open mind.
Gene Morrill uses a mailed newsletter to his customers.

Includes call to actions with puzzles.

Keep important notes on every customer so you can keep a fluent dialogue and maintain a close connection to them.
Keep your name out there.

Chinese auction donations. Banner for the little league park. Make it local.

People need you less often because cars are built better so you need to find ways to reach out to them through other means.
Go to the little league games of teams you sponsored.
Have a marketing plan, calendar and budget as a percent of your sales.

List everything you do for marketing. Be specific. Put a dollar amount next to the initiative.
Tough to determine the actual ROI
Your plan needs to be a year long

Your customers personal experience goes a long way for retention.
Retention starts when the phone rings.
Be what you want your customers want you to be.
20% of your data base generates 80% of your capital

Identify them and reach out

Never blame the customer for anything that goes wrong. Take care of them. Empower your people to take care of
Be socially involved and in touch with the show:
Facebook   Twitter   Linked In   Email