THA 017: What Happens When The Phone Rings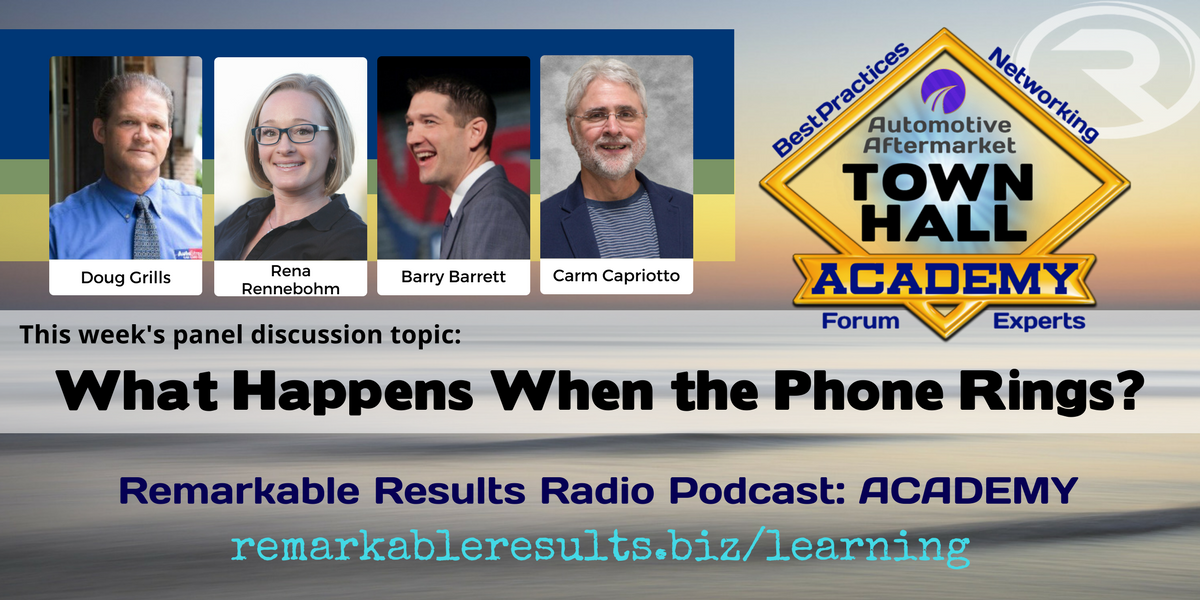 Learn from your industry peers in a round-table forum. Get new ideas, perspectives, trends, insights, best-practices and expertise from aftermarket professionals.
Watch like a DOCUMENTARY … Learn like a SEMINAR.
Helping automotive aftermarket professionals improve; one lesson at a time.
Academy Panel:
Rena Rennebohm   Automotive Business Coach, ACT. When not gardening or cooking Rena is working her chosen trade, Coaching Service Advisors across the country.
With over a decade of Service Advisor experience, from the independent side of the business to the dealership side and back, Rena has seen and dealt with just about anything and everything! And after becoming proficient as a Service Advisor, she moved to the Coaching & Training side of the automotive industry. Her experience in Coaching and Training Service Advisors has allowed many, many facilities to not only build their total sales exponentially, it has helped build a stronger NET profits as well.
Rena in episode 91 Women's Board Compilation
Barry Barrett is an authority on sales and selling. He is the Director of Training for RLO. Barry's sales and training capabilities operate at full capacity in his dual roles as the lead salesperson and service manager trainer.
During Barry's career as a Service Manager and top salesperson, he honed his talents in communicating with people.
Barry is tireless in his pursuit of excellence in the automotive industry and in all that he does. His passion for providing tools to train owners and their teams to the next level is unlimited. Barry is a Ziglar Legacy Certified Coach  TODAY Episode 220 with Tom Zigler.
Barry has supported the podcast in episodes:  130, the 200th Retrospective, 208 Business Coaches Round Table and  THA: Resolutions. Barry was also with Tom Ziglar in episode 220.
Doug Grills from AutoStream Car Care Center is a chain of FIVE family-owned, automotive service facilities that deliver honest and professional automotive repair and maintenance services to customers in the Greater Baltimore/Washington, DC area. Doug along with his partner Rick Levitan has been around the service station business for over 25 years and have built their reputation by offering best-in-class service to their customers.
All AutoStrem Car Care technicians are ASE Certified and the shops are AAA approved.
Doug was with me in his own episode #115 and on the 'Your Website' Academy.
Talking Points:
The heavy lifting begins when the phone rings.

It need not be transactional.
This starts the relationship.

Focus before you pick up the phone.

STOP what you are doing. You cannot multi-task when you answer the phone.
Put a mirror on the phone. Look at the best version of you before you answer.
Listen, solve problems.
You are in the pain management business.

Scripts (Call Guide or A Professional Presentation)..

Practice what you do when you pick up the phone.

All professionals practice. Athletes, Singers etc.

What separates high performance if people are willing to practice.

You need to set yourself up to have a positive call with the customer.

Never bad news only good news.

Questions allow you to gather important information.
The value of call recording.
It is the customers' worldview. Their perspective. You need to ask questions.
People know all about you by doing research before they call.
Moments of truth (Doug Grills)

When the customer interacts with the company is a moment of truth.
It happens many times with your customer and your company.
The customer will make a judgment with each interaction.
The inbound phone call is the most important moment of truth.
Be socially involved and in touch with the show:
Facebook   Twitter   Linked In   Email