THA 018: ASA Connected CARS Detroit May 2017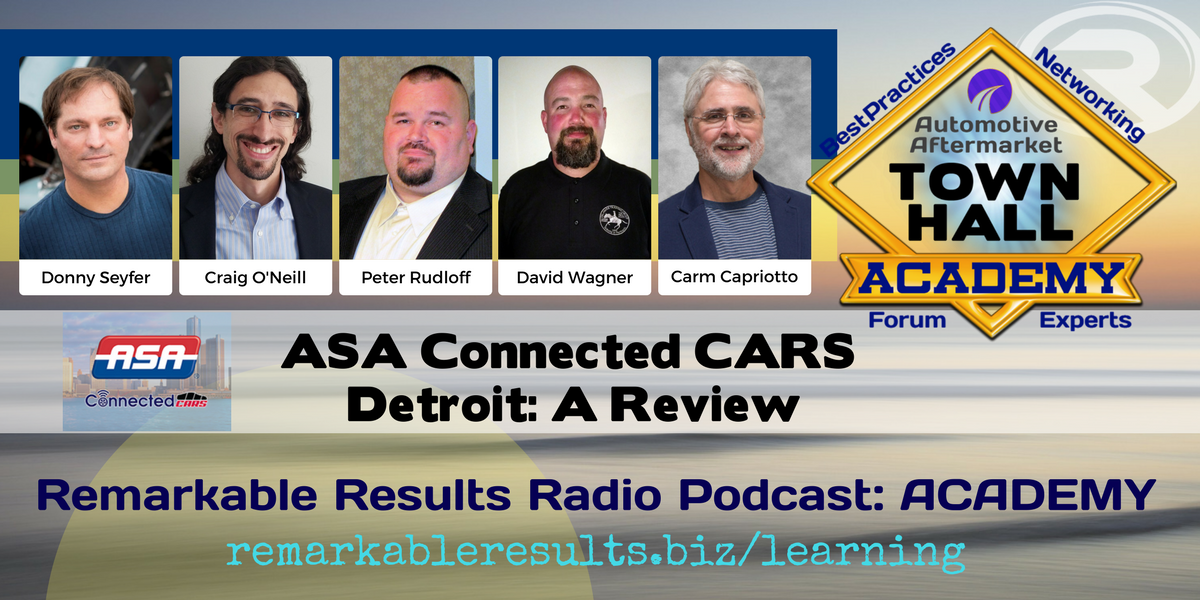 Learn from your industry peers in a round-table forum. Get new ideas, perspectives, trends, insights, best-practices and expertise from aftermarket professionals.
Watch like a DOCUMENTARY … Learn like a SEMINAR.
Helping automotive aftermarket professionals improve; one lesson at a time.
Academy Panel:
Donny Seyfer is a second-generation repair shop owner and ASE Master Technician. An active industry educator Donny is past chairman of the Automotive Service Association and works nationally to help repair shops with IT and service information utilization.  Donny also was the ASA event organizer. Donny is also a member of the board of trustees of NATEF and a trustee of AMi. Hear Donny Seyfer in episode 30 (ASA) and 33  and recently on a Town Hall Academy on Lean Processes.
Pete Rudloff is a technician, national automotive instructor/advisor, a nationally published technical writer and owner of Pete's Garage Inc. in Newark, DE. Pete has a passion for training and created the Delaware training Group to bring technicians together in an environment that fosters learning. Pete's Garage has a reputation as friend to the general auto repair shops with more than 40 local shops calling themselves customers. Pete's Garage is known for fixing difficult to fix cars and has grown more into a diagnostic destination than a maintenance shop.  Hear Pete in episodes 123.
Craig O'Neill initially began college seeking a degree in history however set aside his full-time education, to join the family business. Craig committed himself to scaling the 3rd generation business, O'Neill's Transmission & Service. An ASE certified technician and service consultant, he is excited about the technological advances the industry is seeing. Craig is committed to elevating the professional image of the automotive service community, and consistently looking for ways communicate with bright young people regarding the opportunities that exist in our automotive service profession. This is Craigs first appearance on the Remarkable Results Radio Podcast.
Dave Wagner is a technician working at Savage Automotive Technologies in Northeast Philadelphia. There he has continued his education in our great industry. Dave is an ASE CMAT, L1, L2, L3, the Assistant Coordinator Delaware Training Group and an EV/Hybrid tech. Dave started as so many techs did changing oil at his uncle's shop on weekends when he was 12 years old. He started the professional side of his career as a tech in dealerships in 1996. Dave is currently working with a mentor to become an instructor to help teach and motivate others to want to learn what this industry has to offer.
Talking Points:
Consumer education must go hand in hand with technician education
These systems are very robust with lots of engineering behind them. The systems will generally alert you when something is not working right.
The real challenges lay in the hands of shop owners and managers to provide the tools and equipment… also the business model.. to thrive during these changes.
The single biggest take-a-way is that this technology will not doom the auto repair trade, there is no timer counting down our demise.
There is a finite time that we will be doing calibrations that require fixtures and a smaller window where this will be a bonafide profit center.
Most ADAS systems are very robust. This really is proven less by the CARS conference and more by the fact that many shops are not seeing major ADAS related systems with organic problems.
ADAS systems are easy to diagnose, they are as close to self-diagnosing modules as we have ever seen. With only a small bit of training and a good understanding of electricity, shops will find these systems are easy to diagnose and profitable.
Be socially involved and in touch with the show:
Facebook   Twitter   Linked In   Email