THA 025: Disaster Planning and Preparedness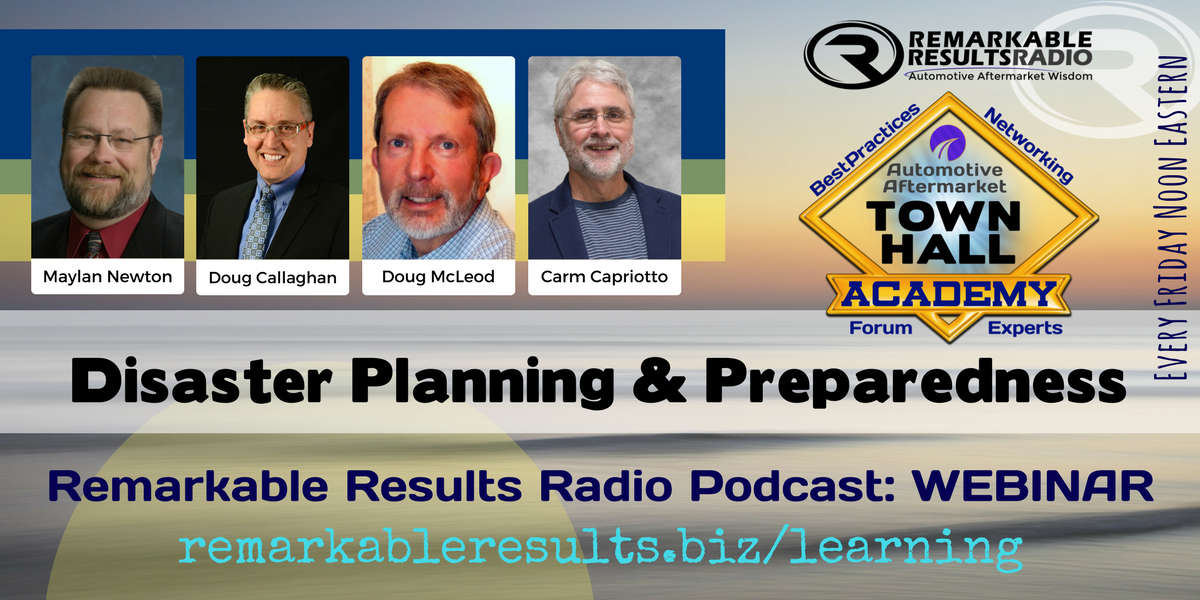 Learn from your industry peers in a round-table forum. Get new ideas, perspectives, trends, insights, best-practices and expertise from aftermarket professionals.
Watch like a DOCUMENTARY … Learn like a SEMINAR.
Helping automotive aftermarket professionals improve; one lesson at a time.
Academy Panel:
Maylan Newton is president and CEO of ESI seminars for the past 20 years. Maylan travels the country, sharing with his audiences, the keys to being successful in the automotive repair industry today. Maylan combines his real-world experience as a shop owner, technician, and service advisor with profit building take-a-ways in a humorous and engaging manner that only Maylan can deliver. Maylan had his own real-world experience when he had a stroke while riding his motorcycle. He was incapacitated for a period and has now dedicated time to share his almost catastrophic event and what it taught him. We discussed his accident and how he and his business survived in episode 140.  With over 40 years of automotive industry experience, Maylan Newton has literally been there and done that. Maylan hails from Simi Valley, CA and has shared his wisdom in episodes 108, 140 and in Academy episode 14. 
Doug McLeod has worked in the Emergency Management and Business Continuity Planning fields for the past 21 years.  He was responsible for the corporate level emergency planning for a large electric utility for 11 years, dealing with preparedness for many types of natural and human caused disasters including earthquakes, windstorms, floods, accidents, terrorism, fires, and succession planning.  For the past 10 years, he has provided advice, assistance and training to government agencies, utilities, and businesses to better prepare them to respond to and survive many types of disasters.  He is a member of and certified as an Associate Business Continuity Professional with the Disaster Recovery Institute Canada, and a Board Member of the Emergency Preparedness for Industry and Commerce Council in British Columbia.
Doug Callaghan, CEO Vic's Service Centre in Wainright, Alberta Canada is the winner of the 2016 Auto Care Association ACE (Automotive Career and Education) award.  Doug shares his story of transformation, recognized by Auto Care, that earned him this recognition.
Doug made a significant decision in early 2015 when he took how his business was operating and threw it all in the garbage. He started from scratch. Everything. He says, "a lot of owners that ask for the help and invest in the outside training yet fail to provide the leader ship to make those ideas and plans become reality, I was not going to let that happen. I wanted to see an increase in our net profit and a better life for myself and my team". He continues that commitment today. Doug has experience working with disaster plans with the Credit Union Board that he chairs.
Talking Points:
It's not IF but WHEN you'll need a plan.
You need to start the conversation with the most important people in your life.
Write down everything you know that will be important to the person taking over.

Who you do business with, where you bank, who signs the checks, password, alarm codes, keys, etc.
More detail than you would even imagine you need to document.

A well-documented process and system in place are required for continuation of the business.
Who will be in charge of making what decisions?
The little things can create a logjam for continuation.
How do we keep our customer base and control the message?
All business that have loses after a disaster only 25% survive. Source: Insurance Institute for Home Safety.
The tough talk needs to happen and a plan created
A general plan is important no matter what type of disaster could impact the business.
Review your insurance, your wills, your buy-sell agreements, your finances and your banking. Involve your business advisors to understand your planning process and get their perspective.

The effort is worth it to create continuity in the business.

Computer Data Back-Up. Off-site or in the cloud.
Three types of preparedness plans.

Catastrophic failure of the Building.
Catastrophic loss of the Owner.
Catastrophic loss of Leadership.

There is a big impact on the families from any catastrophic failures.
Too many companies not in a strong financial position. Get your financial house in order. A strong net profit shows a new owner and or an internal successor to the business.

Many legal issues to consider with capital gains and probate.

Embrace the future and Embrace reality many things can happen.
Download discussed in the Academy provided by Maylan Newton from ESI HERE.
Be socially involved and in touch with the show:
Facebook   Twitter   Linked In   Email
---
This episode is brought to you by Jasper Engines & Transmissions. When a car's engine or transmission fails, it's

not the end of the road. A remanufactured drivetrain product from Jasper Engines & Transmissions will give your car a new lease on life. JASPER has over 2000 Associates, three manufacturing facilities, two distribution centers and 45 branch offices across the country. They're all working to produce, transport and deliver the perfect product. That's what they do best… keep customers happy. Visit jasperengines.com