THA 026: Succession Planning – The Next Generation Entrepreneurs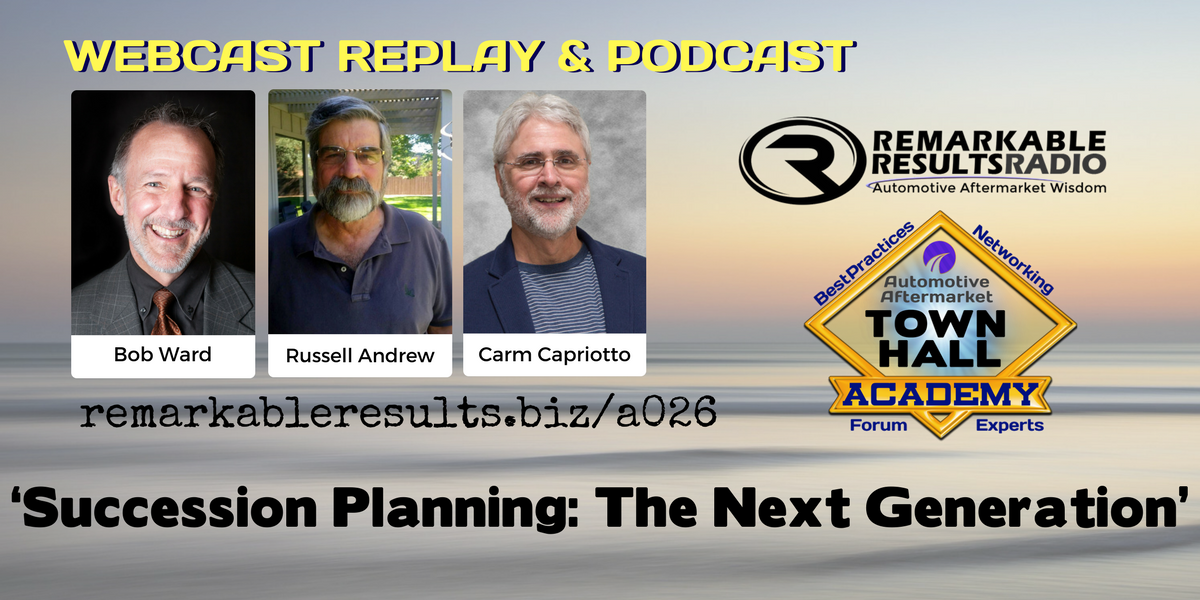 Learn from your industry peers in a round-table forum. Get new ideas, perspectives, trends, insights, best-practices and expertise from aftermarket professionals.
Watch like a DOCUMENTARY … Learn like a SEMINAR.
Helping automotive aftermarket professionals improve; one lesson at a time.
Academy Panel:
Bob Ward, President of Wardden LLC, Bob began his business career at a franchised car dealership, overcoming obstacles to learn and earn the required skills to become Controller, General Manager and then, minority owner of Tacoma Dodge in Washington.
A native of Seattle, Bob serves as a financial advisor and consultant to small business owners throughout the United States.  He believes that your business should always be ready for expansion or sale, you should get paid for what you built and, when you decide to leave it, your company should continue to prosper. He believes in a Perpetual Business where there is Value, Continuity and Legacy.    Wardden LLC Website
Russell Andrew started working at the local gas stations at 14yr old. He bought his first business at 22yr old, youngest ARCO dealer ever at the time.  He went on to buy a second ARCO station 5 years later.  At 30 years he old sold the first station, converted the second one to a 'C' store and bought a closed/boarded up gas station a few miles away and ran an auto repair garage business out of it. In 1986, he sold the Arco AM/PM, tore down the old Texaco building and built a small retail center on the property which he still owns today.
It gets better … he moved a few hundred miles north to Paso Robles, CA. In 1988 Russell rented a 4,000 sqft building and put all his stored auto equip in it and opened Paso Robles Auto Repair. He ran it for 28 years, and In January 2015 he turned the business over to his successor. He now works for the business doing all the bookkeeping and administration duties from his home office, part time 20/30 hrs month. He shares his succession process with you.
Talking Points:
We must understand our objective about retirement or succession. Focused on the end goal you can plan for it.
Every business will be sold or liquidated. With a little bit of foresight and some energy and time on their side, they can create a great plan for succession.
70% of business owners in the next 20 years will depart their business in many different ways if there is no planning.
Retire on your own terms.
Owners have an essential conversation with the key members of their staff. Listen to Bob Ward's way to do this. The answers help you in your business planning.
Your people make the business. We must nurture our key leaders retain and motivate them.
There are many ways to structure a deal considering tax consideration and estate planning.
Bob talks about 'Ownership Culture'. All people in the business are working in the same direction. Not all can own but can be 'owners' in practice with the correct compensation and incentives.
The sad truth about survivorship; it is all about planning.
Find the date in the future and work backward.
Liquidation is a poor choice all assets at auction value.
The best plan is to improve the financial strength of the company, document all processes, improve systems, improve your hiring and strength of your people.
All of this points to continuity or as Bob Ward says 'Perpetual Business'

A business that is always ready for sale or expansion opportunities.
Owner has the foresight and commitment developing their people
"It is only as we develop others that we permanently succeed". Harvey Firestone

Prepare someone to be the quarterback of the business.
Bob is seeing most deals done with internal candidates.

Do they have money? (Small pool of candidates)
The pool lies inside. You know their tendencies, you can trust, you've been developing.
Develop your people's talent and potential succession candidate.

How are you going to leave your business?  Start the process.

If you've identified one or more candidates how are you going to advance their skills and get them financially involved?
No matter your age consider retaining your key people to attain their goals so you can reach your goals.

An average to complete an agreement about one year.
Family succession. Parents will take things for granted that their children will come into the business, therefore, nothing gets decided. Children can be discouraged if no dialogue about succession.
Without a succession plan, shuttering the business is the fallback option, you would have cost to close that you must think about.
Owners struggle emotionally about leaving their business. They started with nothing and there is a big attachment to their successes over the year. Must think about the joy of thinking about leaving your legacy.
Bob Ward Cell Phone 206-304-7723
Be socially involved and in touch with the show:
Facebook   Twitter   Linked In   Email
---
This episode is brought to you by Jasper Engines & Transmissions. When a car's engine or transmission fails, it's

not the end of the road. A remanufactured drivetrain product from Jasper Engines & Transmissions will give your car a new lease on life. JASPER has over 2000 Associates, three manufacturing facilities, two distribution centers and 45 branch offices across the country. They're all working to produce, transport and deliver the perfect product. That's what they do best… keep customers happy. Visit jasperengines.com