THA 027: Performance Reviews – Best Practices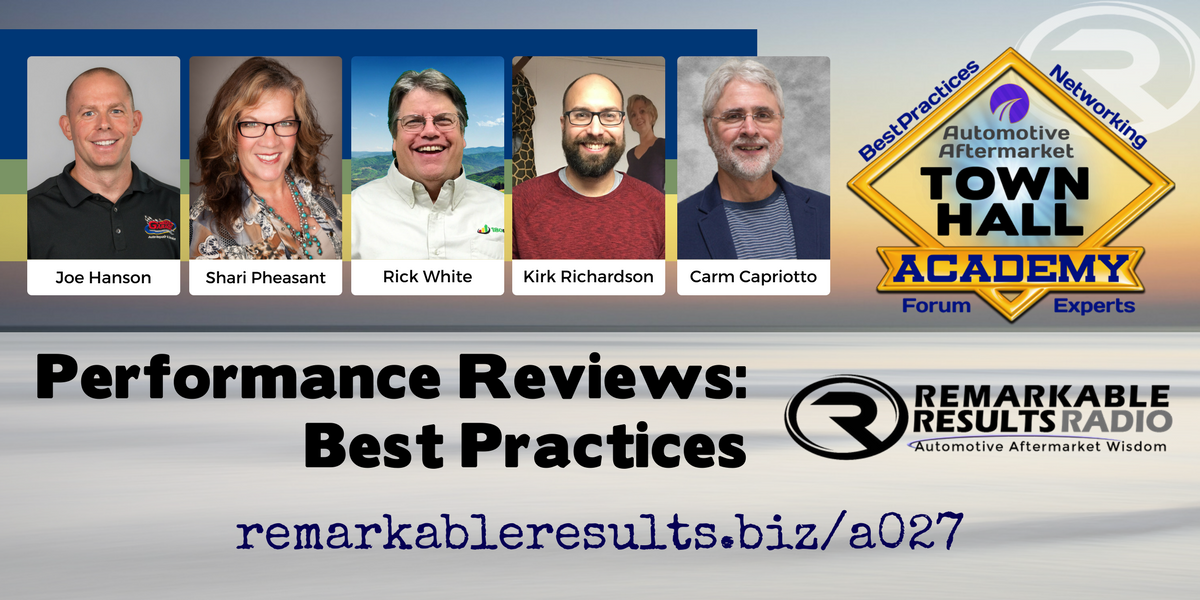 Learn from your industry peers in a round-table forum. Get new ideas, perspectives, trends, insights, best-practices and expertise from aftermarket professionals.
Watch like a DOCUMENTARY … Learn like a SEMINAR.
Helping automotive aftermarket professionals improve; one lesson at a time.
Academy Panel:
Shari Pheasant, "The Queen of Horse Power" is a Certified Behavior Analyst, Entrepreneur, Speaker, Business Innovator, and Coach. She recently returned from a book tour for her book "25 Car Care Tips For Women" that made it to Amazon's International Best Seller List June 2017! She is a member of Women in Auto Care and owns a service shop with her husband Jeff. Shari is the recipient of the Business Innovator Award at the Business Expert Forum at Harvard in July 2017. She is the creator of Driven from Within, Horse Powered, and Barn Boot Camp; three programs that develop human capital potential for business teams and individuals.  (Listen to Shari in episodes 68, 200, 91)
Rick White has been working in the automotive, software & coaching industries for greater than thirty years and is currently an AMI-approved training instructor.  He owned and managed several successful automotive repair shops.  Currently, Rick is President and Lead Coach for 180BIZ, an auto repair shop training and business coaching company proudly serving the independent auto and truck repair owner since 2006.
Rick has been acknowledged as an industry expert and has been featured in many automotive trade publications. Rick has been training and speaking at industry events across the country including AAPEX, Vision and for AASP PA just to name a few. (Listen to Rick in episode 242)
Kirk Richardson is a young and successful entrepreneur. Born into a blue-collar, hard working family. At the age of 22, he left school and started his first business. He bought his first three bay shop at the age of 24. Seven years later he bought his second shop, South Street Auto Care in Rochester, MI. Today, at age 34, Kirk is a successful business owner.
Kirk prides himself on his ability to create a family culture within his businesses. The culture is a blend of hard work, accountability, and fun which combine to make loyal and dedicated co-workers. Kirk loves business and people in general and will talk for hours about business! (Listen to Kirk in episode 193)
Joe Hanson is the manager of his father's business, Gordie's Garage. Since he can remember he was either sweeping floors, running for parts or working in the shop and for the past 10 years or so managing all the operations. Joe has attended Management Success, NAPA training, Lawrence Tech University and most recently he is a member of the RLO 20 Group 13. He has earned his ASE C1: Automobile Service Consultant Certification.  Under his father's leadership, he has seen what it really takes to make a business like this work. (You can hear Joe in episodes 177, Academy #2 Resolutions, 226 ASA Connected Cars, Academy #24 on Quality Controls  and the 200th retrospective).
Talking points:
Reviews start at the interview.
The only feedback some team members get is a paycheck. You are rewarding their performance no matter if it is good for the business or not.
Reviews need to be used to create personal performance goals. Their soft skills are most critical for the company. Soft skills should be the most important element of the review.
Having a scientific review of your new hire you will gain insight into their communication skills and behaviors. Don't rule our assessments like DISC.
Co-workers want to know if they are doing a good job for you. They want to be in on things. Let them know that they are contributing the right stuff to the company.
Reviews is a formal way to be sure accountability sticks.
Everyone on the Academy panel does them at different intervals, but agree that they are necessary.
We fire for attitude instead of aptitude yet we hire for aptitude instead of attitude.
Clear goals and expectations are necessary from day one.
You don't manage people, we manage agreements.

When you are not getting what you want it is easy to point to the agreement.

Reviews are not to punish.
We grew up in the compliance era. Do it my way or get fired.
Today we need a commitment from our people; we will not get it if we dictate.
You owe your people a sit-down discussion.
Take notes on behaviors. Everyone needs to be aligned.
Your core values are the key points to apply all behavior against.
Kirk Richardson. He has no plan during his review for a change in behavior. Either you get on board or you are gone.
Use review to find out what your co-worker's personal goals are. New home, vehicle, children, college. It all revolved around the job. Help with their financial success.
Performance based pay. Make the owners goals their goals.
The 360° review, the co-worker, the supervisor, and the company.

Every co-worker needs to review their supervisor and the company.
Give your team credit for how they see you and where they feel the company is headed.

When all in the business are held to the same standards this is very easy to do.

No one wants false harmony in the business.
It requires a company of owners.
The feedback is priceless.

Some owners believe they should not push because they do not want to lose a key co-worker. Everyone should be held to the values and culture of the business.
Humility and transparency are key words in the goals of a review.
As a leader, you must go into a review with not one ounce of ego. Bring your self-confidence not your ego to the review.
We all make mistakes how do we move forward and how to we get more of all the good behaviors.
There is a big need in our industry to develop better leaders in all positions including owners.
Dial in your culture as the core values of the business

Your culture is the beliefs and behaviors that determine how a company's team works together for the good of the team and customer.

Leadership is not new; dedicate your time to reading and understanding leadership. We must grow as leaders.

John Maxwell is a great leadership author.
Top shop owners read books.
You need to be worth following as a leader. And that comes from an attitude of responsibility.
I'm no more important than you. There may be different skills and responsibilities but never more important.
The aftermarket is not unique with needed to become better leaders.

Suggested book 'A Company of Owners' by Daren Martin PhD
Co-worker happiness is the ultimate profit generator
Your people are not YOUR employees then can leave anytime.
****** Listen to the life changing story of a review at the very end of the episode.
Be socially involved and in touch with the show:
Facebook   Twitter   Linked In   Email
This episode is brought to you by Jasper Engines & Transmissions. When a car's engine or transmission fails, it's

not the end of the road. A remanufactured drivetrain product from Jasper Engines & Transmissions will give your car a new lease on life. JASPER has over 2000 Associates, three manufacturing facilities, two distribution centers and 45 branch offices across the country. They're all working to produce, transport and deliver the perfect product. That's what they do best… keep customers happy. Visit jasperengines.com