THA 022: Hiring for Team Dynamics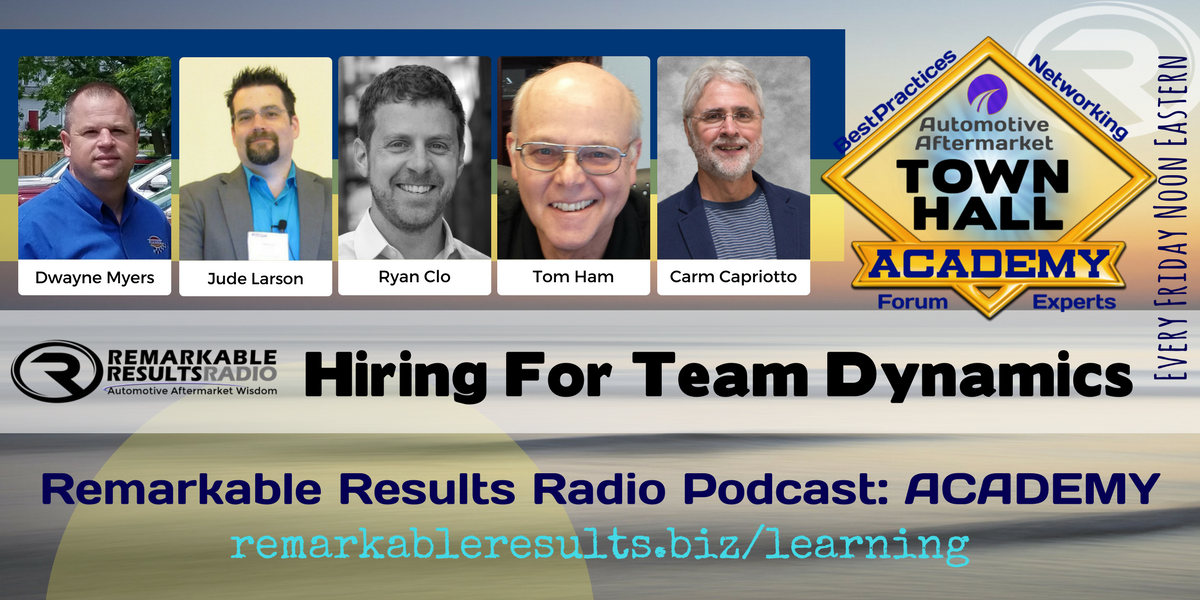 Learn from your industry peers in a round-table forum. Get new ideas, perspectives, trends, insights, best-practices and expertise from aftermarket professionals.
Watch like a DOCUMENTARY … Learn like a SEMINAR.
Helping automotive aftermarket professionals improve; one lesson at a time.
Academy Panel:
Dwayne Myers is a partner in Dynamic Automotive in the greater Maryland area. Dwayne invests time in the industry with the Auto Care Association and serves on the education committee with CCPN (Car Care Professional Network). Dwayne was recently honored as one of only 17 outstanding individuals that qualified for the prestigious 2017 World Class Technician Award presented by The Auto Care Association and ASE. He is very passionate about hiring and sustaining a strong and engaged team.
Dwayne was on the podcast in episode 2, 3 and 4 with his partners Jose Bueso and Lee Forman and on a Round Table discussion on Technician Training in episode 59, and on a Supplier Needs Roundtable (118).  Dwayne and I spend some special time in episode 222 as we talked about his 2017 World Class Technician honor and listen to Dwayne in the Academy on Improving Employee Loyalty.
Ryan Clo owner of Dubwerx in Cincinnati, OH is an eighteen-year veteran in the Automotive Service industry. He is a multi shop owner and has automated his business that gives him time to consult.
Ryan consults for the Institute of Automotive Business Excellence providing guidance to automotive businesses including on-site evaluations, off-site coaching, business plan development, and one-on-one coaching with owners and staff. He is known at The Institute as the "Systems and Processes" guy. Ryan teaches several business management classes for the automotive industry.  Listen to Ryan in episode 092 and Town Hall on Website & Improving Employee Loyalty.
Jude Larson is the president, owner and lead consultant for JML Real Solutions. He is a frequent speaker and trainer at industry events. Jude has vast business experience including being a highly successful service advisor, the owner and operator of a hybrid online and print marketing company, a top performer in the financial industry, and a record setting career in retail management. Jude uses his rich experience and business success as he consults, trains and coaches results focused solutions with clients. Jude is also a shop owner. Listen to Jude in episode 170 and the Town Hall Academy on Improving Employee Loyalty.
Tom Ham, with the help of his wife Deb, is the creator and owner of Automotive Management Network an 11,000 plus member website dedicated to the exchange of vehicle service management information. Tom has written extensively on a variety of management topics. Tom got his start in the auto service industry pumping gas in the late 60's. Today Tom and his wife split their time between homes in Florida and Michigan where they operate Auto Centric, an import specialty shop in Grand Rapids. Tom and Deb have five children including two sons and a daughter who served in the Iraq War as U.S. Marines. For fun he enjoys traveling, fine dining, religion and politics. Listen to Tom in episode 062.
Talking Points:
Assessments can aid in understanding behaviors and communication strengths.
Older shop owners are quicker to terminate.
What would you do differently if you knew you could not fire this person?
Do we hire lifers?

5 years is long today.
10 years plus is outstanding tenure today.

You must sell your company vision when you are hiring.
Ask them their goals? 1yr, 3yr, 5yr … What that means to you.
Set the precedent for training in the interview for training. The level of engagement and excitement about that discussion helps you choose the right person. You want people who want to learn and grow.
Who should be involved in the hiring process?
Suggestion form from your people once a year to make the business better. Be sure to implement one from each team member.
Interviewing and vetting candidates. Considering personality over experience.
How to pick the right person for the team. Include the shop foreman and sometimes other technicians in the hiring process.
Knowing that a twice a year review is required. No matter what style review you do they must be done. See Performance Review Academy Here.
Be socially involved and in touch with the show:
Facebook   Twitter   Linked In   Email