RR 248: Tom Lambert from Shadetree Automotive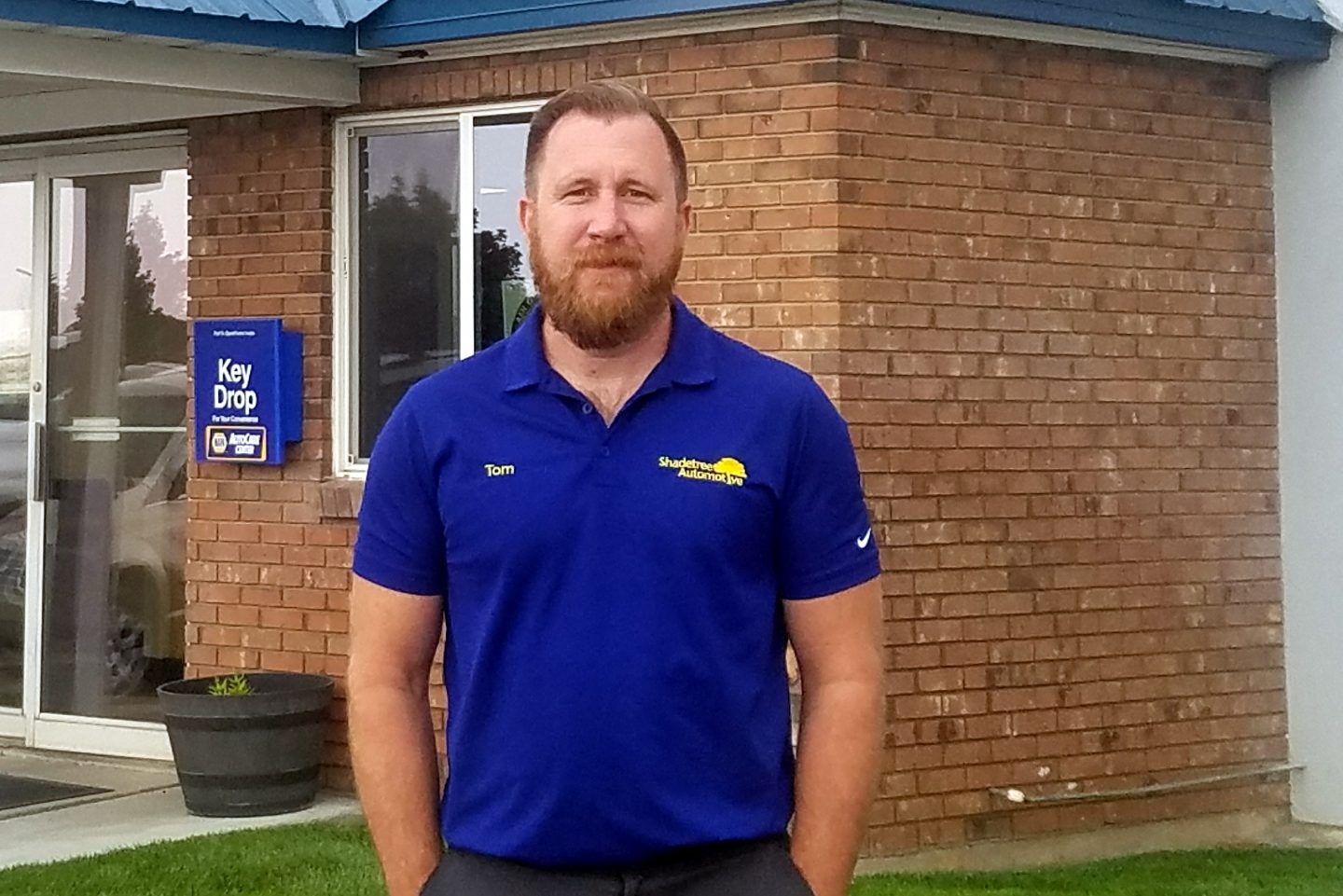 Tom Lambert got his start right at home.  His dad and uncles always had projects going on in the home garage.  During the summer vacation his dad would have Tom remove engines from the vehicles that were being sen

t to the local machine shop for rebuilding.
By the time he was 14 years old, his dad was tired of the many broken down vehicles around his house, so he rented a 2-bay shop. His dad and uncle were always known as the Shadetree mechanics because they always worked from home, and the name of the shop was born.
At a young age, Tom was eager to learn and had already learned how to work harder than most kids his age by learning from his dad's example.  Tom took a liking to Autobody and by the age of 16 he was self-sufficient and could pretty much handle projects from start to finish.
When he was finishing up the credits needed to graduate his senior year, the shop had grown to a size that was too much for his Dad and uncle to manage any longer.
At 18 years old Tom was faced with a big decision. Shadetree had grown to rent 6 bays and was interfering with his Dad and uncle's day job. They were going to shut it down but asked Tom if he would manage it. Tom had confidence and thought he knew far more about life than he really did;  so he said yes and became the manager.
He signed up for business management at a local community college and attended night classes and sometimes would have to go back to the shop and finish up jobs.
In 2002, a building came available on the main highway.  This shop was 3 times the size they were currently in. It was a perfect location compared to the dead-end road at the current location. Tom approached the seller and by some miracle negotiated a seller finance deal for him and his dad to buy the building.
This was a huge obligation, but they did it anyway and Tom became partners with his dad.  The days were long. Sometimes 15-hour days, 7 days a week to get this new building set up while still getting their normal work done.  They were doing auto repair and auto body. They were also operating 2 towing companies.
Tom's Dad was doing his full-time day job, then coming to the shop for several hours, helping with the tow truck and also being a land lord, because they rented out a portion of the building. Tom was managing a small crew, selling all service, helping in the shop, answering calls and driving the tow trucks 24 hours a day, 7 days a week It was a crushing amount of work, but that was the one thing they knew how to do best; work.
Shadetree Automotive in Layton, UT, continued to grow. By 2007, the operation was doing over 1 million in sales.  By 2013, they were doing over 2 million in sales.  This was such fast growth but they never seemed to get ahead financially. Even the financial management classes helped a bit, but they never truly got a great grasp of their finances.  They were too busy working countless hours in the business to keep up with demand instead of taking a step back to figure the business out.
By pure fate, Tom was invited to a Financial Management course by one of his suppliers in 2013.  He took his service adviser and Dad to this 2-day class and it changed their lives and business forever.  Almost every problem Tom was having in the business was addressed during this class.  They all walked away from the class energized to solve the problems they were facing.  They started by making a few simple adjustments; installed a parts matrix, raised the labor rate and lowered their daily car count.  These 3 adjustments made a world of difference and they were thirsty for more improvement.  Tom reached out to the instructor of the class and quickly hired his team as their business consultants.  Tom says that this was probably the smartest thing he'd ever done in his life.
In the past three and a half years, Tom and his dad have made strategic adjustments in the business.  They are now a $2.5 million dollar a year shop with 10% annual growth and profitable.  They continue to improve every day.  Tom says he has the best team and a strong culture.  In January 2017 Tom bought his dad completely out of the business.
Tom's dad Mark, is now operating a new business that restores classic vehicles.  He loves it, is passionate about it and enjoys getting up for work every day.
Tom struggled for many years because he had lost the passion for the auto industry.  After receiving all the guidance and coaching over the past few years, he is rejuvenated and has more passion than ever and is currently doing everything he can to pay it forward to other local shop owners.
Talking Points:
He loves marketing as his second most important task for the business
His differentiation is his strength.

His customer lobby is decorated and warm with a kid playroom that occupies them while mom is checking in her car.

Tom expects his customers to be customers for life. He works hard to make that happen.
They have a fun laid back culture with a highly motivated goal focused team.

His team loves to come to work.

The concept of love works in his shop with his customers and his team.
He has some of the best people working at Shadetree in the industry.

He appreciates them and his job is to work to make that happen.

He offers:

Free shuttle service
Free loaner cars
A 3 Yr 100,000 mile warranty

Training has been the key to being a good owner.
The Service Advisor has one of the toughest jobs in the industry and they need training and tools to get their job done.
We need to do a better job as an industry to help customers understand the job we do for them.
He invested in a three-day class on business management that changed everything for him.

He ended up hiring the business coach to help make him more profitable.

Recently hired a shop helper and apprentice, that is overly qualified but is also doing extended test drives and can do a drive cycle instead of his A tech.
He spends a percent of his sales on marketing every month, but he tracks his results to verify his return on his spend so he can see which marketing resource is generating the best return.
He is spending money on direct mail each month, but it needs to run hand in hand with all other marketing he is doing. He can see the spike in Google Analytics when he sends out the mailer.
He is getting about 25% of new customers as a direct result of his marketing.
Tom is a list builder that keeps him on track each day. He does it in the first twenty minutes of each day.
| | |
| --- | --- |
| Years in industry: | 23 |
| Number of technicians: | 5 |
| Number of service advisers: | 2 |
| Number of lifts: | 9 |
| Number of bays: | 10 |
| Days open: | Mon – Fri |
| Repair vs Maintenance: | 65% vs 35% |
| Technician training hours per year: | 30 |
| Service advisor training hours per year: | 30 |
| Annual estimated volume: | $2.5MM |
| ASE: | Master Technician |
| Shop management system: | Tracks |
| Website by: | Kukui |
| First call supplier: | NAPA |
| Hybrid repair: | Yes |
| Biggest challenge in busines today?: | Profitability |
| Business coach: | Institute forAutomotive Business Excellence |
Be socially involved and in touch with the show:
Facebook   Twitter   Linked In   Email
---
This episode is brought to you by Federal-Mogul


Motorparts and Garage Gurus. With brands like Moog, Felpro, Wagner Brake, Champion, Sealed Power, FP Diesel and more, they're the parts techs trust.  For serious technical training and support – online, onsite and on-demand – Garage Gurus is everything you need to know. Find out more at fmmotorparts.com  and fmgaragegurus.co