THA 029: Are We Too Dependent on Being Independent?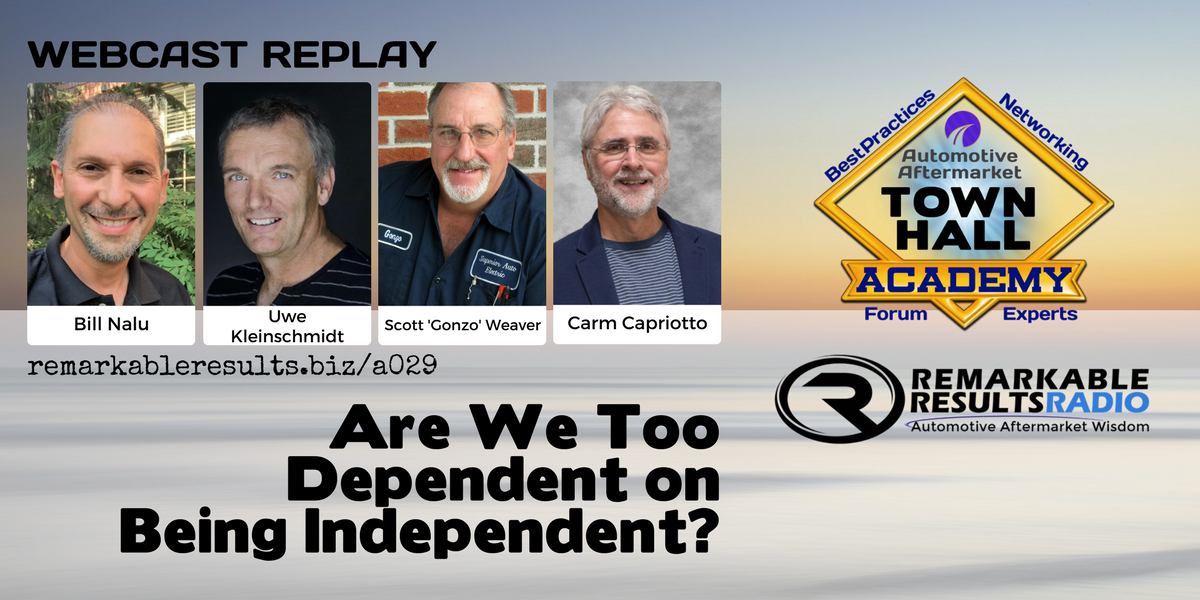 Learn from your industry peers in a round-table forum. Get new ideas, perspectives, trends, insights, best-practices and expertise from aftermarket professionals.
Watch like a DOCUMENTARY … Learn like a SEMINAR.
Helping automotive aftermarket professionals improve; one lesson at a time.
Academy Panel:
Scott Weaver from Superior Auto Electric … the world knows him as Gonzo from Gonzo's Tool Box.  He writes about his personal view of the industry published every month and shares his brand of knowledge and humor on 'Gonzostoolbox.com. ' No doubt if you earn your living on the service side of the aftermarket, you've read his articles or may have even read his book 'Hey Look I Found a Loose Nut'.
Scott is an ASE Master Tech, Owner of Superior Auto Electric, a writer and editor for Haynes Manuals, a Marine Veteran, a Substitute Teach at Oklahoma Technical College and an avid golfer and a recent survivor of open heart surgery. (Episode 109 & 207)
Uwe Kleinschmidt is founder and CEO of AutoVitals. He is a passionate visionary and is dedicated to building solutions for the independent automotive shop owner to succeed d in the modern internet era. He has spent 15+ years working with automotive technology with Robert Bosch in a variety of positions around the globe, building software to master the transition to highly-computerized cars. Uwe is an Ironman finisher, holds a Ph.D. in Electrical Engineering, is an inventor and holder of multiple patents. (Episode 189)
Bill Nalu is President of Interstate Auto Care in Madison Heights, Michigan. Bill has been in business for over 30 years.  He is a big collaborator with industry professionals, in building today's "high-tech/old-fashioned" customer service system.
He currently serves on several industry and educational advisory councils including AutoValue/Bumper to Bumper, Dorman Industries and Cardone. (Listen to Bill in episodes 39, 69, 100, 118,  200, THA 002  Resolutions, THA 006 Managing a Negative Online Review and THA 012 What Keeps you up at night)
Talking Points:
We need to get together and become inter-dependent.
Out of Many One: E pluribus Unum (Quote of Dollar Bill)
We think along the lines why being independent is a good thing, because we've always considered the 'aftermarket' as independent vs the dealership.
It's a pride thing, a self-motivation thing, and an unshaken inner self-awareness that their that damned good. . . and most of them are.
It seems to breed us not working together to lift our image, improve labor rates, access to information, share tools and equipment, etc.
Fragmented space in automotive for tools, processes, "I need my own solution", "Every shop is different", "just add an option for me".

125 point of sale systems.
The learning curve for SA is steep, tools can't be used to their fullest.

Associations are great that help to bring lobbying and benefits, but they lack in membership. Why because we choose not to care because we are 'independent'. Should we go it alone. We've come to learn that twenty-groups bring strength to their individual members. Associations create networking opportunities and bridges the gap of being 'alone'.
Other "most" important thing is the inner drive to succeed with or without anyone's help.  To be independent also means that your method of working doesn't revolve around a set time structure such as punching a time clock.  In other words, you do what needs to be done, and work at it until it is done.
Why do car dealers seem to be united when they are independent business people. No one calls Peps boys independent yet they do the same thing 'independents do'.
Independency is a good thing. . . to some degree. If being independent means you can't finish a repair without having help…such as the dealership with their direct contact with the manufacturer, or their latest software and protocols in regard to scanning and or flashing. Then your independence becomes your downfall.
How do we become un-independent? Individuality and entrepreneurialism is powerful but being interdependent on each other can become a good thing.
Being independent is a liberation and challenge and opens many doors of finding solutions, sometimes very unorthodox
We are not apart from each other, we are a part of one another. This industry has had its fair share of self-imposed drama because hard-working automotive technicians underestimated the value of a smart-working business education. There is a way out of this hole.
Being independent can be taken to the extreme and be anarchy, lone wolf existence, which can be a hindrance in being successful and effective.
Figuring out solutions 100% by oneself can be tiring and doesn't leverage others having gone through the process themselves.
As a true independent, lawsuits with OEM car makers seem unattainable.

"Right of repair" topics hard to lobby.

Fragmented space in automotive for tools, processes, "I need my own solution", "Every shop is different", "just add an option for me".
Software tool vendors hesitant to enter the market, prefer other industries.

Outdated technology solutions dominate.
Silo solutions dominate.
If the software tools and shop process don't follow and leverage that trend, the independents run the risk to leave the education to somebody else and get commoditized.
Be socially involved and in touch with the show:
Facebook   Twitter   Linked In   Email
This episode is brought to you by Jasper Engines & Transmissions. When a car's engine or transmission fails, it's

not the end of the road. A remanufactured drivetrain product from Jasper Engines & Transmissions will give your car a new lease on life. JASPER has over 2000 Associates, three manufacturing facilities, two distribution centers and 45 branch offices across the country. They're all working to produce, transport and deliver the perfect product. That's what they do best… keep customers happy. Visit jasperengines.com