THA 032: Aftermarket Brakes For Breasts Program – Can One Repair Shop Make a Difference in the Fight Against Breast Cancer? You Bet!!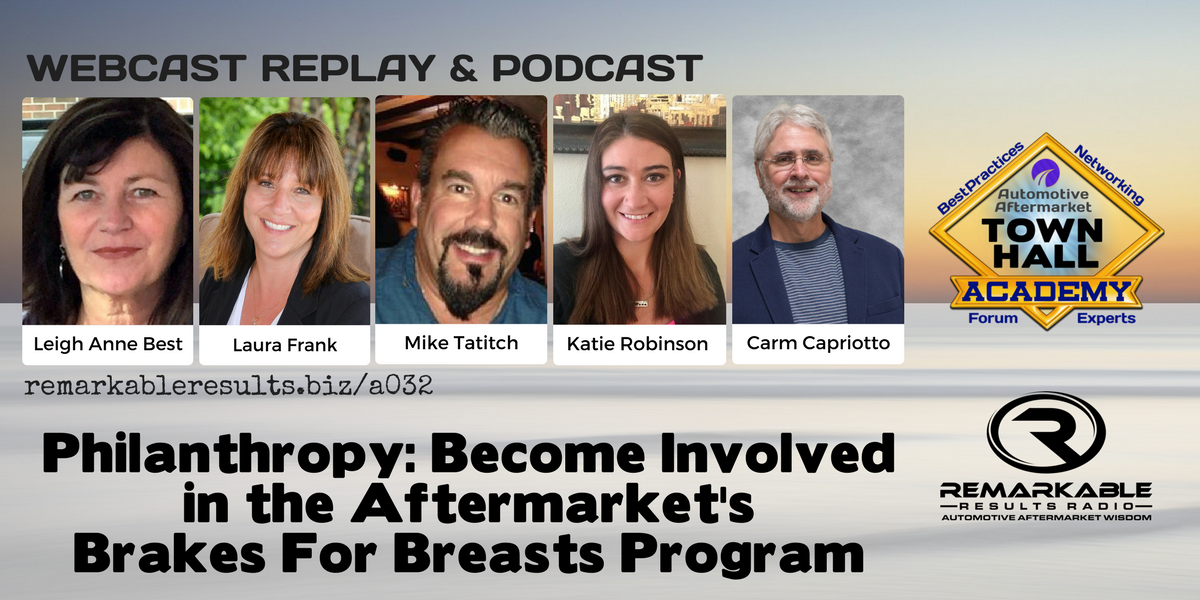 Learn from your industry peers in a round-table forum. Get new ideas, perspectives, trends, insights, best-practices and expertise from aftermarket professionals.
Watch like a DOCUMENTARY … Learn like a SEMINAR.
Helping automotive aftermarket professionals improve; one lesson at a time.
Academy Panel:
Leigh Anne Best has been the Marketing Director and Customer Experience expert at Mighty Auto Pro for the past 11 years.  She is also the Co-Founder of
Brakes for Breasts and serves on the Advisory Board of an industry magazine and is on the AAA Approved Auto Repair Advisory Board.
A great feature of Might Auto Pro is a special women's event that Leigh Anne holds called Women, Wheels & Waffles. These are very popular events. Leigh Ann Episodes E028 on the first Brakes For Breats Interview and THA010 on Women's Clinics)
Laura Frank left the corporate world in 1995 to raise their two children, and she joined her husband Gerry part-time running their gas station. After the kids were grown she turned into working full-time and the gas station has turned into three successful businesses; Auto Repair Technology, Royal Car Care & Tire Center and Repair Shop Coach. Laura oversees the Accounting and Human Resource Departments and helps implement and develop systems.
Laura is a co-founder of Brakes for Breasts, a grass roots effort that started with 5 shops in one state and has grown to an annual average participation of 150 shops representing over 30 states.
She is very passionate about changing cancer treatment. As of 2016, Brakes for Breasts has raised over $490,000 in support of breast cancer vaccine research.
Dr. Vincent K. Tuohy is a Professor of Molecular Medicine at the Cleveland Clinic Lerner College of Medicine of Case Western Reserve University and is a member of the Staff in the Department of Immunology at the Cleveland Clinic. Dr. Tuohy hails from Brooklyn, NY where he received his Ph.D. in Pathology from SUNY Downstate Medical Center. Dr. Tuohy completed his postdoctoral studies in autoimmunity at the Eunice Kennedy Shriver Center, Waltham, MA, where he developed a novel animal model for multiple sclerosis.
As a Cleveland Clinic immunologist since 1989, Dr. Tuohy characterized several new autoimmune animal models for studying human diseases including sudden deafness, heart failure, cystitis, prostatitis, and ovarian failure. More recently, Dr. Tuohy developed a novel vaccine for preventing triple negative breast cancer and another vaccine for preventing ovarian cancer.
In recognition for his breast cancer vaccine studies, Dr. Tuohy received the F. Mason Sones 2010 Innovator of the Year Award from the Cleveland Clinic as well as the 2010 Excellence in Science Award from the Lerner Research Institute. Dr. Tuohy lives in Broadview Heights, Ohio and treasures the time he spends with his wife Marion and his three children and five grandchildren.
 Katie Robinson, along with her husband, Rob, owns Robinson's Auto Repair. A 7-bay facility located in Akron, OH. Katie has a marketing & accounting background and was previously an accountant prior to opening their auto repair business. Robinson's Auto is A-rated, and a certified car-fax service shop. Katie is also proud the shop is part of the Brakes for Breasts campaign, which is a cause very personal to her. In Katie's free time she enjoys reading and wine tasting. She is also an exotic car enthusiast.
Mike Tatitch worked during high school & into his twenties at a local Chevrolet dealer, not in service but in sales! But he got the bug on the service center side of the dealership and decided to branch out on his own.
In February 1984 TMT Automotive was born, in Bremen, IN, with very little money, a loan and a rented building. He also married his wife Serena in that year. Mike says 9-11 and the recession were tough on the business, but they survived and in 2008 he brought son Tony into the business (E231). Mike credits joining a successful training group for helping his business really took off.
Mike says, "Marketing and being involved in great programs like Brakes for Breasts and surrounding ourselves with some of the best of the best people is what continues to make us successful!"
Episode Talking Points:
How Brakes For Breasts got started.
100% of what is raised goes directly to research – 100%.
Results since it's inception.

2011     5 Ohio shops $10,000
2012     27 Shops/17 States $32,848
2013     66 Shops/27 States $66,499.29
2014     142 Shops/29 States $115,236.53
2015     174 Shops/ 32 States $141,868.76
2016     131 Shops/35 States (most States ever) $125,867.37

Dr. Tuohy's work on the cancer Vaccine.
How we get our employees and market involved.
Getting your supplier involved in the program.
The "done-for-you" aspect of Brakes for Breasts. Complete marketing materials you can choose to use.

How we market & get our employees involved

Where is the vaccine now, what is the status?
Please join the Brakes For Breasts Program. It runs in October of every year. Click HERE for the website.
---
Be socially involved and in touch with the show:
Facebook   Twitter   Linked In   Email
This episode is brought to you by Jasper Engines & Transmissions. When a car's engine or transmission fails, it's

not the end of the road. A remanufactured drivetrain product from Jasper Engines & Transmissions will give your car a new lease on life. JASPER has over 2000 Associates, three manufacturing facilities, two distribution centers and 45 branch offices across the country. They're all working to produce, transport and deliver the perfect product. That's what they do best… keep customers happy. Visit jasperengines.com