THA 033: The Competition You Don't See Coming – ASA-CARS @ AAPEX 2017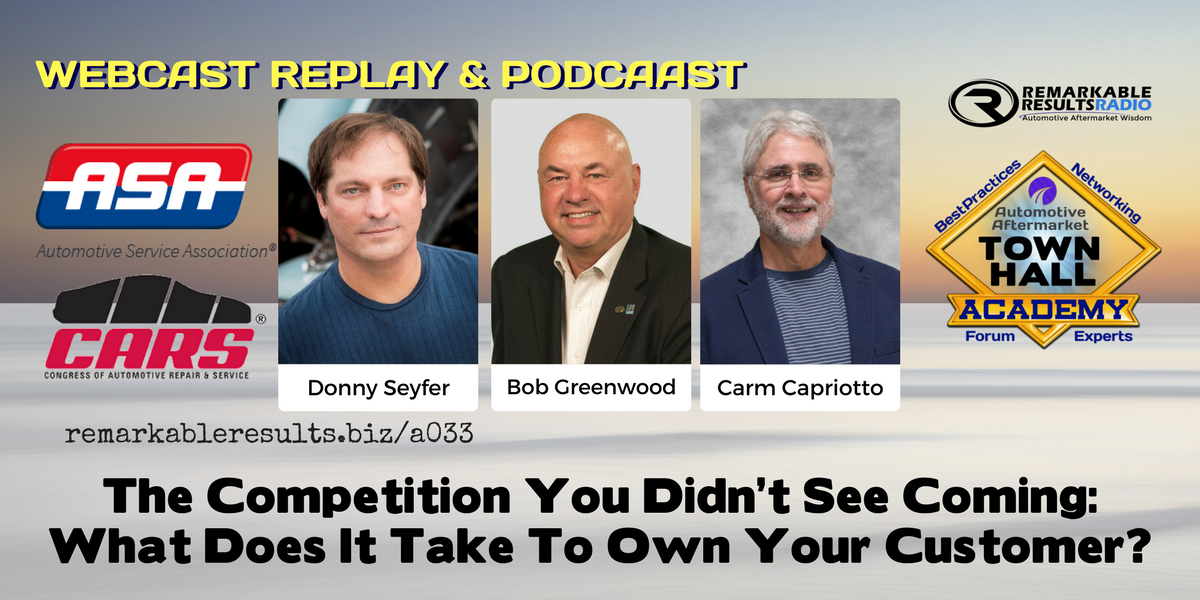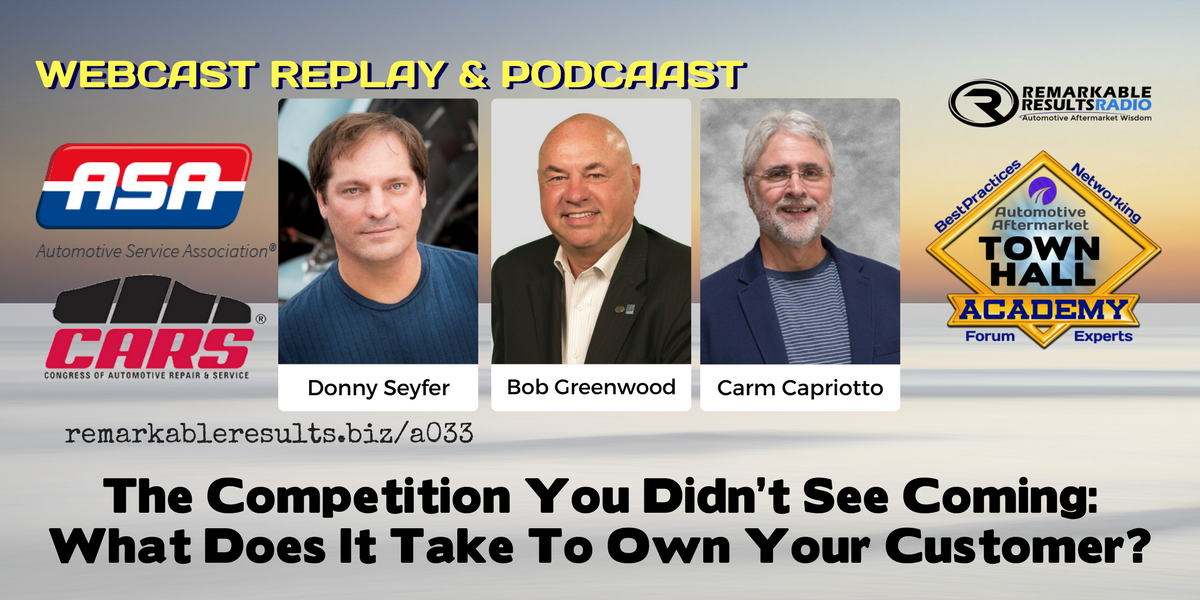 Learn from your industry peers in a round-table forum. Get new ideas, perspectives, trends, insights, best-practices and expertise from aftermarket professionals.
Watch like a DOCUMENTARY … Learn like a SEMINAR.
Helping automotive aftermarket professionals improve; one lesson at a time.
Academy Panel:
Bob Greenwood, AMAM, is President and CEO of Automotive Aftermarket E-Learning Centre Ltd has over 40 years' experience working with Independent shops developing their business to maximize business net income.
Bob writes management articles for ASA's magazine Auto Inc as well has developed live business management classes for ASA. He writes monthly management articles for Motor Age magazine in the USA and  writes semi-monthly shop management articles for CARS Magazine.
Check out his management videos for CARS Magazine.  Episode 49, 200, 208 and Town Hall: Preparing Your Business for Sale or Succession & What Keeps You Up At Night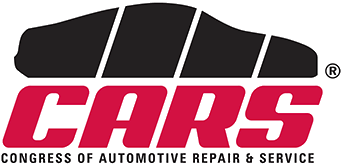 Donny Seyfer, AMAM  is a second-generation repair shop owner and ASE Master Technician. An active industry educator Donny is past chairman of ASA, the Automotive Service Association, and works nationally to help repair shops with IT and service information utilization.
Donny is also a member of the board of trustees of NATEF, a board member of NASTF and a trustee of Ami.
E 30 (ASA)  and E33  and a Town Hall Academy on Lean Processes, and an Academy on Connected CARS Detroit.
Talking Points:
Register for ASA CARS at ASA-CARS.COM

Business management training at a higher level than ever done before.

What is the problem?

Consider the business models that are coming as a result of consolidation and the OE arena trends.

Shop owners must know their numbers and where they've come from and where they are going.
What should you be focusing on in your business?

We have to rev up our business model.
You need solid solutions to guide you to where you are going.

Too many shop owners are watching sales.
We must be concerned with the image of the industry.
Be aware of the changes in your marketplace.
Will our business model include telematics (remote vehicle data)?
We need to provide insights to our customer on their vehicle technology, repair and maintenance.
Get the message to the consumer that you are very qualified to repair their car. Not everyone with a lift is qualified to repair the state of the art vehicles today.

The shop owner needs to tell the story on their capabilities.

The service advisor does not necessarily need to know supreme information on the tech side of the vehicle; but they need to have people skills.
This session of CARS @ AAPEX 2017 will take a deep dive into the future of the industry.

The focus will be on business development instead of training.

Shop owners today must learn to be an analyst not only on his/her business but others. There is much to learn from all businesses and industries.
Register for CARS @ AAPEX 2017 HERE.
---
Be socially involved and in touch with the show:
Facebook   Twitter   Linked In   Email
This episode is brought to you by Jasper Engines & Transmissions. When a car's engine or transmission fails, it's

not the end of the road. A remanufactured drivetrain product from Jasper Engines & Transmissions will give your car a new lease on life. JASPER has over 2000 Associates, three manufacturing facilities, two distribution centers and 45 branch offices across the country. They're all working to produce, transport and deliver the perfect product. That's what they do best… keep customers happy. Visit jasperengines.com