THA 044: The Importance of Back Office Operations – Part 1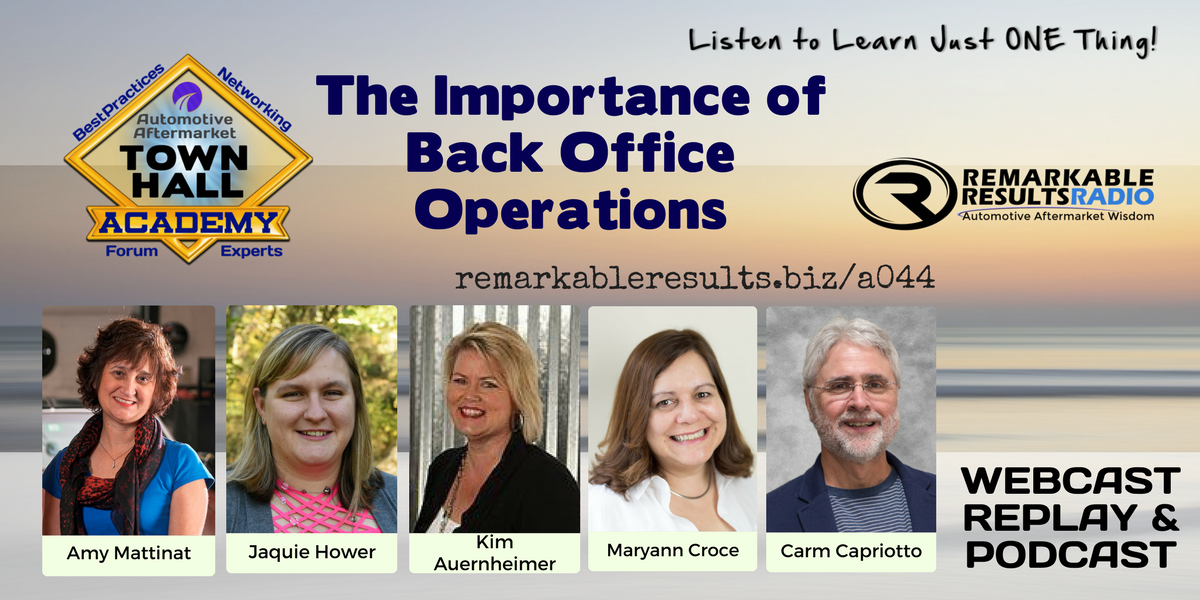 Your Learning Curve Never Sounded So Good!
Helping automotive aftermarket professionals improve; one lesson at a time.
Learn from your industry peers in a round-table forum. Get new ideas, perspectives, trends, insights, best-practices and expertise from aftermarket professionals.
Watch like a DOCUMENTARY … Learn like a SEMINAR.
---
In Part Two we discussed Human Resource and Marketing. Listen HERE.
---
The Academy Panel:
Amy Mattinat is the owner and manager of Auto Craftsmen in Montpelier, VT. Her shop is an ASE Blue Seal Shop, AAA approved and she is a member of ASA, SBN & WiAC.  Along with running her independent repair shop, she is able to combine her three passions: teaching small business owners how to run a successful business, teaching car care and safety to the general public and educating young people about the many career opportunities available in the auto care industry.
Amy was awarded the  2012 Top Female Shop Owner of the Year by the Car Care Council Women's Board, Honored as a 2014 Professional Woman of the Year by the National Association of Professional Women, Awarded the 2015 U.S. Small Business Administration's Vermont Women-Owned Business of the Year, Awarded the 2016 AAA Business of the Year in Vermont and served as President of Women in Auto Care 2014 through 2016. Listen to Amy's previous episodes HERE.
Kim Auernheimer, AAM is the Co-Owner & Business Manager of CS Automotive in Brentwood, Tennessee. CS Automotive was opened in October of 2006 in the back of a warehouse and now they call a 6,400 square foot, 10-bay shop home.  Prior to joining her husband Rob in the business on a full-time basis, Kim had a career in Commercial Real Estate and Property Management. In July of 2011, she stepped out from the background of the business and joined her husband in the venture of creating an industry-leading standout.
Kim continuously seeks out training for her and her entire team and put the teachings to use. Her belief in industry education has been a large influence on how much success and growth they have had over last few years.  She has a passion to improve the reputation of the Automotive Repair industry working alongside other shop owners and industry leaders to improve the overall experience of the customer from the moment they make that first call to the shop until they drive their car off the lot instilling transparency and developing trust during the entire process.
In 2017, she obtained her Accredited Automotive Manager (AAM) designation. This is a result of 120-credit hours of coursework in several core competencies including leadership, marketing, customer relations, accounting, and several other areas of automotive repair business management. Listen to Kim's Episodes HERE.
Maryann Croce of Croce Transmissions in Norwalk, CT was opened 1999. Maryann was a banker turned business owner. Tony was technician turned shop owner.  A big transition on their parts and that extensive wisdom makes Maryann the perfect guest on the Academy series.
Their 4 bays, 4 techs, and one service advisor shop is successful because as husband and wife Maryanne and Tony work at their roles and have abundant trust in each other.
Maryann is also a member of Women in Auto Care and owns smallbizvantage.com. Hear Maryann in her previous episodes HERE.
Jacquie Walter Hower is the Director of Operations and 3rd generation at her family's business, Zimmerman's Automotive, in Mechanicsburg, PA.
During high school and college, Jacquie worked part time for the company working in the Quick Lube department as a technician changing oil and maintaining customer vehicles. After her sophomore year of college, she was given the chance to become a manager for a new Quick Lube location for the company.
Since then Jacquie's love for the industry grew into a passion. As director of operations, she handles a number of different jobs such as customer service, service auditing, daily accounting, training, and community involvement/events.
In the summer of 2016, Jacquie began the Aftermarket Management program at Northwood University where she hopes to complete her bachelor's degree in two years. Jacquie is involved with the Car Care Women's Board and sits on the board of directors at the Mechanicsburg Chamber of Commerce.  She resides in Mechanicsburg, PA with her husband, Dan, and their two young boys, Brantley (4) and Mason (2). Hear Jacquie in her previous episode HERE.
Talking Points:
Controls

Accountability to the cash in the business

This is a task that should not be delegated

Who has authority to sign checks or use credit cards.
All receipts accounted for.
Open Mail and Pay the bills. If owner OK. It should never be an employee that does both tasks.
If owner delegates check writing, they should sign every check with every receipt attached for review.
Systems and process hold people accountable.
Look at the credit card statement and bank transitions daily.

Stages of business will impact all areas of the business.

Bootstrap- Doing it all yourself Focus on Sales and Marketing

Many techs have turned business owner.

Growth-Work and Sales coming in are causing overwhelm –  Focus Team with Systems and Processes.
Scale-Work is there, systems are working – Focus on Leadership.

Your team runs your business.

Operations

You get consistency and improve communications, so the ball doesn't get dropped.

We get our bad reputation when communications fall down.

The bigger you get the more important good systems are. So good systems can help you grow.
You need to have a bulletproof system. Done the same way every single time.

This is your staff's way of being accountable which makes communication strong with each other. Customer included.
Your Bible.

Systems include Policies, Processes and Procedures:

Policies contain statements of intent, rules to abide by, and standards that are expected.
Processes put the tasks needed to satisfy the Policies in order and defines who will do the tasks and when they are to be done.
Procedures define how each individual task is done, and essential information to be able to complete the task without assistance."

Systems and processes sound complicated but one step at a time is how you eat the elephant.

The work put in pays off.

When all systems and processes are followed, when a problem arrives, it is easy to go back and find if there was any break in the system.
How to get there:

Get the techs to buy in.

We get better organized and improve production
Create a win-win.

Created as a team. The person doing the job can help write exactly what they do and when they do it.

Easy to create the system/process off of that as a start.

You get a level of professionalism in your shop.

They will be seen as professionals as an outcome of your great systems/processes.

Hire part-timer. Delegate some of your job to that person. Get them to document the job and processes, then create the system.
Create your own system as a start. Give it to your team to improve it. The buy-in is so important.

Accounting and Finance

Kim survived an IRS audit for one reason.

Run your business as if you are being audited.

Quick Books is used by the entire Academy panel.

Some SMS systems integrate with Quick Books.

Keeping good records and being organized is a pillar of a well-run business.

Example of an IRS audio went from 3 days to 3 hours because of the quality of the recordkeeping.
Run your business as if you were being audited.

Having an outside accountant is important. Also, they help with tax issues and to help verify the integrity of your numbers.

Watch for estimated tax issues.

A Profit & Loss statement ( P & L) is a steering wheel for your business.
The balance sheet shows you where your assets and liabilities
KPIs get created from your numbers and are critical to measures of success.
Do not mix personal with business.
If you own the property and it is a separate entity. Keep the cash and expenses separate.
The value of budgeting can help you through lean sales months and spending options.
Putting your cash away for the lean times makes budgeting an important tactic in the business.

Lean times vs good times.

If no layoffs you need cash to pay the bills during slow times.
Your staff should know you are sitting on your cash to support the business in the lean months.

Keeping great records allows you to go back to find trends and confirm your cycles so you can staff properly and control your spend.

Can also create marketing opportunities because you know the future trend.

You pay bills with margin dollars, not margin percent.
Blind spots:

Your 1040 says you made money. Where is the cash?

Your cash could be in capital improvements or equipment purchases, accounts receivable, missing cash because of poor cash management, or inventory loss. There are more factors that challenge your cash position.

Planning ahead to know your capital expenditures will be long term.
Projecting your goals with your business.

Add to staff requires past performance and where you are going.

Get over the fear of the numbers. Learn them and embrace them.
Make changes to your systems and watch the effect it has on your financial statements.
Charging for shop supplies or technical fees.

Amy adds $4 tech fee to every ticket.
Charge for shipping when you need to pay for a special order.

Stay with your core. What is your most profitable job. Stick with that and promote it Example Brakes.
---
This episode is brought to you by Jasper Engines & Transmissions. When a car's engine or transmission fails, it's

not the end of the road. A remanufactured drivetrain product from Jasper Engines & Transmissions will give your car a new lease on life. JASPER has over 2000 Associates, three manufacturing facilities, two distribution centers and 45 branch offices across the country. They're all working to produce, transport and deliver the perfect product. That's what they do best… keep customers happy. Visit jasperengines.com