THA 049: How to Sell Diagnostics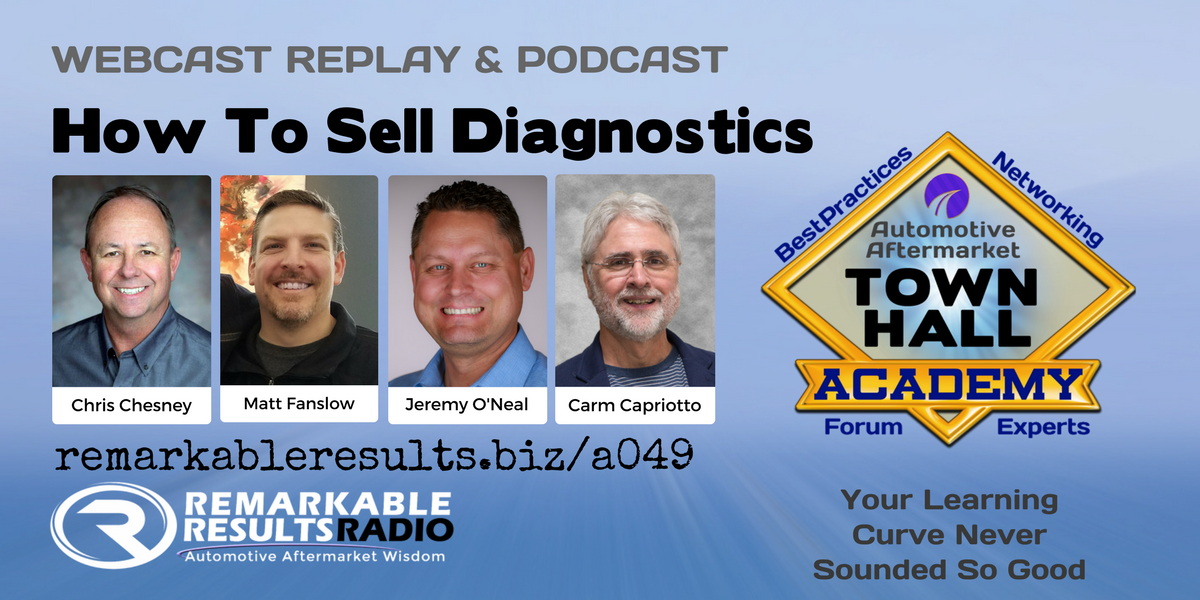 Your Learning Curve Never Sounded So Good!
Helping automotive aftermarket professionals improve; one lesson at a time.
Learn from your industry peers in a round-table forum. Get new ideas, perspectives, trends, insights, best practices and expertise from aftermarket professionals.
Watch like a DOCUMENTARY … Learn like a SEMINAR.
The Academy Panel:
Chris Chesney was consulted early on at the beginning of CARQUEST Technical Institute (CTI) and ultimately sold his business and moved to Raleigh NC to lead CTI. He still gets up every morning with the same passion he's had since that day in Natoma, KS because he says, this industry is made up of some of the finest people on this planet. They work so hard every day to service their customers and communities. Many are very successful, but many are not.Our industry is rapidly changing, and all members of our industry are stressed with the onslaught of technology, the aging workforce and shortage of skilled labor. Chris's passion today continues to be leading the very best team of instructors and developers as he helps bring education solutions to the market. Listen to Chris's previous episodes HERE.

Matt Fanslow is the diagnostic tech/shop manager for Riverside Automotive in Red Wing, MN. His primary responsibilities are to diagnose driveability and electrical/electronic issues, and perform most all programming, coding, initializing, adaptions, etc. Basically, if it needs to be figured out or has wires, it goes to Matt. He's been a tech since 1996. Matt is also a subject matter expert for ASE and a trainer.Matt has participated on 18 ASE technical committees for the ASE Practice Test, A6, A7, A8, and L1 tests. He's also done case studies for Standard Motor Products.  Matt teaches for PICO.You would have found Matt here at AAPEX in the Pico Technology booth as well as presenting at the AAPEX/AVI Mobility Park for Pico on using the relative compression test with a Pico Scope.Matt also does instructor lead training for Pico Technology, AES wave and ASA Midwest (Vision).  The Pico Technology gigs have him over the country, Canada, and Puerto Rico. Listen To Matt's previous episodes HERE.

Jeremy O'Neal  President and lead sales trainer for Advisorfix, began his career as a Service Advisor and moved into Service Management at the dealership level for VW, Audi, and Porsche. He consistently placed in the top 3% of Service Advisors across the nation.With a passion for helping others, Jeremy started coaching Service Advisors in 2007. Jeremy also owns an independent auto repair shop. Jeremy's previous episodes HERE.
Talking Points:
What is diagnostics? It means different things to different people.

The owner can feel they don't get paid for this work.
The tech may think it means something I do that I don't get paid for.
The consumer does not shop for diagnostics. They want their car fixed. We sell this and the consumer doesn't know what it is.

To what level of diagnostics does the shop want to do?

You need to decide as an owner and manager on what happens when diagnostics are done and the problem is found.

Is there a B tech that completes the repair?

Will you work on certain car lines or all makes-models
Does the tech have the knowledge and skills?
Will techs specialize in diagnostics and specialize in vehicle platforms.

Will you specialize in certain diagnostic disciplines? Example: Data Networks.
Must have the right equipment and training and keep tech-focused in his specialty.
Diagnostics may not be the right word in today's business climate. Instead. Testing or Analyzing the results.
There are shops today stuck in the 90's mindset.

Cars are neglected today. Normal maintenance is not getting done.
If you are to diagnose the car it must be maintained bumper to bumper before jumping in. The problem could be as simple as the vehicle may be low on oil!

If you don't charge the proper fee for diagnostics, you'll soon be out of business.
We may want a 'triage' mentality when looking at diagnostics. Prepare the vehicle to be looked at by shop specialist.

Let a triage tech get all the information on the vehicle. Let them determine where the vehicle gets dispatched internally.
This helps serve the correct technician to work on problems where he can be successful.

Should be we charging for a 'root cause analysis'.

Let the tech do their job on finding the real problem with the vehicle.

A seamless relationship with service advisors and technicians are very important.

Working together as a team is a critical component of a well-running company.
Trust the process.

If the tech does swaptronics or substitution analysis it will be difficult to sell diagnostics to the customer.
The service advisors sells the techs skills to the customer.

The customer may challenge diagnostics fees. You need to believe in your process, talent and capabilities to explain to the customer the value they are getting. You must believe in those services.

You can test, but next is to verify. That may take longer.
"Testing is a fee for service. Once the test is complete the fee is earned. Don't you agree, Mr. Customer?"
A root cause analysis must be done. If you cannot do the proper testing you should not get involved with the client.

Diagnostics is all too often looked at as a plug in a device and presto it is fixed. As we know there is so much more to it.

The motoring public needs to know code readers doen't tell you what's wrong. It gives you data to determine where to look.

The customer needs to see what is behind the curtain. Show graphs and get them to understand through photo's and documentation how the process works.
Too many shops are not getting proper training. An overdone and overused excuse … I can't get my guys to go. Falling behind is not going to keep you in the game.
Too many shops are just getting by with the limited knowledge their people have and a few silver bullets.
Processes are going to solve much of this discussion.

The communication between the service advisor and the tech.
The shop needs to have buy-in on how we do diagnostics, the process.
Service advisor and the technician will be held accountable for our process.

Create the standards inside the company on how testing and analysis is done.

Our customer expects these standards and we will see the value in our testing and analysis efforts.
The service advisor and the tech become partners.
The service advisor is selling a premium product of 'testing and analysis'. We can sell the solution because we are the best in town. Fix it right the first time.
Engagement and accountability to the process are non-negotiable among the team.

This creates customer deliverables.

Tony Robins says to sell your services at 10 times their value.

Consider selling your $150 testing/analysis for $1,500. If that is the case could you come up with the perfect process to justify that amount? There then lies your process assuring that a car will be fixed right the first time.

The discipline in your process will create the freedom and revenue that your business deserves.
The process must define how testing is done.

On-line resources
Databases

We need to move from diagnosing to analysts and use all resources to accomplish your research.

This process needs to be defined.

We will use all means available to gather information and data to solve customer's problem.

All resources must be used appropriately.

Google has a place. You need to be sure your BS detector is working before you jump down a deep rabbit hole.
Stop selling time.

Time can be compared.
Is all time or process more valuable than Shop B or Shop C?

Make what we sell (testing/analysis/diagnostics) that results in the solution to the problem a premium product.

Sell the expertise of your staff.
You have the proper equipment
You have trained professionals.
Our people need to be bought into a process.

Develop your process with your team. They need to be involved and must hold each other accountable

Testing should not be your standard labor rate.

Increase your rate because the parts profit is missing.
Increase 25 – 50 percent
You could have multiple rates for different levels of testing.

Believe. Practice and Role Play to your solution for your customer.
Be socially involved and in touch with the show:
Facebook   Twitter   Linked In   Email    Events    Speaking
This episode is brought to you by Jasper Engines & Transmissions. When a car's engine or transmission fails, it's

not the end of the road. A remanufactured drivetrain product from Jasper Engines & Transmissions will give your car a new lease on life. JASPER has over 2000 Associates, three manufacturing facilities, two distribution centers and 45 branch offices across the country. They're all working to produce, transport and deliver the perfect product. That's what they do best… keep customers happy. Visit jasperengines.com