THA 054: Stay Up on Social Media – Facebook Changes and your Marketing Efforts 2018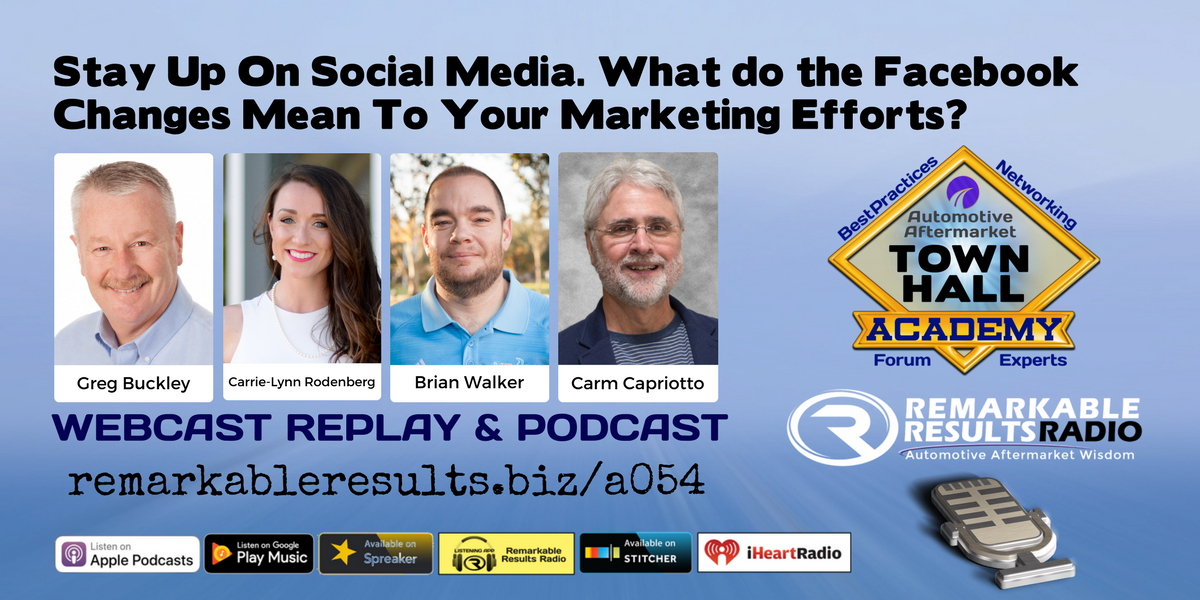 Your Learning Curve Never Sounded So Good!
Helping automotive aftermarket professionals improve; one lesson at a time.
Learn from your industry peers in a round-table forum. Get new ideas, perspectives, trends, insights, best practices and expertise from aftermarket professionals.
Watch like a DOCUMENTARY … Learn like a SEMINAR.
The Academy Panel:
Carrie-Lynn Rodenberg, is owner of Turnkey Marketing that exists to help shops effectively communicate to your community, customers, and potential customers the good work you do. Your repair shop can be known as the trusted, "go-to" shop in your area. Their work provides cutting edge marketing that actually works and increases car count. Hear Carrie-Lynn's previous episodes HERE.
Greg Buckley  is the CEO the 50 + year young Buckley Personalized Auto Care in Wilmington, DE. He's a member of ASA, an ATI Coach, a member of the Delaware Automotive Service Professionals, past member of the NAPA advisory board council, is vice-president of NAPA business development groups, and is involved as an advisory board member of Kukui, along with AutoVitals. Hear Greg's previous episodes HERE.
Brian Walker is the founder and CEO of 5 Stones, a marketing agency in Hammond, Louisiana. Before entering his career in marketing, Brian was a 17 year veteran of the automotive industry and owned Peak Automotive, a Euro shop in Apex, NC. Peak Automotive was one of Motor Age Magazine's "Top Ten Shops" two years back to back. Brian served as the Mechanical Division Director for the Automotive Service Association of North Carolina. Whereas he is no longer involved in the automotive industry, Brian still has a passion for the independent aftermarket and is an ambassador for blue-collar trades as a respected profession. Hear Brian's previous episodes HERE.
 Talking points:
You are your brand, your brand is you.
Facebook's changes are meant to bring them (Facebook) back to their roots. Community.
Facebook has done this in the past, but indications that these changes are going to stick more than they have before are strong.
Only about 3% of your followers may see your posts.
You may have to pony up money to get seen on Facebook.
Posting styles from the past may not work today. Think 2018.
People are spending less time on Facebook usage. Like 50,000,000 fewer hours, but that is only 5% of the overall time people spend on Facebook.

Mind-numbing scrolling has decreased quality of life.

Facebook says we will be happier with their new algorithm.
Messenger could be a great tool on how you craft its usage.
Be organic. Put yourself in front of your brand. Use video's

Odd or unusual content will carry you further.

You may have to go with YouTube and Instagram and Twitter.
Facebook LIVE is going to matter bigger than ever if you want to be seen.
People who are influencers will stay in front on Facebook.

If you have a growing tribe you'll do OK.

You need to generate natural engagement.

Likes. Comments.
Comments will be heavily gauged. Longer comments will get more play.
Get your tribe to comment on your posts.
Ask them open-ended questions for a real discussion.

Your marketing is to bring people into your sales funnel.

Get your prospect to spend some time on your own website. (you own your site vs. facebook)
You must work to bring your prospect and tribe members into your world and the outlets that you own. (you web properties)
Your website is your online hub and the face of your business.

Be sure your website is fresh and current not only in content but looks.

If it looks old maybe you don't own the latest scan tools to repair today's vehicles.

Capture leads from the traffic that comes to your site. This is a huge opportunity for our industry. Build an email list.

There may be a bigger play to capturing your email list if there is value received. You own your email list. It is an asset vs. Google Ads or Facebook Ads.

Offer a downloadable checklist to collect an email such as a checklist when buying a new car.
Offer a coupon.
Email helps on your retention marketing.
95% of leads need to be touched 7 times before they will convert.
97% of people that visit your page are not ready to buy.
You must give prospects and customers value and love to build the trust relationship.

When you post you should consider posting on your business page and your personal feed.

You will have influence in either venue (business or personal page)
People recommend people to you. You are your business.
When you connect on Facebook connect to places like your web property that you own.

Give away everything you possibly can.

A video on the repair you are working on. No DIY angle just education and information
Never show the sequence of repair. That will limit the DIY effect.
Video's 1-3 minutes.
Do not show how to do the repair. (liability issues)
Reasons repair costs so much.
Symptoms and results.

For Greg Buckley, he gets more leads from his YouTube page.
Video is king. Run and gun. Raw authentic production quality.

Don't get stuck behind the curse of knowledge.

If 60% of your customer base is women; speak to them.

Why wiper blade change or cleaning is important.
What do your customers care about?

Document don't create.

Create the rear wiper blade story.

Don't underestimate the value of putting your customers on video.

It is our job to create raving fans of our clients.

Buckley: 'We need to look at Facebook as a complete ecosystem.'

Greg feels that the changes are good. Learn how to navigate the new Facebook and take advantage with their current disciplines.

Let reality be your friend.

Make changes. Re-iterate. Make a pivot if strategies aren't working.
Nurture the leads you have. Give them real value. Build trust.

Get out your wallet. Pay Facebook.

It will take time to build an engaged tribe.
You can do some amazing things with Facebook ads.
Facebook ads will help you learn how to target your audience and ads that speak to them.

Book: Building a Story Brand, Donald Miller

Make your client the hero of the story.

Take the time to learn Facebook. Understand how to extract the value from Facebook.
Be socially involved and in touch with the show:
Facebook   Twitter   Linked In   Email    Events    Speaking
This episode is brought to you by Jasper Engines & Transmissions. When a car's engine or transmission fails, it's

not the end of the road. A remanufactured drivetrain product from Jasper Engines & Transmissions will give your car a new lease on life. JASPER has over 2000 Associates, three manufacturing facilities, two distribution centers and 45 branch offices across the country. They're all working to produce, transport and deliver the perfect product. That's what they do best… keep customers happy. Visit jasperengines.com