THA 055: The Importance of Back Office Operations – Part 2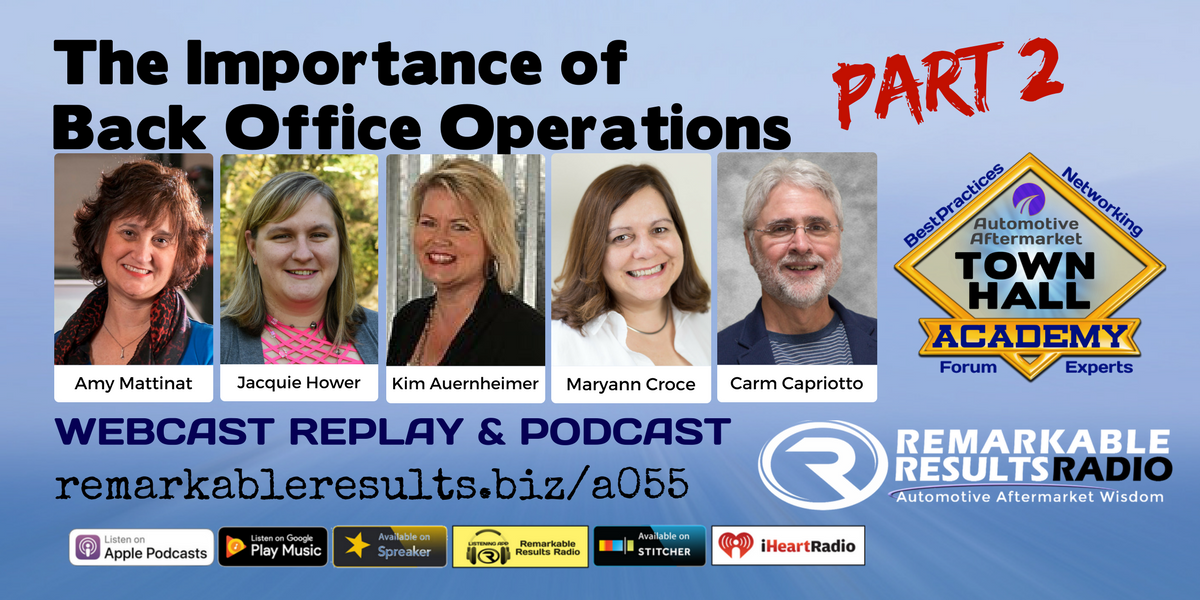 Your Learning Curve Never Sounded So Good!
Helping automotive aftermarket professionals improve; one lesson at a time.
Learn from your industry peers in a round-table forum. Get new ideas, perspectives, trends, insights, best-practices and expertise from aftermarket professionals.
Watch like a DOCUMENTARY … Learn like a SEMINAR.
---
In Part One we discussed Controls, Operations and Accounting/Finance. Listen HERE.
---
The Academy Panel:
Amy Mattinat is the owner and manager of Auto Craftsmen in Montpelier, VT. Her shop is an ASE Blue Seal Shop, AAA approved and she is a member of ASA, SBN & WiAC.  Along with running her independent repair shop, she is able to combine her three passions: teaching small business owners how to run a successful business, teaching car care and safety to the general public and educating young people about the many career opportunities available in the auto care industry.
Amy was awarded the  2012 Top Female Shop Owner of the Year by the Car Care Council Women's Board, Honored as a 2014 Professional Woman of the Year by the National Association of Professional Women, Awarded the 2015 U.S. Small Business Administration's Vermont Women-Owned Business of the Year, Awarded the 2016 AAA Business of the Year in Vermont and served as President of Women in Auto Care 2014 through 2016. Listen to Amy's previous episodes HERE.
Kim Auernheimer, AAM is the Co-Owner & Business Manager of CS Automotive in Brentwood, Tennessee. CS Automotive was opened in October of 2006 in the back of a warehouse and now they call a 6,400 square foot, 10-bay shop home.  Prior to joining her husband Rob in the business on a full-time basis, Kim had a career in Commercial Real Estate and Property Management. In July of 2011, she stepped out from the background of the business and joined her husband in the venture of creating an industry-leading standout.
Kim continuously seeks out training for her and her entire team and put the teachings to use. Her belief in industry education has been a large influence on how much success and growth they have had over last few years.  She has a passion to improve the reputation of the Automotive Repair industry working alongside other shop owners and industry leaders to improve the overall experience of the customer from the moment they make that first call to the shop until they drive their car off the lot instilling transparency and developing trust during the entire process.
In 2017, she obtained her Accredited Automotive Manager (AAM) designation. This is a result of 120-credit hours of coursework in several core competencies including leadership, marketing, customer relations, accounting, and several other areas of automotive repair business management. Listen to Kim's Episodes HERE.
Maryann Croce of Croce Transmissions in Norwalk, CT was opened 1999. Maryann was a banker turned business owner. Tony was technician turned shop owner.  A big transition on their parts and that extensive wisdom makes Maryann the perfect guest on the Academy series.
Their 4 bays, 4 techs, and one service advisor shop is successful because as husband and wife Maryanne and Tony work at their roles and have abundant trust in each other.
Maryann is also a member of Women in Auto Care and owns smallbizvantage.com. Hear Maryann in her previous episodes HERE.
Jacquie Walter Hower is the Director of Operations and 3rd generation at her family's business, Zimmerman's Automotive, in Mechanicsburg, PA.
During high school and college, Jacquie worked part time for the company working in the Quick Lube department as a technician changing oil and maintaining customer vehicles. After her sophomore year of college, she was given the chance to become a manager for a new Quick Lube location for the company.
Since then Jacquie's love for the industry grew into a passion. As director of operations, she handles a number of different jobs such as customer service, service auditing, daily accounting, training, and community involvement/events.
In the summer of 2016, Jacquie began the Aftermarket Management program at Northwood University where she hopes to complete her bachelor's degree in two years. Jacquie is involved with the Car Care Women's Board and sits on the board of directors at the Mechanicsburg Chamber of Commerce.  She resides in Mechanicsburg, PA with her husband, Dan, and their two young boys, Brantley (4) and Mason (2). Hear Jacquie in her previous episode HERE.
Talking Points:
Human Resources:
You need a handbook. It is a legal document.
Every employee must agree to it and sign it.
Consider pulling very important policies on separate sheets for review and signature. These critical policies are the most critical. Example: Harassment of all types, Drug/Alcohol Use, Cell Phone Policy, Drug Consent.
Careful if you copy a colleague's handbook. Every word must be reviewed for legality in your state and for your policies.
Hire slow, Fire Fast.

Be careful though you may have a diamond in the rough.

Potential new hires can be interviewed by other team members.
Work in the shop for a day. Observe and access technical ability, knowledge of tools.
Hire for attitude. Teach competency.
If your new hire isn't a fit, you'll know quickly. Keep your eyes and ears open.
DISC profile and Strengths Finder assessments are in order to find the right personality or communication styles for your team.
Have fun and celebrate wins. Work needs to be like home. Birthdays, anniversaries and babies.

If you are having a bad day leave it at home. You are the cheerleader.
Marketing
Understand your ideal customer. Create an Avatar
Discover your demographics. Home price, income, companies in the area, divorce rate.
Know what your customers like. Profiling your customer.

Sports, Music, Radio Stations.

It is expensive to get new customers.
You must track them and have systems to understand your ROI.
Create customer advocates. They are your strong referrals. Your primo customer.

What do they have in common?

You must have a referral program and a system to track and reward.
Customer appreciates a phone call of thanks.
Don't discount your services.
Understand your customer journey to your company. Was it web, social, blog, etc. Discover the way your customers get to you and track it. Drill down and track your discovery.
Your brand needs to be consistent with your physical plant and your online presence. Do not use generic pictures. Take your own. Your pictures on the web must match who you are and what you look like. Do not misrepresent yourself.
New customers must be tracked to discover customer spend and ARO to help justify your cost of marketing.
If something is working: Rinse & Repeat.
Marketing Ideas:

Take your reviews word for word and repurpose them into a post.
Community events. Simple car shows, Family Service Day, Band Booster,
Get involved with the 'Best Of' awards in your community. 'Best Automotive Repair in your Town'
Shuttle service to local business park.
Graphic wrap for your company vehicles.
Your loaner cars need to have high miles to prove your maintenance program. Keep them clean and polished. Label the vehicle as a loaner car.
The best marketing is in creating relationships. Sponsor sports team and connect your efforts to charity. Food bank, toys for tots, animal shelters, and Brakes for Breasts for example.
Demographic website https://factfinder.census.gov/faces/nav/jsf/pages/index.xhtml
---
This episode is brought to you by Jasper Engines & Transmissions. When a car's engine or transmission fails, it's

not the end of the road. A remanufactured drivetrain product from Jasper Engines & Transmissions will give your car a new lease on life. JASPER has over 2000 Associates, three manufacturing facilities, two distribution centers and 45 branch offices across the country. They're all working to produce, transport and deliver the perfect product. That's what they do best… keep customers happy. Visit jasperengines.com