THA 060: How To Get Value From Recorded Service Calls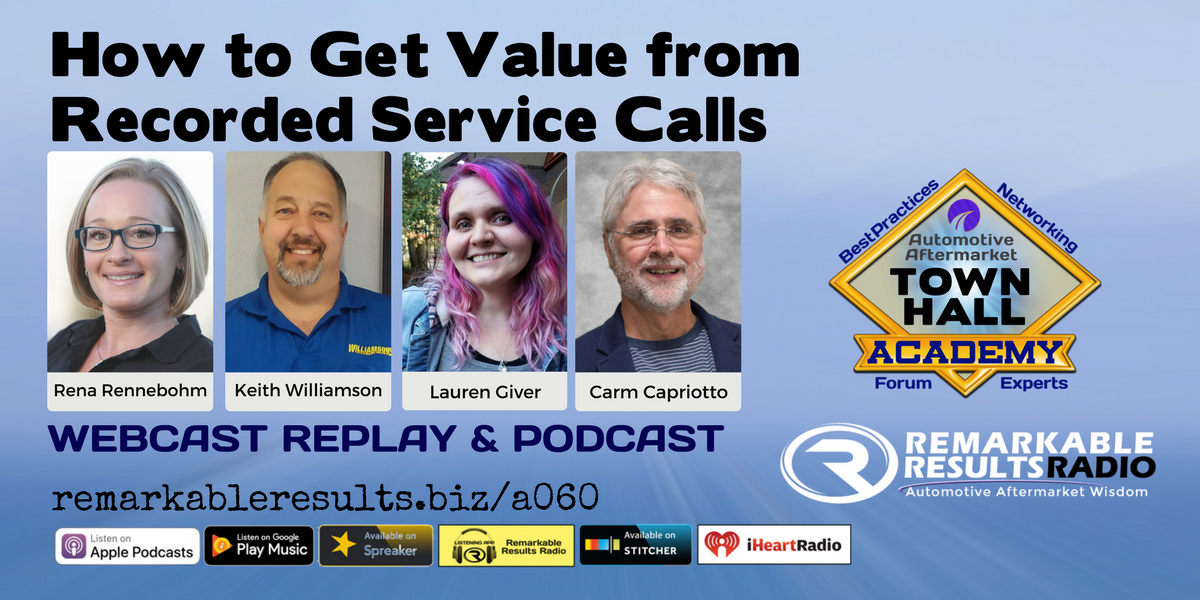 Your Learning Curve Never Sounded So Good!
Helping automotive aftermarket professionals improve; one lesson at a time.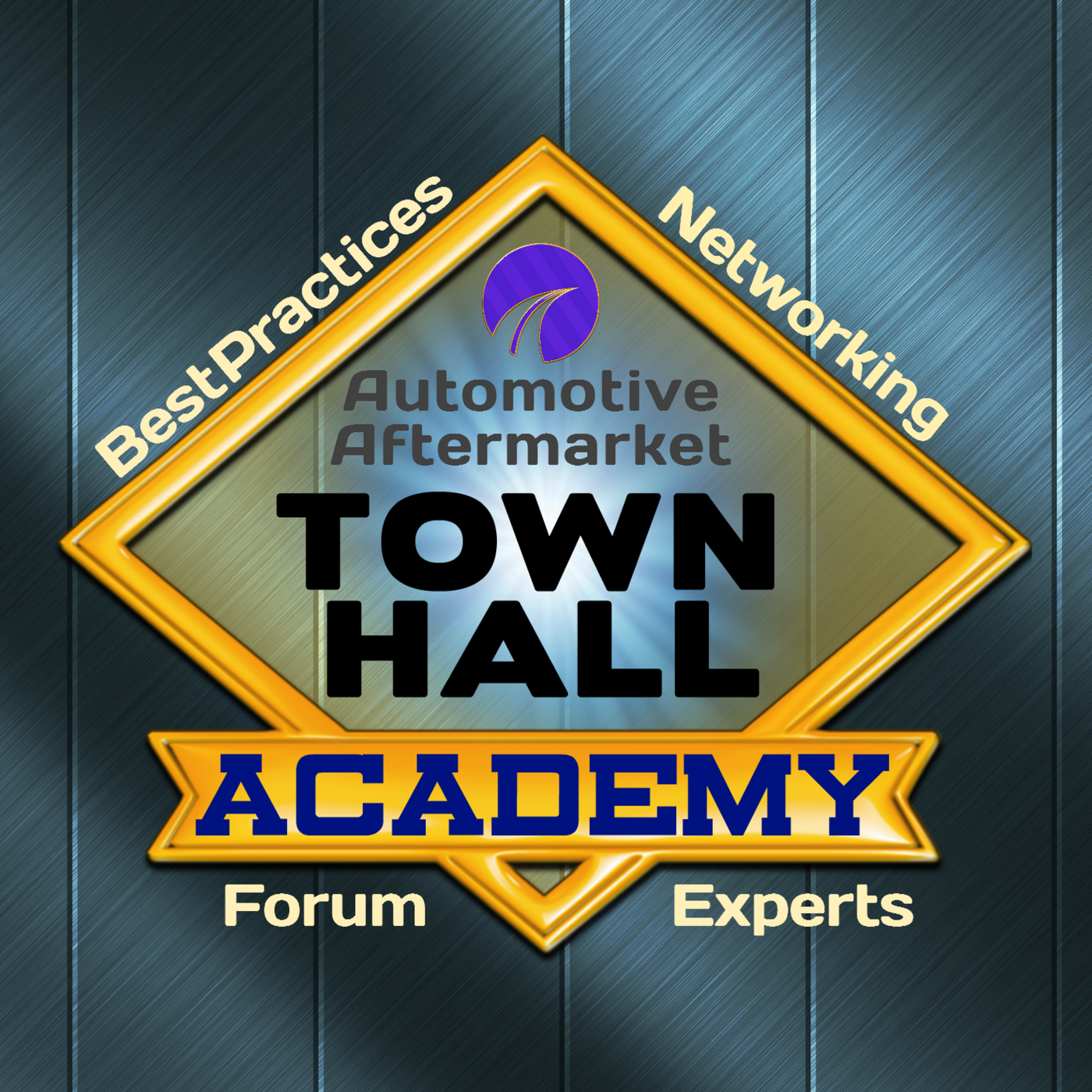 Learn from your industry peers in a round-table forum. Get new ideas,  
perspectives, trends, insights, best-practices and expertise from aftermarket professionals.
Rena Rennebohm service advisor coach and the Chief Training Officer of ACT Group. When not gardening or cooking Rena is working her chosen trade, Coaching Service Advisors across the country.
With over a decade of Service Advisor experience, from the independent side of the business to the dealership side and back, Rena has seen and dealt with just about anything and everything! And after becoming proficient as a Service Advisor, she moved to the Coaching & Training side of the automotive industry. Her experience in Coaching and Training Service Advisors has allowed many, many facilities to not only build their total sales exponentially, it has helped build a stronger NET profits as well.  Listen to Rena's previous episodes HERE.
Lauren Giver started in the industry in July 2016 when she went to work for the repair shop that had been maintaining her vehicle for two years. She was hired as the Office Manager, but a big part of her job was talking to customers on the phone and at the counter. Lauren quickly found that this was the favorite part of her job, and truly why she wanted to work there in the first place. She had never received that level of customer service or felt valued as a customer at any other repair shop and she was excited to provide that experience from the other side of the counter. After the shop manager challenged her to make a sale, when she had absolutely no technical or sales experience, she sold the job and found that she enjoyed writing service just as much. It allowed Lauren to help people, which is what she wanted to do. After nine months, she was informed that the owners were retiring and selling the building, but through the connections that she made, Lauren found a wonderful home at Los Gatos Auto Service in Campbell, California where she currently writes service, full-time. Listen to Lauren's previous episodes HERE.
Keith Williamson is the owner of Williamson's Repair and Tire in Bondurant, IA for over 20 years. He is a member of ASA Midwest where he leads the Shop Owner Support Group (an amazing group of shops) in Iowa. He and his team focus on the customer experience, as well as Hybrid, Electric and emerging vehicle Technologies. He recently added a solar array to his building and uses a Toyota Prius and Chevrolet Volt as shuttle vehicles and plans to add more hybrid and electric vehicles as they continually update their loaner fleet. He is a member of RLO Training's Bottom Line Impact Group for 4 years. Listen to Keith's previous episodes HERE.
Talking Points:
We do not like hearing ourselves on a recording. That is human nature.
A great way to instill a proper greeting is to have a smile 'on'. It reflects in your voice.

If you have a standard script, this ensures that your consistent phone techniques are solid.
Because you are paying attention to the proper phone technique it is a big accountability factor.

Listening to other people's call is easier than listening to your own.
Sometimes you need to listen to a bad call, but there is always a silver lining; a learning opportunity.
Service advisers need quality training and the recorded phone call is a key to that training.
If your shop does not record calls,  an option to find out your strengths and opportunities is to have your shop 'secret shopped'.
Learn to speak to a customer at their pace and level of understanding.
Save good calls and go over what a good call sounds like.

When you find one that works play it over and share it with your team. You will grow your business.

Every service writer needs to find and develop their own style.
Recorded calls and coaching helps to convert and opens the learning to be a better communicator.
You'll discover misunderstandings and you'll learn from them and may make changes to your policies.
If more than one service adviser, consider a team listen, but do not create any vulnerable moments. Make it balanced and fair for teach service adviser.
Find a recorder that does outgoing and incoming calls. It is important to cover both. Some shops use two recorders.

Some marketing companies offer call recording with tracking that also supports conversion rates.

Call recording will teach every owner that they have no role on the counter.
Call recording puts the bow on your service advisor training.
Lead to conversion at an average shop is 30%. So this tool will work to improve that.

Find all the positives in every recorded call.

Learn the Socratic question method. Basically, ask more questions.
You learn how to be your better self.
Don't make assumptions. If you record you now have proof.

You cannot correct a service advisor by hearing only one side of the call.

Barry Barrett: 70% of the time when you give a price over the phone you are inadvertently lying to the customer. 80% of the time it is more expensive.
Lauren Giver says the recorded call is her most important improvement tool.
---
This episode is brought to you by Jasper Engines & Transmissions. When a car's engine or transmission fails, it's

not the end of the road. A remanufactured drivetrain product from Jasper Engines & Transmissions will give your car a new lease on life. JASPER has over 2000 Associates, three manufacturing facilities, two distribution centers and 45 branch offices across the country. They're all working to produce, transport and deliver the perfect product. That's what they do best… keep customers happy. Visit jasperengines.com