THA 063: Making Business Partnerships Work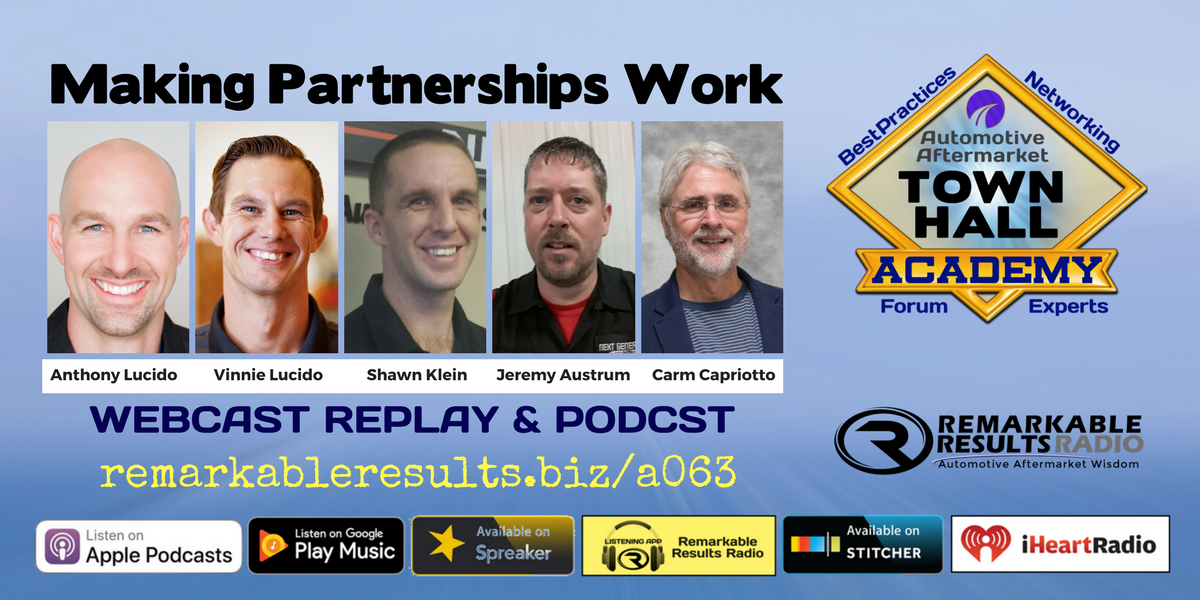 Your Learning Curve Never Sounded So Good!
Helping automotive aftermarket professionals improve; one lesson at a time.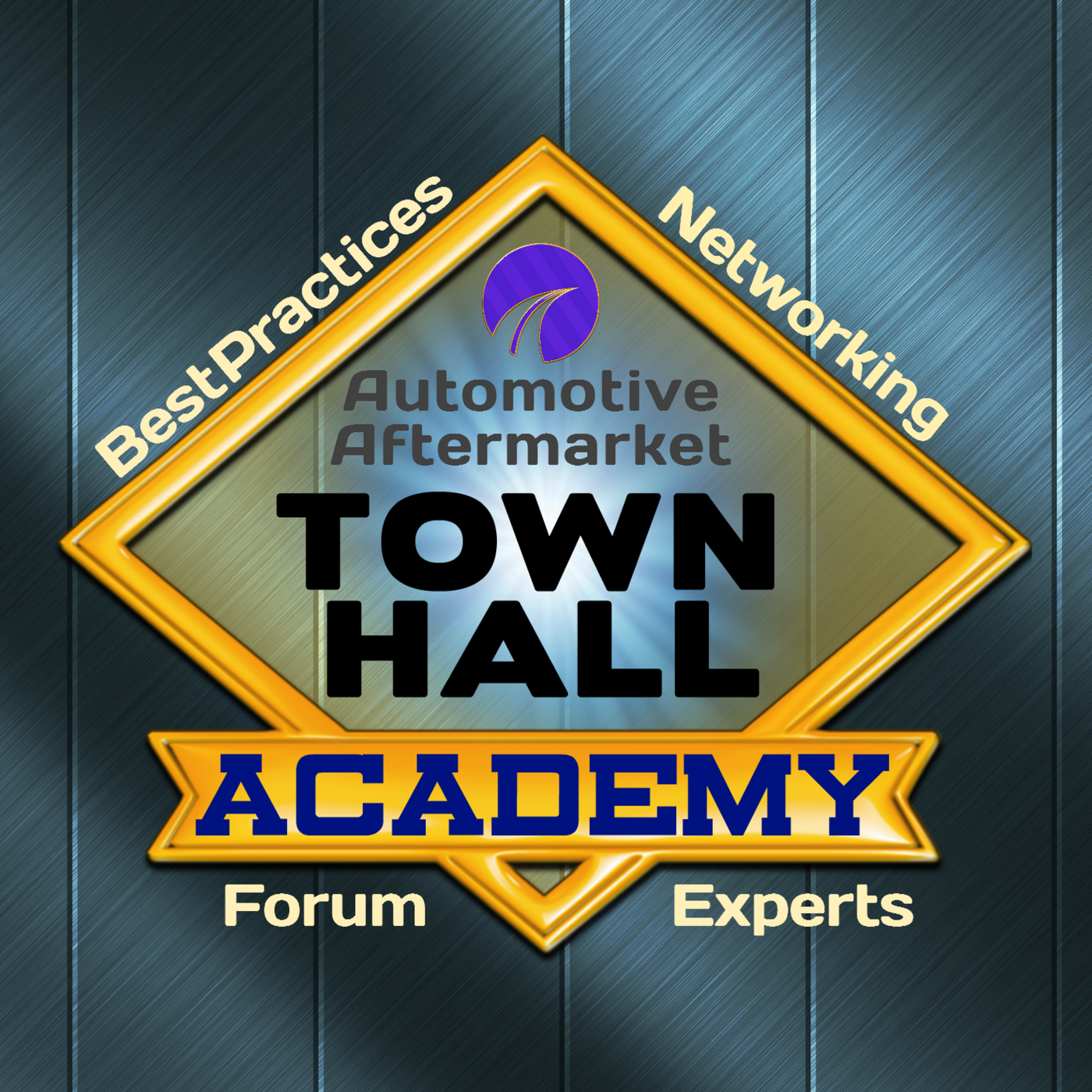 Learn from your industry peers in a round-table forum. Get new ideas,  
perspectives, trends, insights, best-practices and expertise from aftermarket professionals.
Anthony Lucido – Co-Owner CoAuto
Anthony Lucido started working in the service station business in 1995.  He has been tinkering with cars since the ripe age of 12 years old.  The first car he ever drove was an older Subaru he tuned up for his dads' friend, after the repair he drove up and down the long driveway (official test drive)
Anthony was an intern at the Porsche Service Training facility his senior year in high school where he was taught many valuable lessons that have stayed with him to this day.
Anthony is an ASE Master Certified Technician, Advanced Level Specialist, Service Consultant, Undercar Specialist, Maintenance & Light Repair Technician–He currently holds 15 ASE certifications and 3 advanced level certifications.  He and his brother Vinnie went into business and opened CoAuto in 2014 and become a student of the automotive business.
In 2017 Anthony received his Integrative Nutrition Degree for Health coaching as he was planning on going into another field after building this business, but after attending Vision in 2018 Anthony has a renewed passion for the automotive industry.  Anthony is married with 2 boys and a beautiful wife.
Vincent Lucido – Co-Owner CoAuto
Vinnie Lucido has had his hands in the automotive industry since 1996, starting in High school as a CSR at one of the last 76 Full-Service Gas stations in Reno. He found a passion for helping people through their most prized possessions, their automobile. Vinnie and his brother Anthony partnered together & opened CoAuto in 2014 and have been nothing but success in their new undertaking. Vinnie is ASE certified and has operated in every capacity of the automotive repair field. Throughout his career, he has been a customer service representative, a service writer, a technician, a manager and now an owner. Ultimately, he finds he is happiest when he is in communication with his clients and gets the opportunity to get to know his guests. Vinnie spends his time building relationships and networking and in turn, the shop continues to grow.
Vinnie an avid outdoorsman and enjoys all the Tahoe area offers. In his spare time, you will find him in the rivers, whitewater kayaking, rafting, and paddle boarding. In the mountains, snowboarding, timbersledding, and mountain biking. In the desert, dirt biking, rock climbing, and hiking. In the lakes, kiteboarding, wakeboarding and swimming. In the city, one-wheeling, biking, and hanging out. Vinnie also lives a yogic lifestyle and teaches the art of Budokon. Budokon like a triathlete has 3 disciplines which are martial arts, yoga and calisthenics. He is passionate about health and wellness. He and his beautiful wife Dawn are in the works of opening a yoga retreat in Belize where he plans to retire and enjoy all the Caribbean has to offer.
Jeremy Austrum  Owner, CEO, Next Generation Auto, ASE Certified Master Technician
Jeremy Austrum was raised on his family's farm in Hammond, WI. He graduated from River Falls High School in 1994, and then attended Dakota County Technical College, where he finished the Automotive Technician Program two years later. Jeremy has been an ASE Master Technician since 1996. He continues to complete additional training courses each year to stay up-to-date with the ever-changing automotive industry.
Jeremy was employed at Goodyear in Eagan, MN from 1994 until spring of 2011, when he and Shawn started Next Generation Auto. He and his wife, Jessica, (with the help of friends and family) built the house they live in near the Austrum family farm. In 2010, they had their first daughter, Daisy, and Lulu LeeMarie was born May 30, 2012. The family is completed by their dog, Miller. Jeremy thanks his mother for teaching him to be hardworking and honest.
Shawn Kline  Owner, CFO, Next Generation Auto, Advanced Level ASE Certified Master Technician
Shawn first started learning about the automotive industry in 2003. While in high school, Shawn began working at a local Ford dealership, learning much of the basics about cars and light trucks. He went on to work at a local Goodyear with his brother, where he met Jeremy Austrum. Jeremy soon became Shawn's mentor, and someone to look up to as he started his career.
After graduating from high school, Shawn attended Dakota County Technical College, where he took the two-year automotive program. At DCTC, he was chosen to compete in the Minnesota Automotive Skills competition. Shawn placed fourth in the state out of over 100 participants.
Shawn continued working at Goodyear for a few years, and then decided to join the Army. He served in the Army Infantry, and after he was honorably discharged, he returned back to Goodyear. He took his ASE (Automotive Service Excellence) tests to become Master Certified in all eight categories, and also earned his advanced level certificate. To this day, Shawn continues ongoing training to stay on top of the latest in automotive technology.
After eight years with Goodyear, he and Jeremy opened Next Generation Auto in Baldwin, WI. He and his wife, Daphne, along with their two daughters and two Australian Shepherds, live in Baldwin, and love being part of the community. Shawn is even part of the Baldwin Fire Department.
Talking Points:
Advantages and disadvantages of having a partner.
Understand the role of each partner, respect the role that your partner.
Qualities of a partnership: Communication, Trust, Honesty, Core Values, Vision, know your roles find a 50/50 relationship.
Know your communication type. Take a DISC test. Make sure your personalities mesh.
Have an owner meeting weekly.
Business coach has improved the partnership.
Challenges:

Are you each putting in the same hours?
Do each other understand personal commitment?
There is a balance of working in the business vs. working on the business. There are two distinct differences.

Buy-sell agreements are necessary so the surviving partner does not have to deal with the family of the deceased partner. Life insurance will help fund the agreement.
---
This episode is brought to you by Jasper Engines & Transmissions. When a car's engine or transmission fails, it's

not the end of the road. A remanufactured drivetrain product from Jasper Engines & Transmissions will give your car a new lease on life. JASPER has over 2000 Associates, three manufacturing facilities, two distribution centers and 45 branch offices across the country. They're all working to produce, transport and deliver the perfect product. That's what they do best… keep customers happy. Visit jasperengines.com