THA 070: Business Coaches LAB – Leadership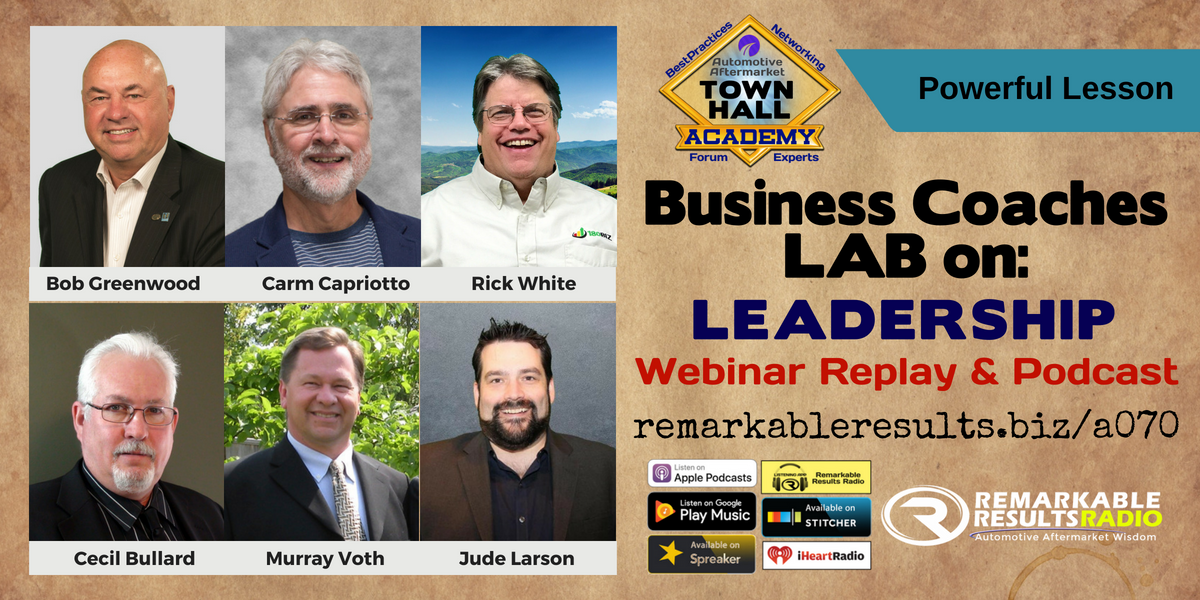 >
 Your Learning Curve Never Sounded So Good
The Panel:
Bob Greenwood, AMAM (Accredited Master Automotive Manager) is President and C.E.O. of Automotive Aftermarket E-Learning Centre Ltd. (AAEC). AAEC is a company focused on providing Business Management Resources and Development for

the Independent Sector of the aftermarket industry. AAEC content and technology is recognized as part of the curriculum of the Fixed Operations Diploma and the Aftermarket Degree courses taken at the Automotive Business School of Canada at Georgian College located in Barrie Ontario Canada. This school is the leader and only college in Canada that offers an automotive business education. AAEC is also recognized by the Automotive Management Institute (AMI), located in North Richland Hills, Texas USA, allowing 80 credits for successful completion of the AAEC E-Learning portion of the site towards the 120 credits required to obtain the reputable Accredited Automotive Manager (AAM) designation.
Bob has over 40 years of Business Management experience within the Independent sector of the automotive aftermarket industry in North America, consulting Independent retail shops on all facets of their business operations. His 18 years of running his own local consulting and accounting firm in Ottawa, Ontario Canada created some of the most productive and financially successful entrepreneurs within the Independent sector today.
Bob is one of 150 wworldwideAMI approved instructors. He has created Business Management development courses for aftermarket shop employers/managers, Jobbers and Jobber Sales representatives which are recognized as being the most comprehensive, industry specific courses of their kind in North America. His courses address the creation of measurable bottom-line profitability and not just developing activity to keep busy, by covering the very detailed nuts and bolts issues that are required to be clearly understood by every level of the industry if an independent shop is going to financially prosper and enjoy a professional future. Bob's previous episodes are HERE.   Link to Automotive Aftermarket E-Learning Centre Ltd. (AAEC) HERE.
Cecil Bullard is President of the Institute for Automotive Business Excellence. He is a trainer and business coach in the automotive aftermarket working closely with service professionals. Previous episodes featuring or mentioning Cecil, click HERE.  Institute for Automotive Business Excellence HERE.
Rick White has been working in the automotive, software & coaching industries for greater than thirty years and is currently an AMI-approved training instructor.  He owned and managed several successful automotive repair shops.  Currently, Rick is President and Lead Coach for 180BIZ, an auto repair shop training and business coaching company proudly serving the independent auto and truck repair owner since 2006.Rick has been acknowledged as an industry expert and has been featured in many automotive trade publications. Rick has been training and speaking at industry events across the country including AAPEX, Vision and for AASP PA just to name a few. Find all of Ricks contributions to the podcast HERE.   180Biz Website HERE
Jude Larson is the Director of New Business Development for the ACT Group.  He is a frequent speaker and trainer at industry events. Jude has vast business experience including being a highly successful service advisor, the owner and operator of a hybrid online and print marketing company, a top performer in the financial industry, and had a record-setting career in retail management.
Jude is also a shop owner, Valley Repair in Tenino, WA. Listen to Jude's Episodes HERE. Jude uses his rich experience and business success as he consults, trains and coaches results-focused solutions with clients. ACT Group website HERE.
During high school and college Murray Voth, owner of Freedom Consulting and Training, learned to service and repair both motorcycles and airplanes while he finished his commercial pilot's license. After college, Murray's research skills were honed while doing a community research project; as a result, he was hired by a firm doing research and development in the service station industry. That led him to own and operate service stations for the next 20 years.
After receiving extensive training from a major oil company in Canada, Murray worked in service station dealer development. His experience in training and development led to an interest in how people function. He began to think about what holds them back from learning and implementing new practices in their businesses. What causes people to change?
Murray has done extensive research into human potential and has the ability to synthesize this material and make it practical to apply.  His favorite moment is when a client says, "I get it!" or "I did it!"  He is known as an implementation coach. For the last 10 years, he has been the senior trainer, coach, and facilitator for a major automotive training company in Canada, and worked part-time in the USA as his schedule allows.  Murray has worked with hundreds of shops and shop owners helping them to be more profitable and reduce their stress levels. Listen to Murray's episodes HERE.  Freedom Consulting Website HERE.
Key Talking Points:
It starts with the owner
Leaders need outside touch points to learn different perspectives
The leader sets the vision for his team and his company. It must be shared.
There need to be people who will be aligned with you and wants to be lead by the proper vision.
Your vision helps to build your culture.
Leaders can only lead if the follows will follow them.
Great leaders provide hope for their followers.
They create a sense of direction and create a sense of competence.
A good leader is so sure of the destination and plan that you can't help but follow. This binds people to you.

You need to have the people on your team that understands your 'play' plan.

You cannot lead people if you are just trying to make it through the day.
The passion behind the vision is what makes people leaders.
Leaders create crusades.
Leaders have a deep core beliefs on what they are selling (vision) to their team.
Less than 30% of North Americans are engaged in their career.
Too many shop owners will not invest in their team.
Leadership must be intentional. It must be on purpose .
You must develop an actional development plan to be a better leader. You need feedback from a coach or mentor.
Managers talk about what. Leaders talk about why.
You need to attract help by being a better leader. Stop chasing help.
You can learn leadership. Read and take leadership courses and seminars. Study leadership.
The leader develops passion within his team. You have to have passion if you want to instill it.
Do a seven-minute 'toolbox' staff meeting.

They are positive. They are short. They are done every day.

Leaders create other leaders.
Focus on solutions and not about what is wrong.
Change is not a dirty word. Change is the only constant. Improvement can be a better choice of words.
You need to re-invent your business every three years. You cannot be stagnant.
Good leaders always want to embrace the next level.
Change is external, and we cannot control much of change. Transformation is internal.

We can choose to improve or transform.

Cognitive dissonance. Doing this for 25 years and there can't be anything better. I haven't found it yet. This thought process needs to be broken.
"If some can others can. If other can I can. If some can't it doesn't mean that I can't."
Do you truly believe that your team believes that you have their back? Do you truly believe that your team has your back? They must believe in.
You must have hope before you create your vision. You must believe in yourself.
"If there is hope in the future there is power in the present". –John Maxwell.
Data and feedback is important. Do a 360 assessment on your team. It is anonymous. It will help you understand where you are as a leader.
Sit your people down and listen for their genuine concerns.
Looking for your passion and your vision? Think back to why you started. You may find the seed of your vision.
Live your life controlling the things you have control over so you can handle the things you don't.

You can control your parts margins and customers, etc.

Get perspectives by joining associations, reading, joining peer groups or hire a business coach among others.
You must give yourself permission to fail, stumble and fall. You must forgive yourself for any failures. Failure is a huge part of success. You can never understand success until you have failed.
You must be determined and have consistency of action.
Never break trust with your team.
What are you feeding your head? Listen to the RRR podcasts, read a book.
Education is an investment
Have hope, get help to be a better leader. You must have fun.
A good leader reaches out. A leader inspires their people. A leader informs.
Authors or Books Discussed:

John Maxwell
Marcus Buckingham
Gallop
Facebook Twitter Linked In Email
---
This episode is brought to you by Jasper Engines & Transmissions. When a car's engine or transmission fails, it's

not the end of the road. A remanufactured drivetrain product from Jasper Engines & Transmissions will give your car a new lease on life. JASPER has over 2000 Associates, three manufacturing facilities, two distribution centers and 45 branch offices across the country. They're all working to produce, transport and deliver the perfect product. That's what they do best… keep customers happy. Visit jasperengines.com