THA 073: Your Turning Point: The PIVOT(s) That Improved Your Business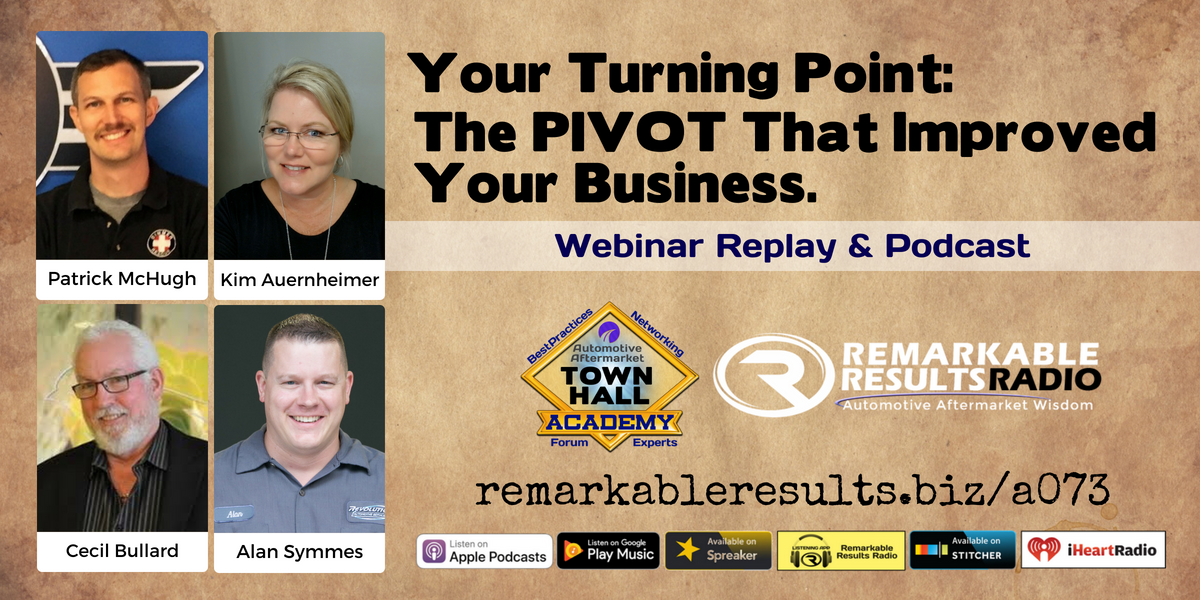 Your Learning Curve Never Sounded So Good
The Panel:
Kim Auernheimer, AAM is the Co-Owner & Business Manager of CS Automotive in Brentwood, Tennessee. CS Automotive was opened in October of 2006 in the back of a warehouse and now they call a 6,400 square foot, 10-bay shop home.  Prior to joining her husband Rob in the business on a full-time basis, Kim had a career in Commercial Real Estate and Property Management. In July of 2011, she stepped out from the background of the business and joined her husband in the venture of creating an industry-leading standout. Kim continuously seeks out training for her and her entire team and put the teachings to use. Her belief in industry education has been a large influence on how much success and growth they have had over last few years.  She has a passion to improve the reputation of the Automotive Repair industry working alongside other shop owners and industry leaders to improve the overall experience of the customer from the moment they make that first call to the shop until they drive their car off the lot instilling transparency and developing trust during the entire process. In 2017, she obtained her Accredited Automotive Manager (AAM) designation. This is a result of 120-credit hours of coursework in several core competencies including leadership, marketing, customer relations, accounting, and several other areas of automotive repair business management. Listen to Kim's Episodes HERE.
Patrick McHugh always tinkered with 'stuff.' His dad bought an '85 BMW when he was 14 when he noticed Patrick was running out of things to tinker with. A friend, Eric, had a lift and was a BMW person who helped Patrick and his dad learn everything about the car. At 15 years old, Patrick started working in an airport, washing planes, and mowing grass to earn credits to learn to be a pilot. He soloed at 16 years old. The day before college he got his pilot's license. Patrick attended Purdue University where he studied aeronautical technology. He kept flying, earned his instrument license, and became an instructor. He discovered a passion for teaching. As fate would have it after graduation, Patrick became a pilot for Trans State Airlines, a regional carrier for United. He was based in Richmond, Virginia,
With normal pilot downtime, he continued to tinker with BMW's. He discovered that being a pilot was not for him, so he went into avionics and shade tree work at home.  Cars were lining up in the driveway, so he had to decide to stop or go into business. So in 2011, he dove in head first and started Bimmer Rescue! Patrick has a real passion for the industry; not just for the day to day, but for the future as well.  He teaches STEM classes for teenagers to show them career opportunities in the auto industry, hosts Women's Car Care Clinics, and even has regular Art Shows in his shop's gallery to support local artists.  Patrick enjoys trying to change auto repair for the better and loves the great opportunities this industry offers! Listen to Patrick McHugh's previous episodes HERE.
Alan Symmes, shop owner, Revolution Automotive Services, Norwood, MA.  Alan has a goal to achieve excellence in all that he does. Having a passion for cars lead him to the automotive industry at the age of 18. He and his wife Holly were even married in a Boston auto museum. But after mastering the technical aspect of cars, Alan sought out a new challenge to start his own business and 'revolutionize' the automotive service experience for both the customer AND the employee.
In 2012 he and his wife started Revolution Automotive Services, Inc. in Norwood, Massachusetts. With high energy, enthusiasm and a strong will to succeed, Alan has created a culture that not only his employees believe in, but his customers are attracted to. In less than 5 years Alan took his business from a 1-bay operation to a 7-bay shop that offers extraordinary benefits to its employees and a "WOW" experience his customers rave about. "Quality is not an act, it is a habit" and every aspect of Alan's business is high quality; including the German cars they specialize in.
Cecil Bullard is President of the Institute for Automotive Business Excellence. He is a trainer and business coach in the automotive aftermarket working closely with service professionals. Previous episodes featuring or mentioning Cecil, click HERE.  Institute for Automotive Business Excellence HERE.
Key Talking Points
It is exhausting to churn your time and customer and not earn strong profits

You can only go so far to be the cheaper alternative

Many have a lightning bolt when they attend training and decide to make improvements to their business.

Raising your labor rate is not the end all and be all pivot.

Some are just surviving and not earning a good living. Raising your labor rate is only one element for this panel.

The money from increased labor rates allows the business to do more such as pay higher wages, higher factory trained technicians, invest in training and the latest equipment.

Sharing your new found knowledge from your most recent training session is important because your team will learn to trust you as you work to implement new ideas and improve the business.

You must put the value behind your service and price.

Your people must be on the boat before you pull away from the dock.

If you are changing your preferred customer mix you must grow new ones before you replace.

Hiring a business coach can be a large pivot for your company.

A strong message from Patrick McHugh on his 'crash of 2014' and his biggest pivot. He was able to 're-wire' his thinking because of his 6-month-old daughter. He said no more. He decided to stop making excuses.

He was going through the wall and not going around it.

Pivot points can arrive when you put your family priorities in play.

Kim was able to graduate their two children from college with no debt.

Starting to run your business as a business can be an important pivot.

Good change is good. Plan to research and understand your planned changes.

You may be finding things to do that are not productive and are not helping the business.

Spending too much time on Facebook

Re-branding for Kim was a pivot point.

Alan found an important pivot was joining a twenty group.

Patrick found an important pivot when one of his technicians came to him and asked how he can make $100k per year.

They mounted an 8-foot whiteboard that is called the 'Cockpit'. They are using this as their scoreboard to track their improvements. It has proven to be their 'true north'

You can find pivots in your networking group.

The beauty of ORGANIC innovation that comes from the CULTURE you created

Stay your course that you believe and look for the next right things and decisions you will see improvements

Don't be afraid the make bold moves but get the buy-in from your people so they understand your 'why' in your moves or changes.

The attitude you carry around each day makes a difference in the success of your business.

You will have tough days so you need to have great mentors and a strong network and a business coach to support your progress.
Facebook Twitter Linked In Email
---
This episode is brought to you by Jasper Engines & Transmissions. When a car's engine or transmission fails, it's

not the end of the road. A remanufactured drivetrain product from Jasper Engines & Transmissions will give your car a new lease on life. JASPER has over 2000 Associates, three manufacturing facilities, two distribution centers and 45 branch offices across the country. They're all working to produce, transport and deliver the perfect product. That's what they do best… keep customers happy. Visit jasperengines.com
Download the Remarkable Results Radio listening APP for your smart device: