THA 090: Business Coaches Lab: Five Dysfunctions of a CEO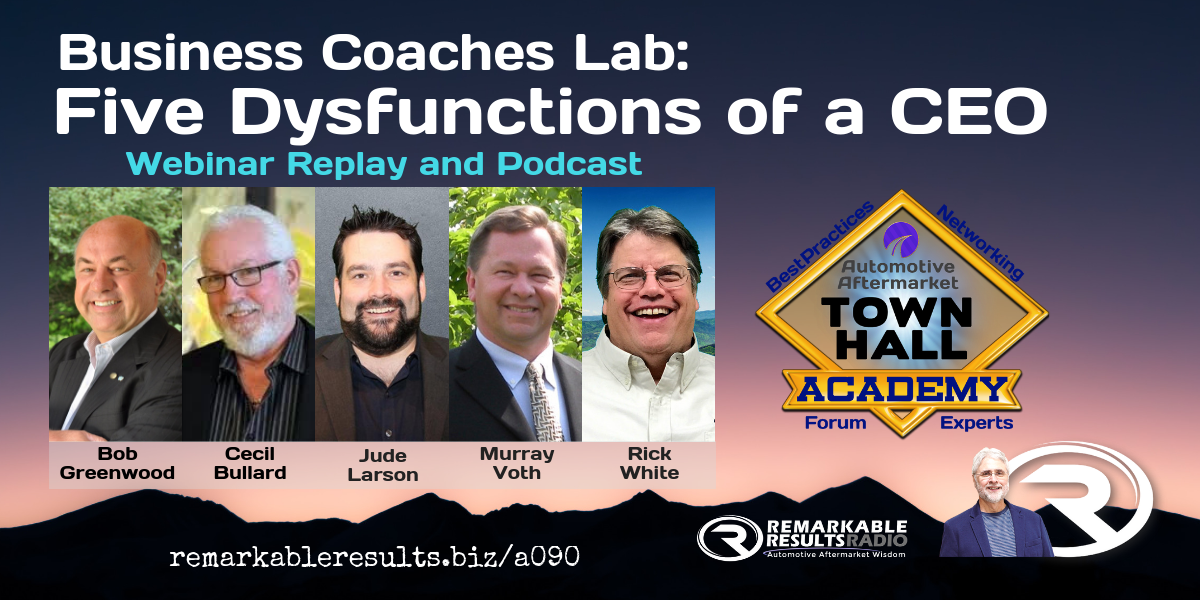 Your Learning Curve Never Sounded So Good

The Panel:
Bob Greenwood, AMAM (Accredited Master Automotive Manager) is President and C.E.O. of Automotive Aftermarket E-Learning Centre Ltd. (AAEC). AAEC is a company focused on providing Business Management Resources and Development for 

the Independent Sector of the aftermarket industry. AAEC content and technology is recognized as part of the curriculum of the Fixed Operations Diploma and the Aftermarket Degree courses taken at the Automotive Business School of Canada at Georgian College located in Barrie Ontario Canada. This school is the leader and only college in Canada that offers an automotive business education. AAEC is also recognized by the Automotive Management Institute (AMI), located in North Richland Hills, Texas USA, allowing 80 credits for successful completion of the AAEC E-Learning portion of the site towards the 120 credits required to obtain the reputable Accredited Automotive Manager (AAM) designation.
Bob has over 40 years of Business Management experience within the Independent sector of the automotive aftermarket industry in North America, consulting Independent retail shops on all facets of their business operations. His 18 years of running his own local consulting and accounting firm in Ottawa, Ontario Canada created some of the most productive and financially successful entrepreneurs within the Independent sector today.
Bob is one of 150 wworldwideAMI approved instructors. He has created Business Management development courses for aftermarket shop employers/managers, Jobbers and Jobber Sales representatives which are recognized as being the most comprehensive, industry-specific courses of their kind in North America. His courses address the creation of measurable bottom-line profitability and not just developing activity to keep busy, by covering the very detailed nuts and bolts issues that are required to be clearly understood by every level of the industry if an independent shop is going to financially prosper and enjoy a professional future. Bob's previous episodes are HERE.   Link to Automotive Aftermarket E-Learning Centre Ltd. (AAEC) HERE.
Cecil Bullard is President of the Institute for Automotive Business Excellence. He is a trainer and business coach in the automotive aftermarket working closely with service professionals. Previous episodes featuring or mentioning Cecil, click HERE.  Institute for Automotive Business Excellence HERE.
Rick White has been working in the automotive, software & coaching industries for greater than thirty years and is currently an AMI-approved training instructor.  He owned and managed several successful automotive repair shops.  Currently, Rick is President and Lead Coach for 180BIZ, an auto repair shop training and business coaching company proudly serving the independent auto and truck repair owner since 2006. Rick has been acknowledged as an industry expert and has been featured in many automotive trade publications. Rick has been training and speaking at industry events across the country including AAPEX, Vision and for AASP PA just to name a few. Find all of Ricks contributions to the podcast HERE.   180Biz Website HERE
Jude Larson is the Director of New Business Development for the ACT Group.  He is a frequent speaker and trainer at industry events. Jude has vast business experience including being a highly successful service advisor, the owner and operator of a hybrid online and print marketing company, a top performer in the financial industry, and had a record-setting career in retail management.
Jude is also a shop owner, Valley Repair in Tenino, WA. Listen to Jude's Episodes HERE. Jude uses his rich experience and business success as he consults, trains and coaches results-focused solutions with clients. ACT Group website HERE.
During high school and college Murray Voth, owner of RPM Training learned to service and repair both motorcycles and airplanes while he finished his commercial pilot's license. After college, Murray's research skills were honed while doing a community research project; as a result, he was hired by a firm doing research and development in the service station industry. That led him to own and operate service stations for the next 20 years.
After receiving extensive training from a major oil company in Canada, Murray worked in service station dealer development. His experience in training and development led to an interest in how people function. He began to think about what holds them back from learning and implementing new practices in their businesses. What causes people to change?
Murray has done extensive research into human potential and has the ability to synthesize this material and make it practical to apply.  His favorite moment is when a client says, "I get it!" or "I did it!"  He is known as an implementation coach. For the last 10 years, he has been the senior trainer, coach, and facilitator for a major automotive training company in Canada, and worked part-time in the USA as his schedule allows.  Murray has worked with hundreds of shops and shop owners helping them to be more profitable and reduce their stress levels. Listen to Murray's episodes HERE.  RPM Training website HERE.
Key Talking Points
1: Trust One Another
Members of great teams trust one another on a fundamental, emotional level, and they are comfortable being vulnerable with each other about their weaknesses, mistakes, fears, and behaviors. They get to a point at which they can be completely open with one another, without filters. This is essential because…
2: Engage in Conflict Around Ideas
Members of teams who trust one another are not afraid to engage in conflict around ideas that are key to the organization's success. They do not hesitate to disagree with, challenge, and question each other, all in the spirit of finding the best answers, discovering the truth, and making great decisions. This is important because…
3: Commit to Decisions
Teams that engage in conflict around ideas are able to gain commitment to decisions, even when various members of the team initially disagree. That is because they ensure that all opinions and ideas are put on the table and considered, giving confidence to team members that no stone has been left unturned. This is critical because…
4: Hold One Another Accountable
Teams that gain commitment to decisions and standards of performance do not hesitate to hold one another accountable for adhering to those decisions and standards. What's more, they don't rely on the team leader as the primary source of accountability. This matters because…
5: Focus on Achieving Collective Results
Team members who trust one another, engage in conflict around ideas, gain commitment to decisions, and hold one another accountable are more likely to set aside their individual needs and agendas and focus on achieving collective results. They do not give in to the temptations to place their departments, career aspirations, or ego-driven status ahead of the collective results that define team success.
BONUS TALKING POINTS
Bob Greenwood
Working in the business and not on it

Failing to train and delegate duties to free up valuable time for the CEO

No defined and written vision with a detailed roadmap on how to get there and ensuring all team members "believe" in it and want to be part of it to bring it to fruition

Not analyzing the business properly – only watching average sales per RO and car count. That measures activity, not productivity. Productivity builds net profit

Not understanding how to measure shop efficiency which is the key to market competitiveness being able to pay top wages and building NET profit

Doesn't understand the 5 building blocks for bringing in change that is required to move the business forward.
Cecil Bullard
It is important to know what the role of a CEO is:
   Future Vision

   Fiduciary

   Managing Management

   Structure?  Making sure the company has a successful structure.
Does a small shop need a CEO?  Really?
My take is yes, as someone has to create the vision and culture.  Someone has to make sure that the company is financially stable. And, someone has to manage the business from the top.
Ultimately the CEO is responsible for all aspects of the business.
I would probably say that having a good CEO is what makes a company great.  They have a vision that they can share and get others involved in. They can keep the team motivated.  Make sure that the right things are happening in their company. Even decide which work to focus on and what not to do.
Lack of clear vision – which leads to a lack of clear goals for the company

Lack of clear goals –

Able to get their people on board and create a healthy culture

Unclear or lack of communication –

Not creating the structure for the company to be successful
Jude Larson
Dysfunction #1: Absence of Trust




The fear of being vulnerable with team members prevents the building of trust within the team.

Dysfunction #2: Fear of Conflict




The desire to preserve artificial harmony stifles the occurrence of productive ideological conflict.

Dysfunction #3: Lack of Commitment




The lack of clarity or buy-in prevents team members from making decisions they will stick to.

Dysfunction #4: Avoidance of Accountability




The need to avoid interpersonal discomfort prevents team members from holding one another accountable.

Dysfunction #5: Inattention to Results
The pursuit of individual goals and personal status erodes the focus on collective success.
Rick White
The danger of working in your business today

The things that are going to attract the top talent today require there to be a full-time leader in the business

Business is changing so fast that you can't run it the way it used to be run, you've got to be more responsive than the other guy

The worst thing you can be in your business is the best tech or best advisor – you want to hire people better than you and let them loose

You're missing out on making the money you could and should be making – every wildly successful shop owner has figured this out and transitioned to the CEO position

The lack of direction

With a lack of direction or a destination, you become task-oriented meaning you are going to work to do today what you did yesterday

At some point (not a matter of if but when) your goal will be to get to the end of the day without killing someone – that's surviving, not thriving

With no direction, you're missing out on the excitement of growth and achievement

You're not there to fix cars – you're there to build relationships and generate a profit

The lack of expectation

With you stuck in the bay or at the counter, and a lack of direction, there's no expectations

You know what you're not happy with but don't know what it is you do want

With a lack of expectation, frustration fills the void

The lack of communication

There's no real communication in the business

Everyone is doing their thing and creating friction banging into each other

Slowing the business down

The lack of accountability

With the other four issues, a lack of accountability has to follow

With little to no accountability, you tolerate more and your stress goes up

You end up losing customers and great people without accountability
Muarry Voth
"Great leaders create hope by providing a sense of direction and a sense of competence"
As a follower who has committed to a cause or job I don't want to have my time or my efforts wasted.
Resources:
Books Page HERE
Leave me an honest review on iTunes. Your ratings and reviews really help and I read each one of them.
A special thanks to Bob Greenwood, Cecil Bullard, Jude Larson, Murray Voth, and Rick White.
Facebook   Twitter    Linked In    Email
---
This episode is brought to you by Jasper Engines & Transmissions. When a car's engine or transmission fails, it's

not the end of the road. A remanufactured drivetrain product from Jasper Engines & Transmissions will give your car a new lease on life. JASPER has over 2000 Associates, three manufacturing facilities, two distribution centers, and 45 branch offices across the country. They're all working to produce, transport and deliver the perfect product. That's what they do best… keep customers happy. Visit jasperengines.com