THA 095: Taking Good DVI Pictures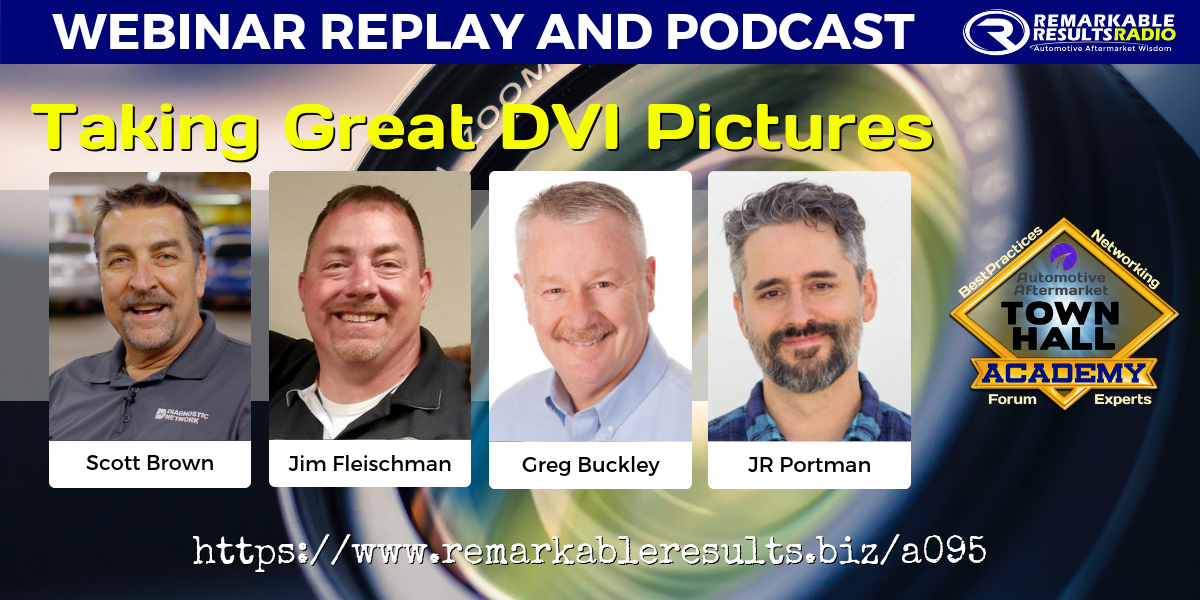 Your Learning Curve Never Sounded So Good
The Panel:
Scott Brown is an ASE Master Certified Automobile Technician with over three and a half decades of professional service industry experience. He and his wife own Connie & Dick's Service Center Inc., a 57-year-old independent shop in Southern California.
With a strong focus on engine performance and electronics, Scott began collaborating with other industry professionals, online, beginning in the early 90's. Since 1995, he has been an instrumental resource in the development of the largest online community of automotive service professionals, the International Automotive Technicians Network — iATN where he once served as company president. Additionally, he serves on the NASTF Board of Directors and is a member of the following associations: ASCCA, CAT, ETI, I-CAR, & SAE.
He is now President of Diagnostic Network and shares this plans and vision for this new diagnostician tool. Find Scott's other episodes HERE.
Greg Buckley is the CEO the 50 + year young Buckley Personalized Auto Care in Wilmington, DE. He's a member of ASA, an ATI Coach, a member of the Delaware Automotive Service Professionals, past member of the NAPA advisory board council, is vice-president of NAPA business development groups, and is involved as an advisory board member of Kukui, along with AutoVitals. Hear Greg's previous episodes HERE.
Jim Fleischman and his wife Shelly own Automotive Alley in Arcade, NY. Jim attended Alfred State College for Automotive Tech. He went to work for a Ford Dealership as a shop foreman. Jim's racing and organizational experience came by being part of a race team that ran Busch and NASCAR. He was recruited from his alma mater, Alfred State College, and became an instructor. Jim always wanted to teach and it was fate. He spent fourteen years as an instructor. He loved building relationships with his students.

He was balancing his teaching job and owning a shop while Shelly ran the business for him. Jim ultimately left his teaching job and went to work full-time in the business. Shelly's background was accounting which was good for the business overall.

Jim believes in a strong process driven company. He is all about improving efficiency. Saving steps for productivity gains. Anyone can study their inefficiencies and make changes to improve productivity. He templated his systems against NASCAR. Immaculate, organized and tools quickly reached and found. Jim perpetually works on streamlining to increase his productivity.

Automotive Alley also specialized in the street rod, hot rods, upgrades, and restorations. For Jim, the word "can't" is not in his vocabulary. Find Jim's other episodes HERE.
J.R. Portman is the Chief Operating Officer and Vice President of 5 Stones Media J.R. Portman hails from Laredo, Texas. The Tulane University alumnus earned a B.A. in English and Studio Art while focusing on photography and creative writing. In his 20-year photography career, Portman has racked up many accolades, including being a Google Trusted Photographer and Local Search Strategist.
As COO of 5 Stones, J.R. oversees all departments of the marketing agency and workflow, while also conversing with clients to ensure goals are being met.
Portman's first love of photography afforded him the opportunity to publish photos on Google Maps; allowing widespread views of his work in the hundreds of millions. One of his proudest accomplishments at 5 Stones has been the development of the Photography and Video division of the agency, whose work is now regarded as one of the top visual producers in the Southeast Louisiana region.
Key Talking Points:
Great DVI photos is another step in transparency in your customer relationship.

Your brand will be reflected in the quality of your picture.

Can't be cloudy, grainy, unfocused.

The tech is there, so there is no tech barrier to entry into DVI.

It is not overbearing to take great pictures.

You've got to become a photographer. Don't fight it.

If you are going to do a video they need to be short.

Think with the end in mind. What is your subject?

Will you narrate the video?

Be sure you post the best pictures of each area of concern.

Take pictures to develop the base case of vehicle health.

Outside pictures of vehicles will help to identify scratches/dents.

A best practice is to take shots of the vehicle at the start of job and end of the job.

Be the boss of your picture.

Move rags, move items, like garbage cans in the background. It is a reflection of your brand.

Lighting is important. A flashlight might not be the best because of a hot spot that will not create a great picture.

Take a point of reference picture. (identifier of the vehicle)

The license plate, color of the car are key to be sure the customer understands it is their vehicle.  (Be Authentic)

Use a light stick to improve the lighting of a pic under the vehicle or under the hood.

Your shop lighting may be enough but always be sure you've got enough light under the car.

A picture of dashboard (mileage), inspection sticker (if applicable), oil change sticker.

A video less than two minutes can educate and engage the customer in the problem.

Increases trust.

Document with video the depth of the repair, example if the front clip is off or dashboard out. This shows the level and depth of the repairs.

Get comfortable taking video. It is the future and expectations of the customer is low, meaning you do not need to have a Hollywood production.

Keep in mind you are talking to one person not to thousands.

Keeping your camera/phone steady is an art form.

You can get a gimble (steady cam device for under $300)

Greg Buckley demonstrated a technique; how he holds his camera to make it steady. (see video)

Use the phone's built-in stabilizer

You can even turn on GEO tagging on your phone to give a point of reference. This is a Cover Your Butt tactic.

Greg has a disclaimer on his repair order that highlights that he may use pictures for marketing or training use.

Use your phone horizontally for DVI picture. You get more real estate in your picture.

Instagram wants vertical.

Use props like tread depth gauge, and colored brake gauges.

Having your hand or thumb in the picture will go a long way to show scale.

DVI software allows you to markup and text picture.

If taking a picture of a part use gloves when holding the part in the picture.

As a team, talk about the picture you take.

You can post pictures into social media and video's into your youtube channel.

Use pictures and video from all jobs to show new customers that you've done.

If you are suggesting a repair you've got to have a picture of the problem.

If you are doing pre-purchase inspections you may take up to 50 pictures.
Resources:
A special thanks to Scott, Jim, and J.R., for their contribution to the aftermarket.
Books Page HERE
Leave me an honest review on iTunes. Your ratings and reviews really help and I read each one of them.
Facebook Twitter Linked In Email
---
This episode is brought to you by Jasper Engines & Transmissions. When a car's engine or transmission fails, it's

not the end of the road. A remanufactured drivetrain product from Jasper Engines & Transmissions will give your car a new lease on life. JASPER has over 2000 Associates, three manufacturing facilities, two distribution centers, and 45 branch offices across the country. They're all working to produce, transport and deliver the perfect product. That's what they do best… keep customers happy. Visit jasperengines.com
---
RepairPal. Many of our industry's high-quality shops have gone through an evaluation with an independent automotive team to ensure their techs are trained, they use the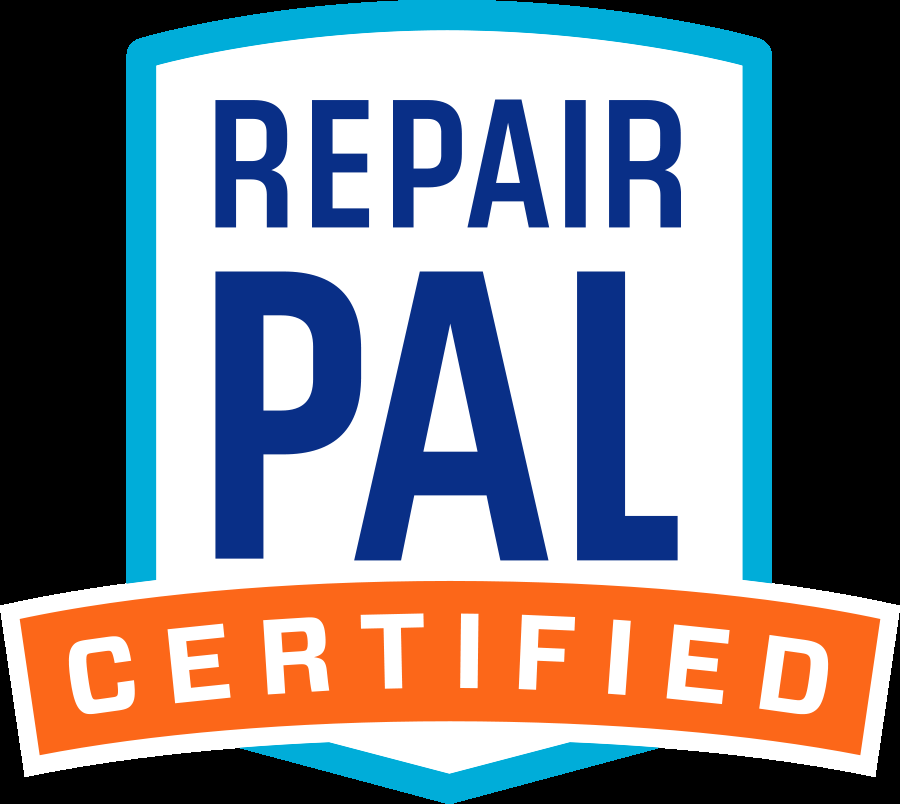 right tools, and their customers are happy. In fact, over 2,200 repair shops have met these requirements, have become RepairPal Certified and are getting new customers every month.
Why has the number of RepairPal Certified shops grown so much? These shops are proud to have passed the certification and value the new customers they're getting, both from the 5 million monthly visitors to RepairPal.com and their partnerships with CarMax and USAA. Certified shops can cancel at any time, so RepairPal works hard to produce value for them. Learn more at repairpal.com/shops to learn more.