RR 384: Women In Auto Care 2018 Honorees!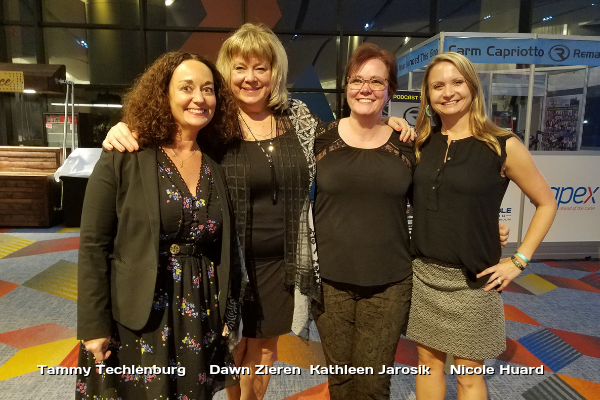 Women In Auto Care (WIAC) 2018 Honorees!
Auto Care Woman of the Year: Dawn Zieren, SVP Global & Strategic Initiatives, The NPD Group
Dawn Zieren is an energetic and passionate leader with over two decades of commitment to the automotive aftermarket industry. She served as president of The NPD's Group's Automotive Aftermarket practice for nearly nine years, and in 2018 assumed her current role as NPD's Senior Vice President of Global and Strategic Initiatives. While supporting NPD's corporate cross-practice initiatives, Dawn continues to be strategically involved in the auto industry. She lends her second nature knowledge of the market as the company evaluates expanding its aftermarket services globally.
Through Dawn's dedication to best-in-class client and retailer partnerships and a strong collaboration with the Auto Care Association, NPD developed and expanded its aftermarket Point-of-Sale data model, which grew from four retailers and 8,000 doors in 2001 to 13 retailers and over 25,000 doors today, leading to unprecedented market coverage for the industry. She also spearheaded the development of a syndicated consumer tracking service, providing visibility into the Do-it-Yourself and Do-it-for-Me consumer demographics, purchase behaviors and attitudes toward automotive products. The combination of retail Point-of-Sale data and consumer insights has allowed for a holistic view of the industry. Today, numerous manufacturers and retailers rely on NPD's information and expertise to help drive their business.
Dawn has been an active and passionate mentor, strongly influencing future female executives through leading by example in her role at NPD, and serving on the Board of Directors as Membership Chair of Women in Auto Care. Investing in others and their career development is what motivates and excites her.
Dawn has been a speaker at various events including Women in Auto Care conferences, the Auto Care Association's Leadership Days, and at the University of Houston. She previously served on the Board of Directors and is a past president of the American Marketing Association. Listen to Dawn's previous episodes HERE.
Female Shop Owner of the Year: Kathleen Jarosik, Owner, Xpertech Auto Repair
Kathleen began her career in the automotive field in late 2003 after relocating from Florida's Atlantic Coast to the beautiful Gulf Coast with her family. She started working at Xpertech Auto Repair shop while also staying home part-time with her two, now teenage daughters. Without any automotive experience, she spent much of her time in the background, managing payroll, accounts payable and paperwork associated with the operations of the business. After divorcing in 2009, and only 6 years of shop experience under her belt, she purchased full ownership of her shop from her former husband and began to run it as her own. She made 3 pivotal decisions that have since changed her life; becoming a Napa Auto Care center and utilizing their extensive benefit and training network to learn and grow in the industry, finding a business coach; Repair Shop of Tomorrow, to further educate her in marketing, operations, and efficiency, and becoming a member of Women in Auto Care where she has learned the importance of encouraging and empowering others to strive for excellence in this incredible industry. She is very involved in the leadership and volunteering initiatives in her local community and aims to increase awareness and spark interest in choosing a career in the automotive field for young women. Listen to Kathleen's previous episodes HERE.
Auto Care Woman of Excellence: Nicole Huard, Manager, Category Management and Consumer Insights, Robert Bosch LLC
Nicole Huard is a native of the Chicago area, where she has built an accomplished career with The Bosch Group, a leading global supplier of technology and services.
Nicole currently heads the Category Management and Consumer Insights initiatives for the Bosch Aftermarket North American division and provides insights and guidance on Category Management activities for global counterparts. Prior to her career at Bosch, she worked in various sales and marketing roles at Newell Brands and Walgreens.
Nicole has a passion for recruiting and developing women within the Auto Care industry. She is a founding member of the Women@Bosch business resource group in North America, with over 1,500 members. Women@Bosch helps promote gender diversity and inclusion while focusing on recruitment, retention and professional development of women at Bosch. The group aims to educate and empower all associates on current gender diversity issues in the workplace.
Nicole is an active member of the Auto Care Association and currently serves as the Chair of the Auto Care Category Management Committee. She is also a member of Women in Auto Care and YANG. 
Tammy Techlenburg
The 

Vice-President of Global Sales and Marketing Operations for Spectrum Brands.

President of Women In Auto Care
Tammy's previous episodes HERE.
Key Talking Points:
Women in Autocare   

Officially a community within Autocare

Recognized as lifelong trustee for University of Aftermarket Foundation- Giving away $100,000 in scholarships

Mentor program for women in Autocare

Now 30% women in auto care industry- women in tune with helping other women   

Creating a network and retain women in the industry

Mentoring used for connection, accountability, perspective and reaching goals

Nurture during difficulties and celebrating each other's wins

Women at Bosch Network

Category management- collecting data

Collaboration between manufacturer and retailer

Better understand market trends,

Enhance selling environment for both customers and suppliers

All data is protected- aggregated

Future look

Create a constant culture of learning with changing technology
Resources:
Thanks to Dawn Zieren, Kathleen Jarosik, Nicole Huard, and Tammy Techlenburg for their contribution to the aftermarket's premier podcast.
Link to the 'BOOKS' page highlighting all books discussed in the podcast library HERE. Leaders are readers.
Leave me an honest review on iTunes. Your ratings and reviews really help and I read each one of them.


Be socially involved and in touch with the show:
Facebook   Twitter   Linked In   Email    Events    Speaking
This episode is brought to you by Federal-Mogul

Motorparts and Garage Gurus. With brands like Moog, Felpro, Wagner Brake, Champion, Sealed Power, FP Diesel and more, they're the parts techs trust.  For serious technical training and support – online, onsite and on-demand – Garage Gurus is everything you need to know. Find out more at fmmotorparts.com  and fmgaragegurus.com