THA 103: Turn Price Shopping Callers Into Customers.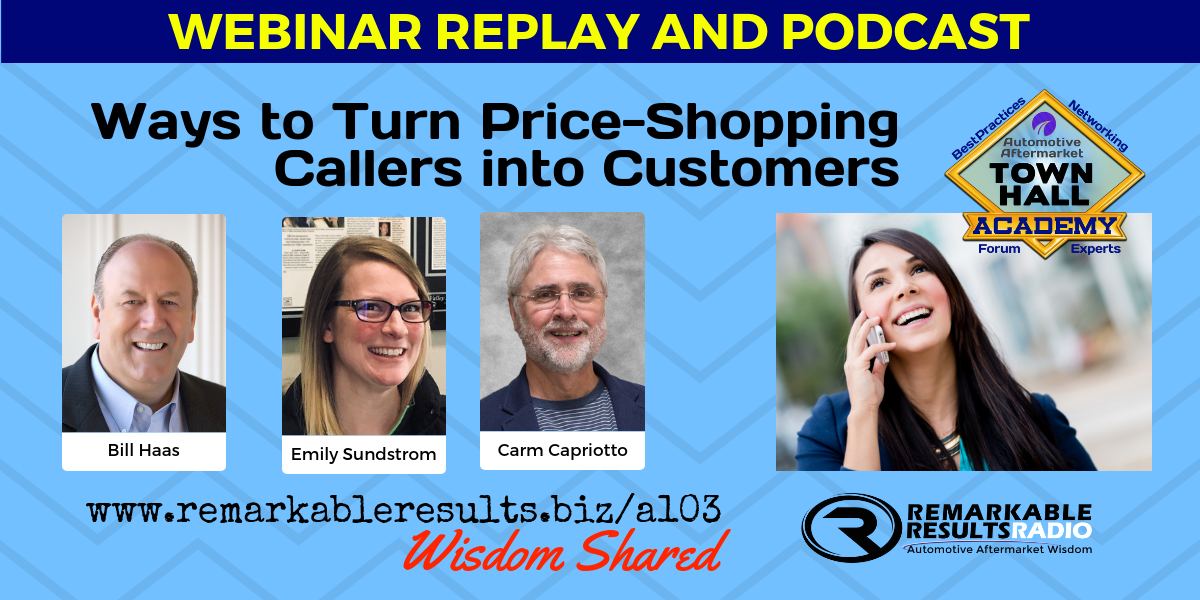 Your Learning Curve Never Sounded This Good
Emily Sundstrom's career in the automotive field started about 13 years.   She was hired to "just" answer phones. It quickly turned into something which she had a passion for.  She enjoys doing it every day. The passion comes from taking a stressful, unexpected situation and turning it into an experience that leaves the customer feeling confident, educated, empowered and respected. She has acquired multiple certifications from ASE, ATI, Wa. State Emissions, Elite Master's Program, and Ami.  She strives to continue to learn every day. Working with my customers and team at Valley Auto Electric has taught me the importance of customer satisfaction. Watching a customer walk away with a positive an experience, not just a transaction, is how I show there is more to automotive ownership. They have also gained a relationship in the process. Facilitating these relationships is my greatest accomplishment.
Bill Haas, AAM, is the owner of Haas performance consulting LLC, with 40 years of experience in the automotive service and repair industry. Clients have access to Bill's solution based focus, expertise, unique perspectives and in-depth knowledge of the industry.
Bill began his career working part-time at a full-service gasoline station in Appleton, Wisconsin. His career includes time as a technician, shop owner, technical trainer and on the staff of the automotive industry's oldest and largest association representing automotive service and collision repair businesses. While at the association Bill had the opportunity to work with all segments of the industry.
His knowledge of the industry has been shared on many occasions as he has been invited to speak at numerous industry events as well as providing testimony at hearings of the US Congress and several state legislatures on important legislation and regulation affecting the automotive industry.
Bill received the Accredited Automotive Manager (AAM) credential from the automotive management institute in 1996 and has been a member of the automotive management institute's faculty since 2002.
Bill is also the business manager for NACAT, the North American Council of Automotive Teachers. His services include business management seminar development and delivery, keynote presentations, business consulting, performance coaching, and strategic planning facilitation. Listen to Bill's previous episodes HERE.
Key Talking Points:
The Service Adviser/Manager has the toughest job in the company.

We get ourselves in a trap when customers call for a price.

When we fail to convert we blame it on the price shopper.

The person who is calling you and asking for price may just need help because they don't know what else to ask.

Change the trigger.

Whatever the caller asks for it will trigger a reaction:

Give them a price

Or tell them why I can't give them a price. If it is your company policy no one cares that it is your policy.

They may not be shopping price. They are shopping for you but price may be the only thing they can ask.

Let the ringing phone be your trigger to move you into 'Make an Appointment' mode.

Never give the caller information that won't help them make a good decision.

If you give price will that help them make a good decision about their car?

You make bad decisions with bad information

Empower them to make their decision based on the information you give.

Value story:

Let's get it here and let my team of ASE certified technicians look it over. I want to do it tomorrow morning.

Our desired result from the marketing we do to get the phone ring should be to get a vehicle in the bay. Appointments are the goal.

Learn to do the right things when the phone rings.

We can give a ballpark figure (price). They say I'll call you back. You have no return on your investment.

If we give a price and always land in the middle we would do great. But you'll never know how well you did.

Every call starts with a conversation. (Bill Haas)

Let me see how I can help you.

You need an SOP (Standard Operating Procedure)

You are going to make two invitation to bring in the car. After those two invitations get off the call. In about two minutes.

If the calls are over 5 minute your chances are minimized with each minute you are on.

We'll Mr. Customer it doesn't sound like you are ready to have the car looked at yet. My name is Bill, I'll be happy to help you when you are ready, just give me a callback and we'll take care of you.

50% you will get the appointment.

Never stop listening to the caller. Get their story. You need to be in charge.

Smile when you are on the phone. It can be seen by your caller.

Put a smiling caricature or the word smile on every phone or computer screen.

We allow people to answer the phone who have never had a lesson on how to answer the phone.

Create a script for technicians who may answer the phone as a last resort.

Stop telling people what you can't do and tell them what you CAN do.

Disney: "Look Our Customer in the Eye and SMILE"

Be a good listener. If face to face, know what their eye color is. Attentive listening.

Know your value proposition or elevator speech.

Also, know what your customer may value.

Is it warranty, the speed of service, loaner car, free wi-fi, coffee, accurate promise times, reliable

Ask why they chose your company.

Where do they normally go for service?

Know who you are competing with.

What does your customer expect?

How will they compare you to what they are used to?

Emily believes her women customers are at ease with her.

Women are more value based than men.

Hit a home-run with women. Offer fast, reliable, safe service.

There is a time you will give a price.

A timing belt because the owners manual says to do it.

You should give a maintenance service price, but have incredible value vs. one of your competitors.

Give all the value why you are the better choice when you give the price
Resources:
A special thanks to  Bill Haas, and Emily Sundstrom for their contribution to the aftermarket.
Books Page HERE
Leave me an honest review on iTunes. Your ratings and reviews really help and I read each one of them.
Facebook   Twitter   Linked In   Email
---
This episode is brought to you by Jasper Engines & Transmissions. When a car's engine or transmission fails, it's

not the end of the road. A remanufactured drivetrain product from Jasper Engines & Transmissions will give your car a new lease on life. JASPER has over 2000 Associates, three manufacturing facilities, two distribution centers, and 45 branch offices across the country. They're all working to produce, transport and deliver the perfect product. That's what they do best… keep customers happy. Visit jasperengines.com
---
RepairPal. Many of our industry's high-quality shops have gone through an evaluation with an independent automotive team to ensure their techs are trained, they use the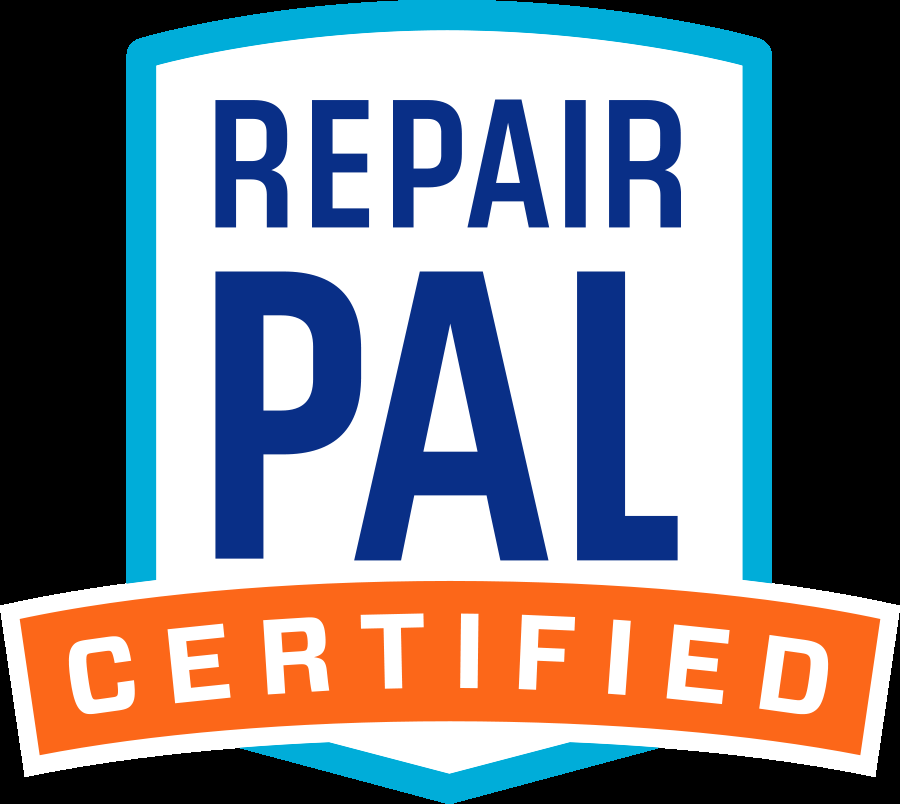 right tools, and their customers are happy. In fact, over 2,200 repair shops have met these requirements, have become RepairPal Certified and are getting new customers every month.
Why has the number of RepairPal Certified shops grown so much? These shops are proud to have passed the certification and value the new customers they're getting, both from the 5 million monthly visitors to RepairPal.com and their partnerships with CarMax and USAA. Certified shops can cancel at any time, so RepairPal works hard to produce value for them. Learn more at repairpal.com/shops to learn more.
Subscribe to a mobile listening app HERE.