THA 138: The Business Side of ADAS – Advanced Driver Assistance Systems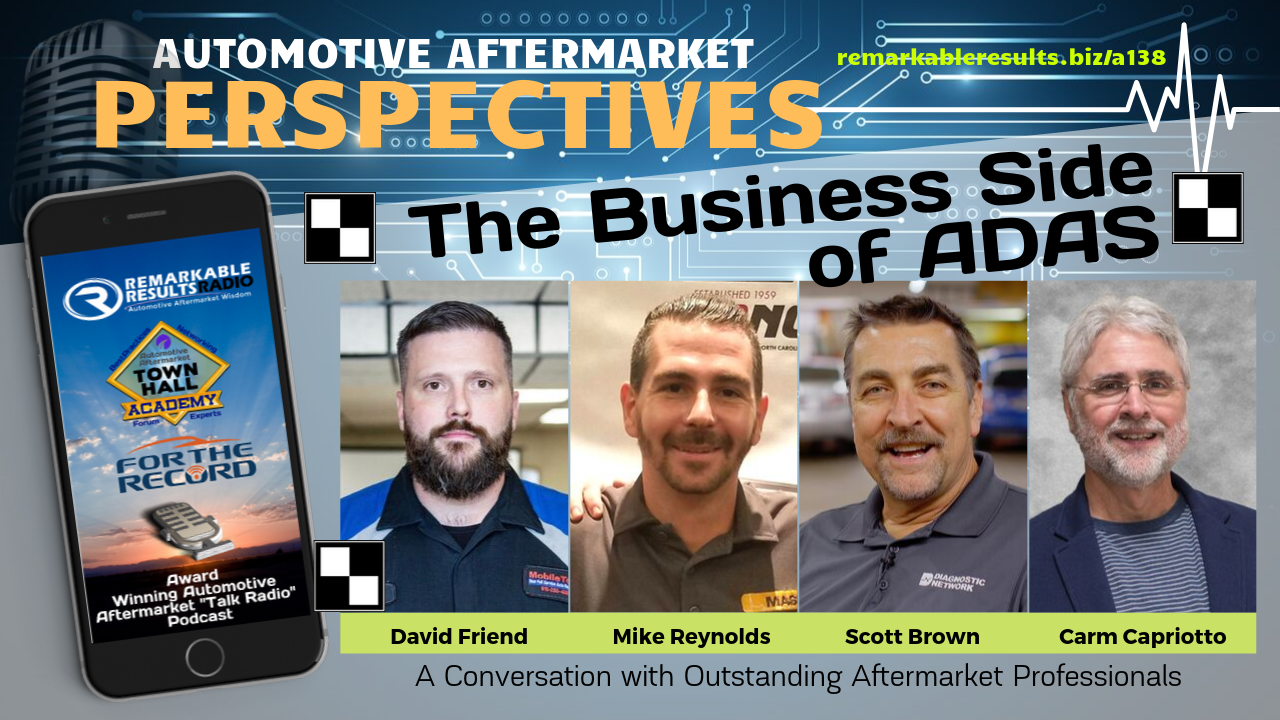 David Friend is the owner of Mobile Tech and Wilmington Hybrids, from Wilmington, NC  David has two locations. an ADAS Calibration shop and teaches ADAS calibration in his dedicated training center. Listen to David's previous episodes HERE.
Mike Reynolds is the owner of Mobile Automotive Service Solutions in Charleston, SC as well as an automotive technology instructor at Trident Technical College.
As a diagnostic specialist, he holds certifications as an ASE Master Technician (A1—A9, X1), and is an Advanced Level Specialist in engine performance (L1), and Hybrid/Electric vehicles (L3).
You can find his technical articles published in MotorAge magazine as well as case studies he has written featured in many aftermarket training seminars.
Attending an average of 45 training hours per year helped him to become proficient in vehicle diagnostics on American and Asian vehicle lines. Listen to Mike's other episodes HERE.
Scott Brown is an ASE Master Certified Automobile Technician with over three and a half decades of professional service industry experience. He and his wife own Connie & Dick's Service Center Inc., a 57-year-old independent shop in Southern California.
With a strong focus on engine performance and electronics, Scott began collaborating with other industry professionals, online, beginning in the early 90's. Since 1995, he has been an instrumental resource in the development of the largest online community of automotive service professionals, the International Automotive Technicians Network — iATN where he once served as company president. Additionally, he serves on the NASTF Board of Directors and is a member of the following associations: ASCCA, CAT, ETI, I-CAR, & SAE.
Scott is the founder of diag.net. Find other episodes that have featured Scott HERE.
Key Talking Points:
Big Challenge in ADAS Calibration

To have the correct space to set up targets

Level flat space necessary
A workaround is to shoot out the bay door

To understand the systems and components and what they do

You have to understand what repairs you may be doing that can affect ADAS calibration you may have to send it to a calibration center or call in a mobile tech
Technicians need to understand the fundamentals of ADAS systems. How they work, behave, integrate and operate

Advancement of tech needs to be understood by our working technicians

Consider renting a high-level ADAS vehicle, drive it, and learn how the ADAS systems perform

Scott's rented vehicle had an incident with radar and it was not performing as intended

Test driving the vehicle once a satisfactory calibration is done is critical
Critical that OE specs and guidelines must be followed
A limited business model regarding ADAS becoming more dynamic calibration in the future. Yet there may be 15 years of ADAS equipped vehicles to fuel a calibration business model.
Depending on the marketplace if you were going to put up a brick and mortar facility or dedicate a bay, consider if collision shops and windshield repair need this service, how many mobile techs are equipped.
Currently, the mobile techs are the front line in ADAS calibration
40% of front end collisions avoided because of ADAS
If you get in early and become an expert you will become the key players in this space
It may be impossible to have all the equipment for every ADAS equipped vehicle. You may be very successful for the top-selling vehicles. Honda and Toyota is a good place to start

ADAS calibration can lead to other work
ADAS can be a foot in the door with collision shops

You need to be aware of the liability you have in calibration work
Many in our industry do not know what ADAS components are. You are asked to calibrate a parking sensor that is actually a front radar sensor. Knowledge of ADAS is a big gap
The recalibration of windshields is not getting done. Sign off on the ticket if insurance or customer will not pay for recalibration of camera

Insurance companies do not get sued if accident or fatality the repair shop or calibrator will be

Insurance companies need to understand if the OE's require calibration
We do not have industry-wide standards/requirements for the repair of the vehicle and of the technicians. Some of the most critical
ADAS calibrations make the case for standards and even licensing no different as in the aircraft industry
David was saved from a serious accident because of ADAS
Customer Education. There is an opportunity to engage and teach your customers in formal meetings at your shop to show how ADAS works. Keep your customers who have new vehicles engaged with your shop. Education is key

Many customers do not understand the features

Mike's investment including scan tools is prox $75K
Before buying tools and eqipment you must know your market

For Toyota, Honda, Nissan, Ford, GM, Chrysler w/Scan tools, J2534 box, subscriptions. Under $25K
Other platforms can be more expensive

Every market has different pricing for ADAS calibration (menu pricing)

Prox prices discussed in the episode
Charge as much as you can and lock up the market
Resources:
A special thanks to David Friend, Mike Reynolds, and Scott Brown for their contribution to the aftermarket.
Books Page HERE
Diagnostic Network Website in HERE.
Leave me an honest review on iTunes. Your ratings and reviews really help and I read each one of them.
Facebook   Twitter   Linked In   Email

Subscribe to a mobile listening app HERE.

---
This episode is brought to you by Jasper Engines & Transmissions. When a car's engine or transmission fails, it's

not the end of the road. A re-manufactured drive-train product from Jasper Engines & Transmissions will give your car a new lease on life. JASPER has over 2000 Associates, three manufacturing facilities, two distribution centers, and 45 branch offices across the country. They're all working to produce, transport and deliver the perfect product. That's what they do best… keep customers happy. Visit jasperengines.com