THA 143: myASE Renewal APP – There's an APP for That!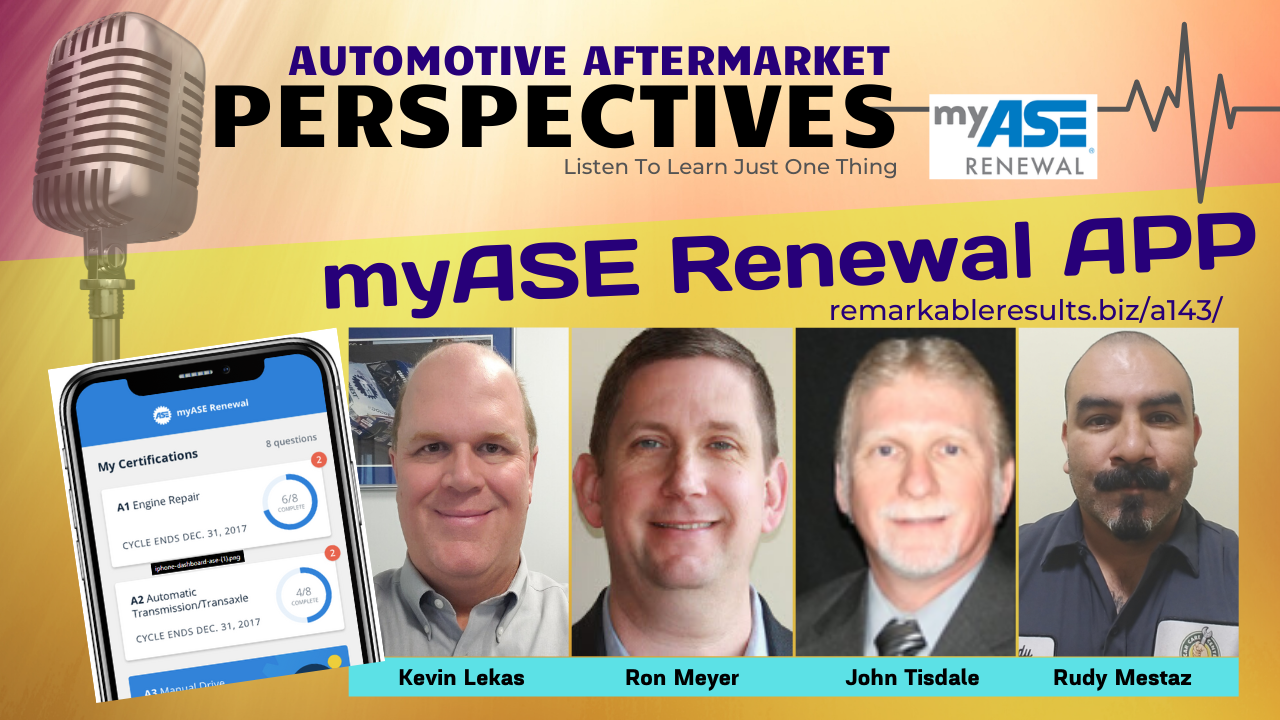 Kevin Lekas is the Project Manager for Special Testing Programs at ASE
Ron Meyer is the COO of Higher Learning Technologies (HLT) our app developer. HLT has an impressive story about their products in the nursing industry.
John Tisdale is the AVP at ASE. John has been on this project since inception. John has been with ASE for over 23 years and has a lot of historical insight about ASE.
Rudolph "Rudy" Mestaz is an ASE Recertified Master Automobile Technician with L1. He has been certified since 2006. He has 3 employers in his profile and all 3 of them are aftermarket. He is in southern California and has been a participant in the myASE Renewal program since the first couple
Other episodes with an ASE connection HERE.
Key Talking Points:
Why Create myASE Renewal APP

This is a learning APP to support life-long learners as well as supporting certification. A different approach and perspective that will transcend not only certifications but learning

ASE created the app as a result from technicians who want a better way to recertify and keep their credentials current

Continuous engagement with your ASE certifications

What can ASE do to help me understand a question I got wrong and how can I learn about the correct answer

To help techs identify gaps in their knowledge

The need to reinvent the recertification process

The app is about 9 months old and in BETA

There are technicians earning certifications as the app gets fine-tuning

How does it work?

Very intuitive and easy to get involved

You get a free three-day trial so you can get a flavor of how the site works

You learn why the answer was incorrect and you get up to three chances to answer a similar questions if you fail to have the correct answer

Based on the certification you've earned you will receive one question per month. These are 'core questions'

30 days later you will get another question (one per month per certification) Every correct question you earn a point and you can earn a one-year extension with eight points per certification. You can earn one point per month per certification if you get the question correct

A Master Technician will receive eight questions a month. One for each certification

Some questions seem manufacturer-specific

ASE replies that they are keeping with late-model technology and leading-edge tech

Learning moments happen when techs look into the answers they may have gotten wrong.

Test takers will learn why an answer is incorrect. The APP is the only vehicle that allows this learning opportunity

 You can see others who have left comments.

A test can be taken on android, apple or even a desktop

Download the app on the Apple App Store or the Android Play store

Questions and content is being delivered separately for the app

ASE believes the app adds a higher level of value. Tests don't teach the app will

ASE has not promoted the app because they continue to be in Beta. They continue to research acceptance of the app and spend time talking to the limited users

Many technicians have let their certifications lapse. This app may just help you get re-certified while learning as you go. 

No time off work

No travel to a testing site

There is a private Facebook page for techs that have downloaded the app

ASE wants to focus on leading-edge technology, so there will be questions reflecting the new tech
Resources:
A special thanks to Kevin Lekas, Ron Meyer, John Tisdale, and Rudolph "Rudy" Mestaz for their contribution to the aftermarket.
Books Page HERE
Leave me an honest review on iTunes. Your ratings and reviews really help and I read each one of them.
Facebook   Twitter   Linked In   Email


Subscribe to a mobile listening app HERE.
---
This episode is brought to you by Jasper Engines & Transmissions. When a car's engine or transmission fails, it's

not the end of the road. A re-manufactured drive-train product from Jasper Engines & Transmissions will give your car a new lease on life. JASPER has over 2000 Associates, three manufacturing facilities, two distribution centers, and 45 branch offices across the country. They're all working to produce, transport and deliver the perfect product. That's what they do best… keep customers happy. Visit jasperengines.com