THA 146: The Value of Twenty Groups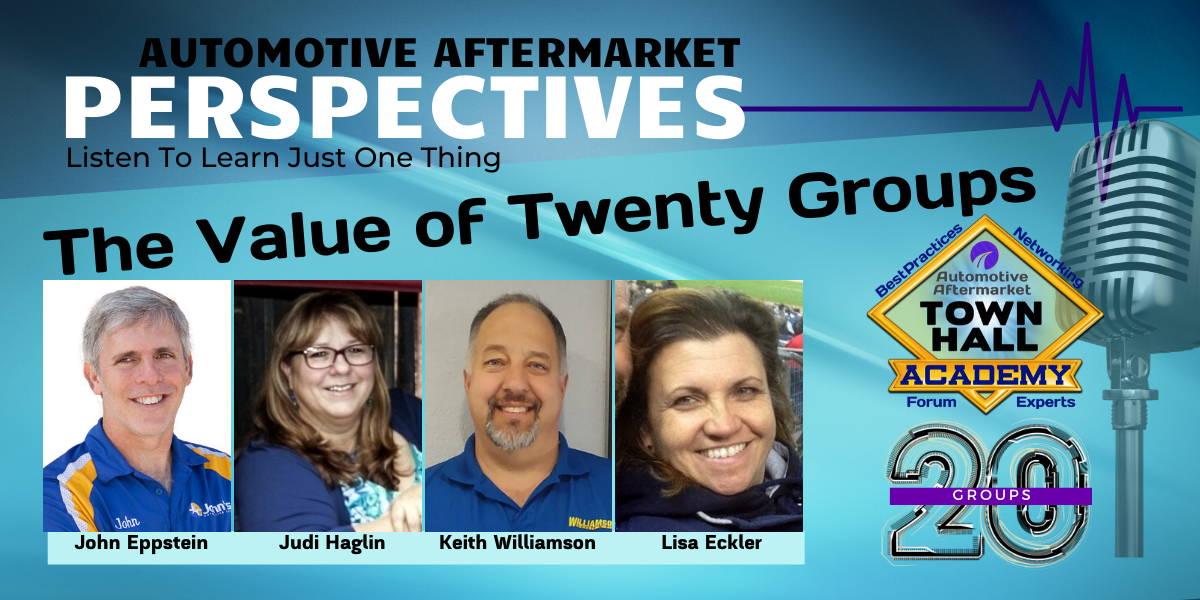 The Panel:
John Eppstein is the owner of John's Automotive Care in San Diego, CA. He is the incoming ASCCA President. One thing he credits for his success is making his customer his main focus. John was honored as the 2016 NAPA ASE Technician of the year.  Hear John in our one on one interview in episode 119, 200 and Academy 003 on the Top Qualities of a Service Advisor. Look for John's other episodes HERE.
Judi Haglin and husband Dana own Haglin Automotive Inc., a full-service auto repair shop in Boulder, CO, and they've been leaders in the Boulder auto repair industry since 1981.
Judi and Dana have a super working relationship and they pay attention to details, share a core value; 'Everyone Speaks' that is part of their strong business culture.
They received Motor Age's Top Shop honor in 2015. Key to their success is they know their roles and together make a strong business owner. They say, "Fixing cars is secondary, we are primarily solving our customer's problems". Look for Judi's previous episodes HERE.
Keith Williamson is the owner of Williamson's Repair and Tire in Bondurant, IA for over 20 years. He is a member of MWACA where he leads the Shop Owner Support Group (an amazing group of shops) in Iowa. He and his team focus on the customer experience, as well as Hybrid, Electric and emerging vehicle technologies. He recently added a solar array to his building and uses a Toyota Prius and Chevrolet Volt as shuttle vehicles and plans to add more hybrid and electric vehicles as they continually update their loaner fleet. He is a member of RLO Training's Bottom Line Impact Group for 4 years. Listen to Keith's previous episodes HERE.
Lisa Eckler is an executive assistant by trade, and a native upstate New Yorker – and somehow managed to marry a Red Sox fan!  Lisa's background in office management and marketing brought a new facet to the business. When she left her position three years ago, Lisa became the business and marketing manager for Foreign Car Specialists.  In her new position, she has increased customer awareness for the business, increased the shop's search engine optimization (SEO) and has brought the business to the first page of Google's organic rankings for search engine results.
Lisa has two boys who are grown and gone and a daughter still at home.  Kevin's teenage daughter and son live with them full time and rounding out the family are four cats, a perfect dog and 11 chickens who provide breakfast and entertainment daily. Find Lisa's other episodes HERE.
Key Talking Points:
You need to be in a good place in your business where you need help or a bad place and you need help, twenty groups are for you. You must be willing to commit to the process and responsibility
You don't know what you don't know and discover that in a big way by joining a twenty group
Learn quickly what basics you need to start fixing
You'll learn to give a higher level of customer service and give exceptional service
Judi is experiencing an explosion in your business since she is focused in another area with ATI to support its 20-Group program. Without Judi, the business is flourishing.
Besides national groups, there are regional twenty groups
Find close friends that are all willing to help you with your success and even take your call then things are not going well. Lean on each other.
There are local groups such as NAPA's BDG (Business Development Group). Jasper has some groups like this. But they are not exactly like twenty groups, but they are there to help.
Travel in twenty groups can be limited to twice or three times a year and ZOOM meetings monthly supplement
Google Drive is supplementing the ease to share your numbers and even ads used to hire
One of the biggest values from twenty groups is accountability

It is not easy to accept accountability from your peers especially if you are not strong enough to hold yourself accountable
It is OK if you are struggling and being held accountable will help you and your business to blossom
You are looking too closely at your business. Backing up and getting a bigger picture will help you see what is wrong

Many who going twenty groups find themselves at the bottom of the metrics. The goal is to grow your success by measuring your success
You'll find members in your group that have special strengths to pull from. They are for you to use
Some twenty-groups use this time for social, to get to know each other and some for philanthropic purposes
Grow as a leader and become a reader (readers are leaders). Books on Tape and podcasts are great resources for learning
Other networking opportunities like BNI are places you can get help
Great ideas on what to do beyond the shop: Mentoring
Many did not enjoy going to work until they joined a twenty group
Twenty-groups help you find and pull the levers of change
Twenty-groups do shop tours:

You get a chance to have your peers review you. All details.
Accept what you learn and start your transformation
You'll discover things you already knew you had to do (why not do them?)
You'll learn things you did not know you needed to change
Judi has done a virtual tour for her group and learned a lot and learned a lot more when there was an actual shop visit from her twenty-group peers.
A marketing survey 'Do you own your own neighborhood' Survey of local businesses by your twenty-group members

Financial measures and goals are one of the first things you'll start to learn in a twenty-group
You learn a lot about the soft skills that make you a better leader
Most owners are car people and not business people. Hence the value of a twenty-group
The panel believes they get an ROI on the costs they spend on going to their twenty-group meeting
Resources:
A special thanks to John Eppstein, Judi Haglin, Kieth Williamson and Lisa Eckler for their contribution to the aftermarket.
Books Page HERE
Leave me an honest review on iTunes. Your ratings and reviews really help and I read each one of them.
Facebook   Twitter   Linked In   Email
Subscribe to a mobile listening app HERE.
Town Hall Academy Sponsored by: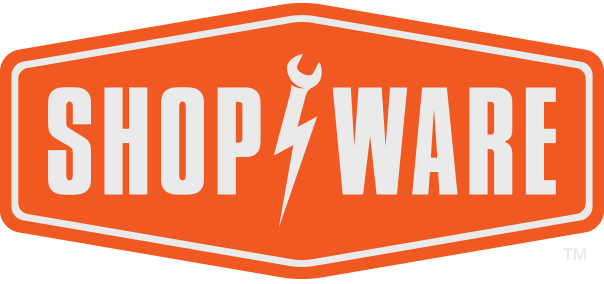 This episode is brought to you by Shop-Ware Shop Management. It's time to run your business at its fullest potential with the industry's leading technology. Shop-Ware Shop Management will increase your efficiency with lightning-fast workflows, help your staff capture more sales every day, and create very happy customers who promote your business. Shops running Shop-Ware have More Time and generate More Profit—join them! Schedule a free live demonstration and find out how 30 minutes can transform your shop at shop-ware.com

This episode is brought to you by Jasper Engines & Transmissions. When a car's engine or transmission fails, it's not the end of the road. A re-manufactured drive-train product from Jasper Engines & Transmissions will give your car a new lease on life. JASPER has over 2000 Associates, three manufacturing facilities, two distribution centers, and 45 branch offices across the country. They're all working to produce, transport and deliver the perfect product. That's what they do best… keep customers happy. Visit jasperengines.com