FTR 029: Tom Ham Part 1: What Techs want from Shop Owners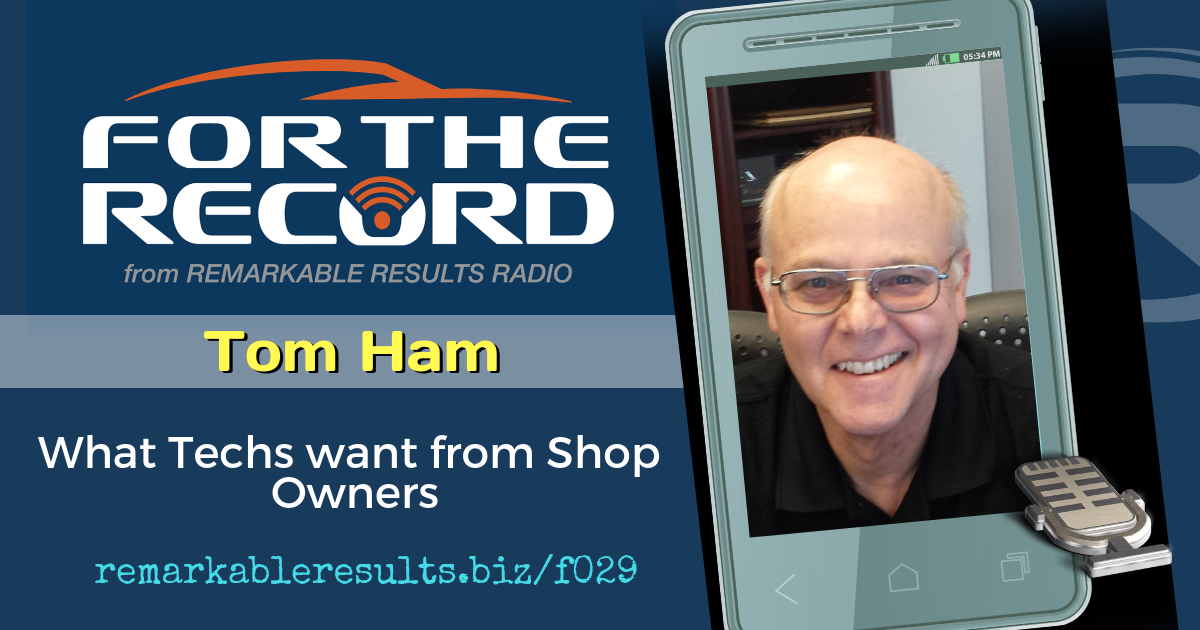 Tom Ham, with the help of his wife Deb, is the creator and owner of Automotive Management Network a 12,000 plus member website dedicated to the exchange of vehicle service management information. Tom got his start in the auto service industry pumping gas in the late '60s. Tom and his wif
e operate Auto Centric, an import specialty shop in Grand Rapids, MI. Tom and Deb have five children including two sons and a daughter who served in the Iraq War as U.S. Marines.  He writes extensively on industry topics.  Discover Tom's previous episodes HERE.
Key Talking Points:
Standard Benefits are necessary.

Staffing. Hire people who are friendly and cooperative.

Hire great service advisers.

Estimate accurately. Ask me if you need more information.

Be fair with labor times. One of the biggest complaints.

Provide me with information that is user-friendly.

Provide state of the art information technology.

Bring in  enough cars to keep me busy

Maintain honest and ethical business practices.

Create and maintain consistent and well-defined guidelines.

Offer opportunities for advancement.

Buy quality parts.

Provide a low-stress environment as much as possible.

Manage well. Don't micromanage.

Provide a fair pay system and review it and adjust as necessary.

Include a weekly tool allowance.

Provide all the necessary tools other than basic hand tools.

Provide the correct equipment for the work you take in.

Training. Offer plenty of training opportunities and compensate me for off-hours training time away from my family.

Maintain a clean and organized facility.

Maintain an nice employee break room for your employees.

Improve ergonomics.

Work hours. Avoid weekend and evening hours.

Create a four day work week option.

Create flexible work hours.

Offer a reasonable work week.

Respect your employees. Treat people fairly.

A special thanks to Tom Ham for sharing his passion – For The Record.
Books mentioned in the content library HERE
Leave me an honest review on iTunes. Your ratings and reviews really help and I read each one of them.
Email Carm HERE.

Be socially involved and in touch with the show:
Facebook   Twitter   Linked In   Email    Events   Instagram   Speaking
---
This episode is brought to you by FlexCheck Auto Digital Vehicle Inspection Software.
Savvy shop owners use vehicle inspections to find additional work on a vehicle that the vehicle owner may not know is needed. The most successful shop owners fully inspect every car, every time. It benefits the vehicle owner more than the shop because most vehicle

owners want their autos to be reliable.
FlexCheck Auto takes the power of a shop's inspection process and puts it in the palm of your technician's hand so that pictures, video and vehicle specific notes about a vehicle's condition can be shared quickly with vehicle owners. This simple, fully customizable system is designed to operate on any Android device. It improves technician efficiency in the bays, service writer efficiency at the counter, increases average repair order and builds trust with vehicle owners.
Today's vehicle owners want to receive their vehicles health status electronically, this makes FlexCheck Auto the most transparent way to do sell auto repair. Try it for free for 30 days! Go to FlexCheckAuto.com to learn more.
---

Download the Remarkable Results Radio listening APP for your smart device: