FTR 031: Brett Bohlmann – Fixing Our Leadership Deficit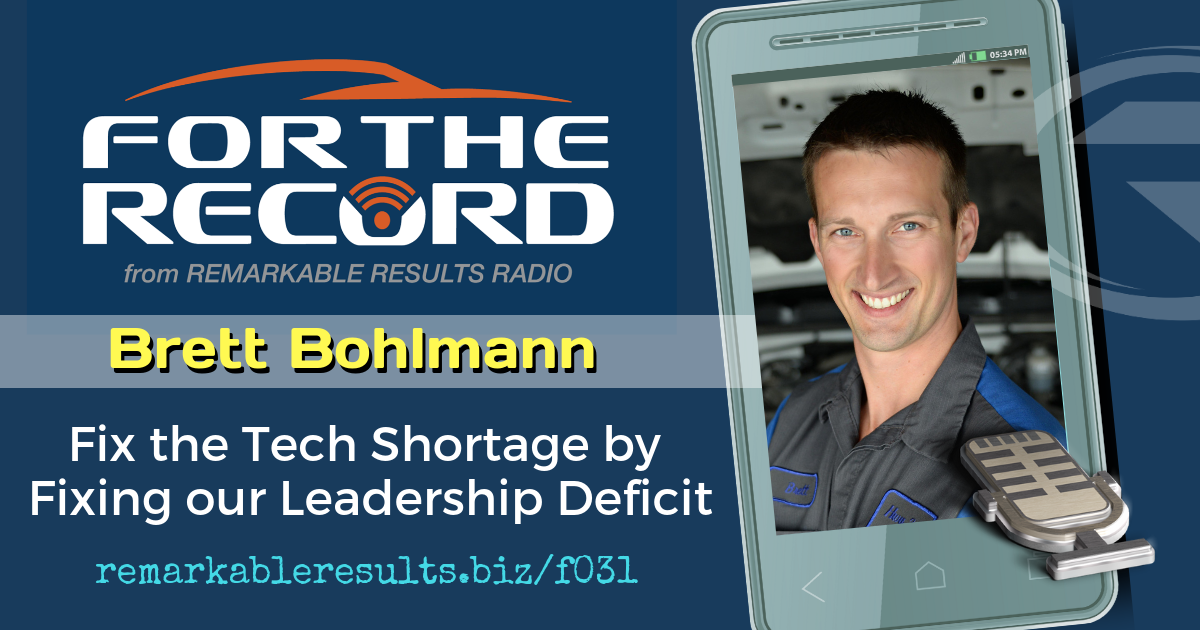 Brett Bohlmann, along with his wife, is the owner of HWY 7 Service Center, Newell, IA. He began his career in the automotive industry as an automotive technician. Over the years, Brett began to acquire top notch experience and a love of automobiles but more of a passion for learning in the entire automotive industry.
In 2010, Brett had an urge to start and open Hwy 7 Service Center with the goal of always exceeding the customer's expectations. Oil definitely pumps in his veins as automotive knowledge, skill, and work ethic radiate from his actions and words. However, the fuel for the fire comes from his family at home and the community that has become a large family too. Find out more about Brett's episodes HERE.
Key Talking Points:
The story of the 'mad butcher'

Short-sighted thinking on low price could not beat the competition

He decided to build his people. Make then enthusiastic.

He conquered because he put people first.

Developing your people so they build your business

Andrew Carnegie had 30 millionaires working for him.

He mined for gold in his people

Stop being insecure and start developing yourself and your people

People need to work for more than a job. What about significance?

Ask you people 'What is their purpose?'

What is their dream?

We need to get out of our comfort zones and to start to lead our people.

Invest in them for the long term.

RATE formula

Relationship + Attitude x Talent + Expectation = Production

We can't let our condition to control our attitude. We must let our attitude control our conditions.

You build your people and they build the business.
---
A special thanks to Brett Bohlmann for sharing his passion – For The Record.
Books mentioned in the content library HERE
Leave me an honest review on iTunes. Your ratings and reviews really help and I read each one of them.
Email Carm HERE.

Be socially involved and in touch with the show:
Facebook   Twitter   Linked In   Email    Events   Instagram   Speaking
---
This episode is brought to you by FlexCheck Auto Digital Vehicle Inspection Software.
Savvy shop owners use vehicle inspections to find additional work on a vehicle that the vehicle owner may not know is needed. The most successful shop owners fully inspect every car, every time. It benefits the vehicle owner more than the shop because most vehicle

owners want their autos to be reliable.
FlexCheck Auto takes the power of a shop's inspection process and puts it in the palm of your technician's hand so that pictures, video and vehicle specific notes about a vehicle's condition can be shared quickly with vehicle owners. This simple, fully customizable system is designed to operate on any Android device. It improves technician efficiency in the bays, service writer efficiency at the counter, increases average repair order and builds trust with vehicle owners.
Today's vehicle owners want to receive their vehicles health status electronically, this makes FlexCheck Auto the most transparent way to do sell auto repair. Try it for free for 30 days! Go to FlexCheckAuto.com to learn more.
---

Download the Remarkable Results Radio listening APP for your smart device: