FTR 033: Kirk Richardson On Technician Pay Plans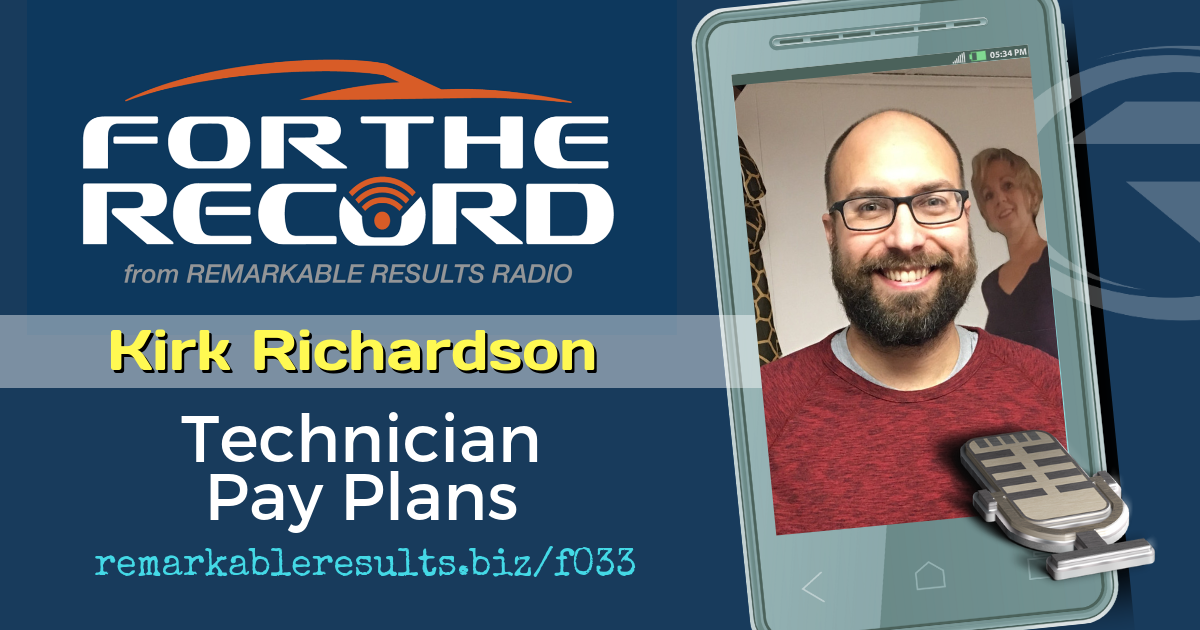 Kirk Richardson is a young and successful entrepreneur. Born into a blue-collar, hard-working family, he was a below average student in high school and college. At the age of 22, he left school and started his first business. He bought his first three bay shop at the age of 24. Seven years later he bought his second shop, South Street Auto Care in Rochester, MI.
Richardson really prides himself on his ability to create a family culture within his businesses. The culture is a blend of hard work, accountability, fun, and hi-jinx, which combine to make loyal and dedicated coworkers. Kirk loves business and people in general and will talk for hours about business! Listen to Kirk's previous episodes HERE.
Key Talking Points:
Flat rate incentivizes them to be concerned about #1

Responsibilities of life and at home is their #1 concern

Their co-workers or the customers do not have an important position in this hierarchy

It creates an island and not a co-worker atmosphere.

He believes flat-rate is flawed.

A contributing factor in the shortage of technicians in our pay plan and may prohibit some from joining our industry.

When you need your senior people, who are on flat-rate, to help the young person groom and grow in your business, their tendency to help and not book enough hours for the week prevents mentoring and grooming fail.

Kirk has 12 people involved in the production side of his business and he shares gross profit instead of paying a flat rate pay program.

They have one collective goal.
---
A special thanks to Kirk Richardson for sharing his passion – For The Record.
Books mentioned in the content library HERE
Leave me an honest review on iTunes. Your ratings and reviews really help and I read each one of them.
Email Carm HERE.

Be socially involved and in touch with the show:
Facebook   Twitter   Linked In   Email    Events   Instagram   Speaking
---
This episode is brought to you by FlexCheck Auto Digital Vehicle Inspection Software.
Savvy shop owners use vehicle inspections to find additional work on a vehicle that the vehicle owner may not know is needed. The most successful shop owners fully inspect every car, every time. It benefits the vehicle owner more than the shop because most vehicle

owners want their autos to be reliable.
FlexCheck Auto takes the power of a shop's inspection process and puts it in the palm of your technician's hand so that pictures, video and vehicle specific notes about a vehicle's condition can be shared quickly with vehicle owners. This simple, fully customizable system is designed to operate on any Android device. It improves technician efficiency in the bays, service writer efficiency at the counter, increases average repair order and builds trust with vehicle owners.
Today's vehicle owners want to receive their vehicles health status electronically, this makes FlexCheck Auto the most transparent way to do sell auto repair. Try it for free for 30 days! Go to FlexCheckAuto.com to learn more.
---

Download the Remarkable Results Radio listening APP for your smart device: