RR 407: Dennis Montalbano: He Survived a Heart Attack and Stroke and so Did His Business!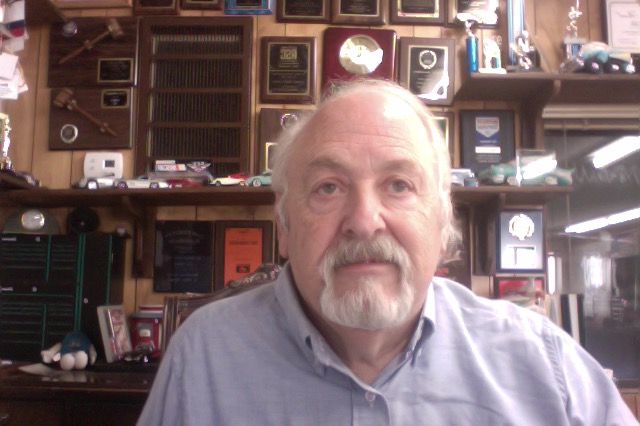 Dennis Montalbano was born in San Francisco and raised in San Jose. He started his career in the service station business and operated the largest Gulf station on the west coast in volume.
Dennis then became the youngest Snap-On Tools dealer at 22 years old and then the youngest Field Manager for Snap-On at 30 years old. He moved to Fresno in 1982 with Snap-On and purchased German Auto Repair in 1989.
Dennis shares his recent major health challenge and how he and his business survived. His message is clear, you need to have a plan. We are not immortal.
A classic car collector who owns his first purchased car, a 1956 Corvette that he has owned for over 45 years. He is also a trained California certified Lemon Law arbitrator for over 16 years. Dennis currently serves on the Executive Board of Directors for the Fresno Regional Workforce Investment Board.
As  ASCCA (Automotive Service Councils of California) President in 2011 and again in 2016, his passion for the industry is what drives him to serve. Listen to Dennis' previous episodes HERE.
Key Talking Points
Aging of industry  

Dennis had a health scare that changed perspective for living each day- time goes by too fast

The doctor that performed surgery was a customer at the shop

Need to have a succession plan no matter what age shop owner is- surround yourself with the right people and cannot control the entire business yourself

Who has passwords?
Who can get into the bank account?
Who will pay the bills?
Who will lead?

The stress of business owner

Health issues due to stress common with both men and women in stressful positions  

Stress signs- waking up at 4 AM not because of alarm but because overthinking about something  

Delegate responsibilities-Can't have the mindset that you are the only one that can do job or task correctly  

Can your business continue to run without you for 30 days? Plan for the unexpected and don't back yourself into a corner you cannot get out of

Starting in the automotive industry and staying in it- As cars are evolving the technology and equipment side of business rapidly changing

What are your health requirements for business?

Denial- it won't happen to me
Resources:
Thanks to Dennis Montalbano for his contribution to the aftermarket's premier podcast.
Link to the 'BOOKS' page highlighting all books discussed in the podcast library HERE. Leaders are readers.
Leave me an honest review on iTunes. Your ratings and reviews really help and I read each one of them.


Be socially involved and in touch with the show:
Facebook   Twitter   Linked In   Email    Events    Speaking
Subscribe to a mobile listening app HERE.

The auto care industry is revving up.  New technologies are changing cars and the way people use them. To stay in the driver's seat of all these advancements, you need to take charge of your learning, your business, and your legacy. That's where the 2020 NAPA 

EXPO comes in. With help from industry experts and the best suppliers and manufacturers, the 2020 NAPA EXPO will provide the innovations and answers you need to charge forward into the future.
This is your chance to: network with experts in the industry, discover the latest innovations that will help you stay market competitive, and learn more about the new products, services, and equipment you'll soon be using every day.
Join us in Las Vegas, April 6-9, 2020!  Contact your NAPA AUTO PARTS store today to reserve your package for this can't miss event. Enrollment is going on now.
To learn more about NAPA AutoCare and the benefits of being part of the NAPA family, visit www.NAPAAutoCare.com.