THA 107: Discover How To Keep Your Women Customers For Life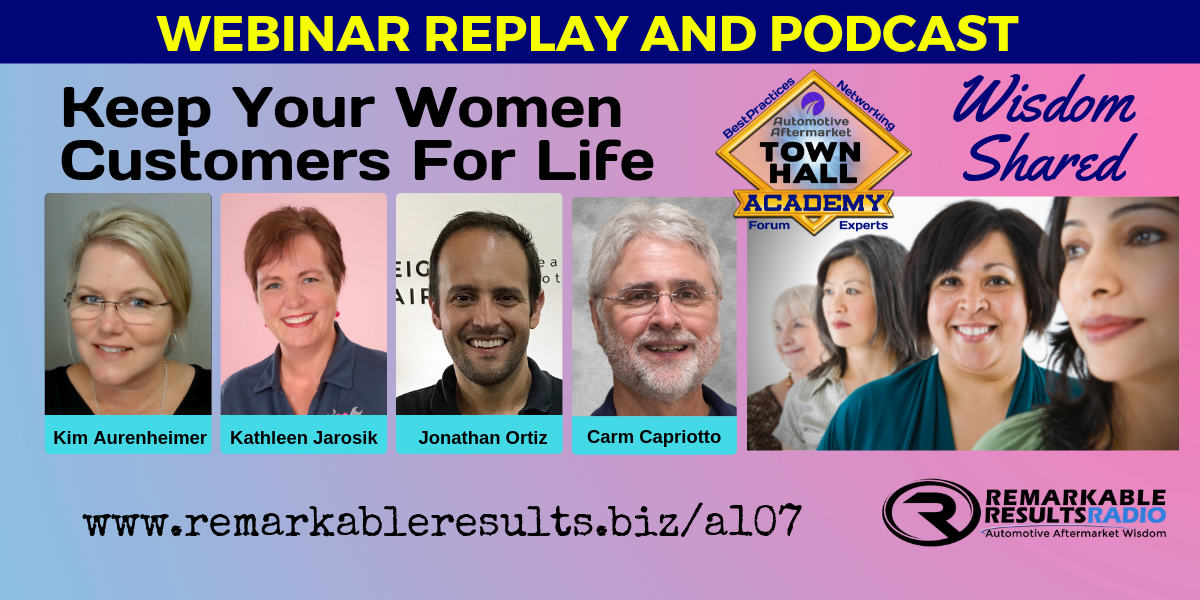 Your Learning Curve Never Sounded This Good
The Panel:
Kim Auernheimer, AAM is the Co-Owner & Business Manager of CS Automotive in Brentwood, Tennessee. CS Automotive was opened in October of 2006 in the back of a warehouse and now they call a 6,400 square foot, 10-bay shop home.  Prior to joining her husband Rob in the business on a full-time basis, Kim had a career in Commercial Real Estate and Property Management. In July of 2011, she stepped out from the background of the business and joined her husband in the venture of creating an industry-leading standout
Kim continuously seeks out training for her and her entire team and put the teachings to use. Her belief in industry education has been a large influence on how much success and growth they have had over the last few years.  She has a passion to improve the reputation of the Automotive Repair industry working alongside other shop owners and industry leaders to improve the overall experience of the customer from the moment they make that first call to the shop until they drive their car off the lot instilling transparency and developing trust during the entire process.
In 2017, she obtained her Accredited Automotive Manager (AAM) designation. This is a result of 120-credit hours of coursework in several core competencies including leadership, marketing, customer relations, accounting, and several other areas of automotive repair business management. Listen to Kim's Episodes HERE.
Kathleen Jarosik began her career in the automotive field in late 2003 after relocating from Florida's Atlantic Coast to the beautiful Gulf Coast with her family. She started working at Xpertech Auto Repair shop while also staying home part-time with her two, now teenage daughters. Without any automotive experience, she spent much of her time in the background, managing payroll, accounts payable and paperwork associated with the operations of the business. After divorcing in 2009, and only 6 years of shop experience under her belt, she purchased full ownership of her shop from her former husband and began to run it as her own.
Kathleen made 3 pivotal decisions that have since changed her life; becoming a Napa Auto Care center and utilizing their extensive benefit and training network to learn and grow in the industry, finding a business coach; Repair Shop of Tomorrow, to further educate her in marketing, operations, and efficiency, and becoming a member of Women in Auto Care where she has learned the importance of encouraging and empowering others to strive for excellence in this incredible industry. She is very involved in the leadership and volunteering initiatives in her local community and aims to increase awareness and spark interest in choosing a career in the automotive field for young women.
Kathleen was honored as the Female Shop Owner of the Year 2018 from Women In Autocare. Listen to Kathleen's previous episodes HERE.
Jonathan Ortiz is the son of Foreign Affairs Auto's founders Frank and Gloria Ortiz. He has an MBA from Northeastern Boston and is currently the general manager of the shop. He is the brother of the two-time Olympic soccer player, Melissa Ortiz and she works in the marketing department. His passion is customer service and he got this passion to serve from his family. His family created the culture of giving what you can. He is joined by a talented team of managers, technicians, and service staff. Find Jonathan's other episodes HERE.
Key Talking Points:
Shops percent of women customers ranges from 50% to 70%. Depends on demographics and geographic in their marketplace. Even the average age plays a factor.

Jonathan says females can be more loyal

It can come down to an emotional relationship of trust. Also applies to male customers

When female customers find trust they come back time and again.

Women are more relational than men.

They want to go with a place where they feel safe, that they are understood and they are values and the relationship is built from there.

The environment is key

Like a home living room.

Less automotive like advertisements in the lobby.

Customer needs to feel it is a very clean and inviting environment. Not a car repair shop.

Fragrant that doesn't smell like a shop

Amenities:

Coffee, water, snacks, flowers, female-friendly magazines wifi, cell phone chargers

Kim has essential oils going.

Create a WOW factor something so different and unexpected.

Being transparent than ever. DVI has been large support in creating transparency.

Many women customers may come in with a high level of anxiety if a vehicle problem has interrupted their day.

It can be easier for a female service advisor to build a transparent relationship with a female customer.

Females will more often give a personal referral.

Know who your customer is before you decide to hire a woman. If you are a speed shop or a 4×4 shop you may make a mistake with a women service adviser unless the experience. If your shop demographics fits a woman service advisor profile you need to consider a woman on your counter in some capacity.

What percent of women and men are following your social pages and consider the strategy you have to appeal to your audience or build a segment.

Celebrate the wins in your teams' Babies, marriages, and/or anniversaries. Including holidays and even recipes.

Clients want to know about the team and the family environment in your shop.

Real people with real lives.

The CEO's job is to get the phone to ring. Managing your marketing and social media is an important responsibility and at the core of your business is to help people and build relationships through your team.

Every month there is a holiday and you can weave that theme into your social media or your special touch at your counter.

Always consider that every day has a 'special day tag' that you can develop a theme around such as national donut day!

Exceptional customer experience is a minimum standard today.

Building long term relationships will keep your customers loyal for life.

Treat your women customers as the decision maker that she is.

Male customers will explore other opportunities and may not be as loyal.

Remember the never says:

Sweetie, sweetheart, darling. Maybe meant well but said in the right way it voids your conversation and will be construed as talking down.

Do you want me to talk to your husband?

Unless she defers your women customer is the decision maker.

Calendars from the tool trucks need to be removed from the premises. It is not appropriate along with language.

Your women customer wants to know if it is safe.
Resources:
A special thanks to  Kim Auernheimer, Kathleen Jarosik and Jonathan Ortiz for their contribution to the aftermarket.
Books Page HERE
Zimmerman's Automotive website HERE.
Leave me an honest review on iTunes. Your ratings and reviews really help and I read each one of them.


Subscribe to a mobile listening app HERE.

---
This episode is brought to you by Jasper Engines & Transmissions. When a car's engine or transmission fails, it's

not the end of the road. A remanufactured drivetrain product from Jasper Engines & Transmissions will give your car a new lease on life. JASPER has over 2000 Associates, three manufacturing facilities, two distribution centers, and 45 branch offices across the country. They're all working to produce, transport and deliver the perfect product. That's what they do best… keep customers happy. Visit jasperengines.com
Subscribe to a mobile listening app HERE.