FTR 037: Scott Wheeler – Are You Really Listening to Your Customer?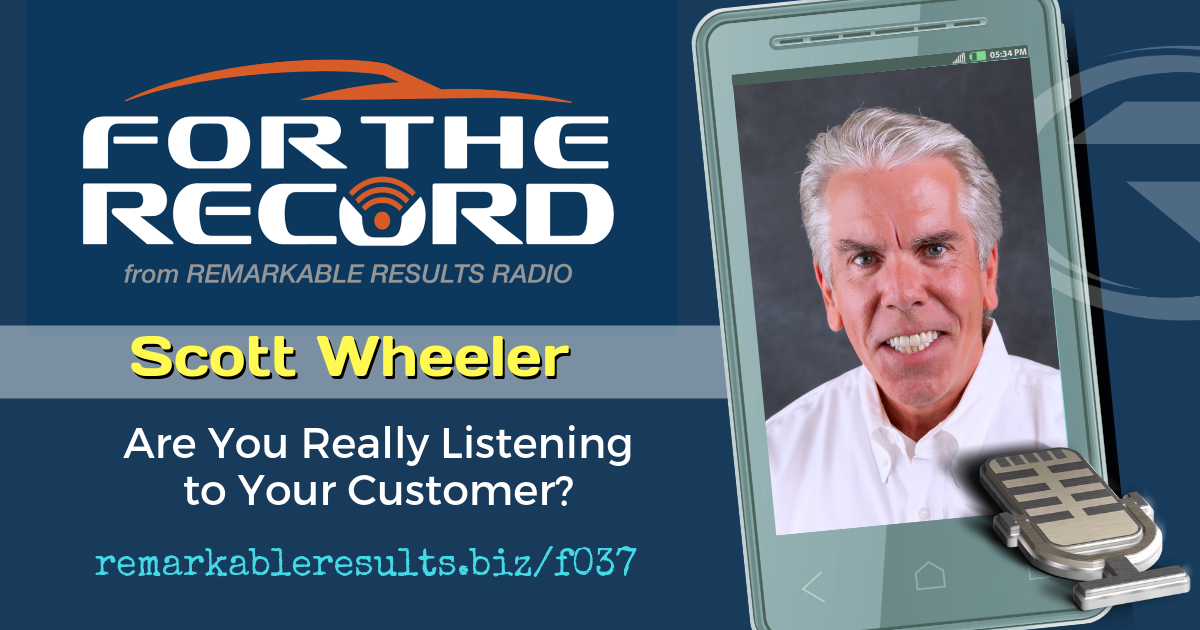 Scott Wheeler, President of Automotive Consultants Group, Inc. (ACGI) is a management expert in the transportation industry, with over thirty-seven years' experience in the automotive, trucking, heavy equipment, marine, motorsports and defense aerospace industries.
Scott holds numerous ASE credentials, including two Master's Certifications. He has experience working in many capacities — from Tech, Fixed Operations Director, and Mechanical Engineer.
Scott has authored 4 books for the automotive industry. In addition, he is an AMI-Certified Management Instructor. ACGI has served as an expert witness in various court cases.
He speaks professionally at major industry events throughout the U.S. and Canada and is a featured writer, consultant, and contributor to Motor Age, Ratchet+Wrench, ASA's Auto Inc., and Canadian Technician magazines.
ACGI applies a unique systematic approach to each client they serve throughout the U.S. and Canada.
Key Talking Points
In our industry communication is paramount to building a strong customer and team relationship.

The customer's concerns on their car require the service consultant to ask the right questions and employ active listening skills and empathy along with the art of asking the proper questions.

Every case is different which mandates these skills.

You need to understand your customer's communication behaviors and DISC is a great way to best understand how to communicate with your customer

The service consultant interrupts what the customers says into a repair order that explains precisely what the customer's concern is and guides the technician to precisely what, from the customers perspective, is wrong with the vehicle.

The 3 C's

Customer

Concern
Cause

of the Concern

Recommended

Corrective Action

Virtual Vehicle MD is a tool to use to help explain and communicate with your customer.

Playback word for word to the customer what the service consultant understands.

Double up on your listening vs. you talking.
---
A special thanks to Scott Wheeler for sharing his passion – For The Record.
Books mentioned in the content library HERE
Leave me an honest review on iTunes. Your ratings and reviews really help and I read each one of them.
Email Carm HERE.

Be socially involved and in touch with the show:
Facebook   Twitter   Linked In   Email    Events   Instagram   Speaking
---
This episode is brought to you by FlexCheck Auto Digital Vehicle Inspection Software.
Savvy shop owners use vehicle inspections to find additional work on a vehicle that the vehicle owner may not know is needed. The most successful shop owners fully inspect every car, every time. It benefits the vehicle owner more than the shop because most vehicle

owners want their autos to be reliable.
FlexCheck Auto takes the power of a shop's inspection process and puts it in the palm of your technician's hand so that pictures, video and vehicle specific notes about a vehicle's condition can be shared quickly with vehicle owners. This simple, fully customizable system is designed to operate on any Android device. It improves technician efficiency in the bays, service writer efficiency at the counter, increases average repair order and builds trust with vehicle owners.
Today's vehicle owners want to receive their vehicles health status electronically, this makes FlexCheck Auto the most transparent way to do sell auto repair. Try it for free for 30 days! Go to FlexCheckAuto.com to learn more.
---

Download the Remarkable Results Radio listening APP for your smart device: