RR 415: Mitch Schneider – Legacy Aftermarket Influencer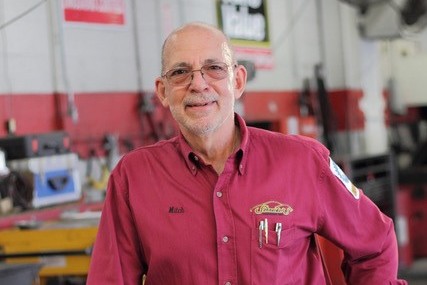 Mitch Schneider is a fourth generation "mechanic/technician" recognized as a champion of service dealer and technician causes. Mitch is also a consultant, entrepreneur and journalist.
Schneider is a frequent speaker at major conventions and meetings of automotive industry trade organizations, where he addresses the challenges and problems affecting the automotive service industry and has keynoted or presented for some of the nation's most successful automotive organizations.
Publishing
Schneider, an award-winning journalist, is a regular contributor and Senior Contributing Editor for 10 Missions Publishing appearing in Ratchet + Wrench magazine. Online, his columns can be found on RatchetandWrench.com. Mitch covers the experiences shared by service technicians, garage owners and consumers in today's rapidly changing automotive service environment and provides commentary on the evolving relationship between service dealers, jobbers, warehouse distributors and manufacturers.
Mitch is also the author of Misfire: What to Do When Everything Isn't Running on All Cylinders, an allegorical small business novel about to be published, as well as an eight-volume Automotive Service Management Series published by Cengage Learning.
Schneider's Automotive
For more than 37 years, Schneider operated Schneider's Automotive — a successful 6-bay, family-owned and operated service facility in Simi Valley, Calif.  Schneider's Automotive has won recognition throughout the area, including being twice ranked among Los Angeles magazine's annual list of 100 best repair facilities (even though Schneider's Automotive is not in Los Angeles).  Schneider's Automotive was recently sold.
Mr. Schneider served as the first Director of the Car Care Professionals (CCPN), a segment of the AAIA, the Automotive Aftermarket Industry Association and is the president and founder of Mitch Schneider's Future-Tech, a service company specializing in management education and training for automotive service dealers, jobbers, warehouse distribution companies and manufacturers and has shared his knowledge and insight with the automotive aftermarket since 1984.
Key Talking Points:
Mitch continues, even though he sold his shop, talking to his business coach to stay engaged with the industry.

A professional technician since 1966. He sold his business two years ago.

Mitch found his passion to speak to the industry via ETI (Equipment and Tool Institute) where he gave a 'state of the industry' message when he replaced the person who could not make the event. This was 1984.

Part of the inspiration that Mitch used to give the speech was that his children were smart enough to go to a top college, but he knew he was not making enough money repairing cars to sent his children to college.

This was the underlying anger that was bothering him.

Mitch says we are still facing the same problems today that we were in 1984

He gave the speech seven times that year.

It was in Corpus Cristi when some of his written vinuetes fell out of his briefcase and a person helped him pick them up.

The person started to look at them and wanted Mitch to know if it was good stuff. That person was the editor or Motor Service Magazine.

That is when he realized he may have something to say that could change the industry.

It is encouraging to see the people who have received the message that the industry keeps giving. They have done well. However it is the same people that keep attending classes, read articles and listen to podcasts to help them improve.

So many are terrified of success or change in a positive direction because they have no idea how success will change their life. They are willing to endure the pain and frustration where they are instead of breaking out.

We need to help those who want help to become more successful. We need to extend a hand. I see the pain you are in and how hard you are trying. I've been there let me help you.

Can I give you one or two pointers so you can see another reality.

Mitch is currently facing his biggest challenge in his life as he is fighting Primary Myelofibrosis. A very rare incurable, untreatable and incurable condition whose only remedy is a bone marrow transplant, which he is going to do.

His doctors believe he will survive the transplant process.
Resources:
Thanks to Mitch Schneider for his contribution to the aftermarket's premier podcast.
Link to the 'BOOKS' page highlighting all books discussed in the podcast library HERE. Leaders are readers.
Leave me an honest review on iTunes. Your ratings and reviews really help and I read each one of them.


Be socially involved and in touch with the show:
Facebook   Twitter   Linked In   Email    Events    Speaking
Subscribe to a mobile listening app HERE.

The auto care industry is revving up.  New technologies are changing cars and the way people use them. To stay in the driver's seat of all these advancements, you need to take charge of your learning, your business, and your legacy. That's where the 2020 NAPA 

EXPO comes in. With help from industry experts and the best suppliers and manufacturers, the 2020 NAPA EXPO will provide the innovations and answers you need to charge forward into the future.
This is your chance to network with experts in the industry. Discover the latest innovations that will help you stay market competitive. Learn more about new products, services, and equipment. You will be using them every day.
Join us in Las Vegas, April 6-9, 2020!  Contact your NAPA AUTO PARTS store today to reserve your package for this can't miss event. Enrollment is going on now.
To learn more about NAPA AutoCare and the benefits of being part of the NAPA family, visit www.NAPAAutoCare.com.