THA 111: Building New Customers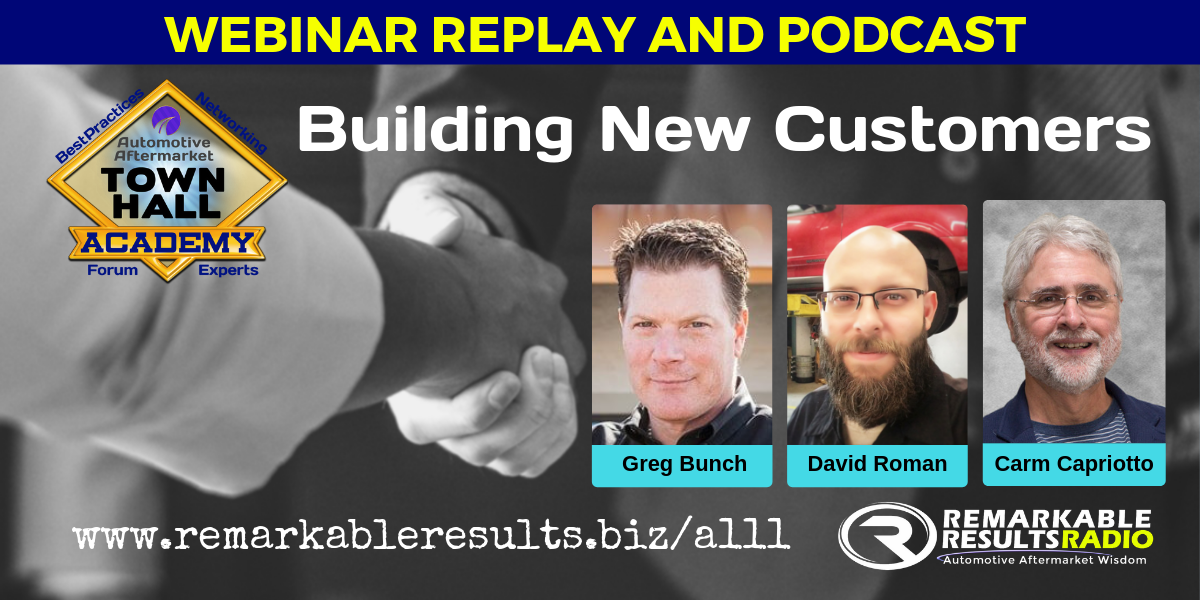 Greg Bunch is the owner of Aspen Auto Clinic, a five-location automotive and service business in Colorado. Greg started his passion for cars at 15 when he began rebuilding a 1966 Volkswagen Bug.  Greg has moved from a Volkswagen mechanic to ASE Master Technician, to Management, to starting his shop 18 years ago in his garage, to an award-winning multi-location business.
Greg is currently a board member for the STEM-based charter school call "Automotive Institute of Science & Technology" and on the Advisory board of Ratchet and Wrench Magazine. Greg is also a board member of the Autocare organization and a certified instructor for the  Worldpac Training Institute and Carquest Technical Institute.  Greg's unwavering passion for the industry has also led him to form a company called Transformers Institute, a coaching and training company dedicated to transforming the automotive industry. Listen to Greg's previous episodes HERE. Transformers Institute HERE.
David Roman began his automotive career in 1999, attending an automotive technical school at a local community college. While attending college, he took a part-time job at a large parts retailer, hoping to gain some experience in the field. This part-time job turned into full-time employment, as he was promoted to management, culminating in placement as a store manager in East Central Illinois.
David discovered a passion for helping people and sharing his automotive knowledge. This passion for serving others allowed him the opportunity to successfully manage multi-million dollar operations in Illinois, the St. Louis area, and eventually Kansas City. His approach to customer service garnered him several accolades and awards, something he eventually wanted to bring to automotive repair and service.
In 2012, he opened Done With Care Auto Repair with the goal of bringing exceptional customer service, transparency, and honest work to his clients. The business was started with only some savings, no prior clients, and no history. Over the last six years, David has been able to bring a servant's mentality to helping his clients with their automotive needs resulting in loyal customers, excellent reviews, and a solid reputation.  Find other episodes that feature David HERE.
Key Talking Points:
David Roman
New customers come at a price (sweat equity or dollars and cents).

"Word of mouth" is a cop-out. It's easier to say then, "I don't know anything about marketing, even though it's the most important thing I do and I don't want to bother learning."




Unless you have some type of system that's measurable and can be articulated, you're not doing any type of "word of mouth" marketing. You're most likely doing nothing.

Attracting new customers requires an understanding of your business model, end goal with said customer, and then deploying an appropriate campaign that reflects that business model.

Quit spending money on branding.  You own a single shop in the sticks of Georgia. You're not Nike. You're not Starbucks. Stop trying to market like them.

The image you present to the community and your customer is branding

A big deception in opening a business; you think you are going to do what you are good at doing, however, you must be good at marketing – to make the phone ring.

With today's modern marketing method you can go after niche customers. Example a shop owner who is a dog lover can focus on customers who also love dogs. Conversations move from the car to their dog.

The niche like dog lovers is a long tail opportunity.

A must read for great marketers.

This is Marketing

-Seth Godin. It is up on the books page on the website.

www.remarkableresults.biz/books/

David follows up, through CRM  automation, with his customers.

Chiropractor story:

Built business to scale and find new customers.

He knows no way to find 347 new customers, but he knows 347 ways to find one new customer.

Specify your marketing, chase long tails. (See Seth Godin's Book: This is Marketing page 211)

Successful business requires effective marketing.

Most shops have no problem with lead generation they don't know how to convert them into customers.
Greg Bunch
Build rapport, starting on the phone call.

Using their name in the conversation

Locking down the appointment

Good notes in the computer

Listening when they want to talk

New client tickets are put in a red jacket.  everyone in the shop knows that's a new customer

Shop tour

Tech introduction

An informal study shows that 50% want to deal with advisor only, 50% want to also meet and interact with the technician.

Educate new client on who we are, what we do, and why we do it

NOT hit them with a huge estimate on their first visit and pressure them to get it all done.

Invite them to have the tech walk them through the findings of the inspections

We address the 800-pound gorilla, "finding a trustworthy mechanic is not easy; we want to earn your trust.

We don't expect you to make us your full-time mechanic on the first visit.

Email and text digital inspection results

Always find something to compliment on their vehicle

While integrating your customer into your business consider the term mechanic means technician and expert to us.

This is also the time to bring the value of ASE to you and the customer.

Give them a solid reason to return

Coupon for a return visit

Presold service package

Text and email reminders

3-day thank you calls

On second oil change- ask how we are doing at becoming their full-time mechanic

Have a clean, de-cluttered facility with a place for them to wait, kids area, and a clean, well-stocked bathroom.

If a complete estimate for work needed is large, you need to lead with something good about the car. What did you find good? Consider the most critical needs to be done now and we can schedule the rest of the work over time. Unless the car needs to go to the junkyard work with the customer so they stick around.

When the business is not doing well shop owners cut two things. Their salary and marketing. Greg feels strongly that marketing should not be cut, but rent may be an expense you would want to delay instead of marketing.




Back in the day, he realized he was wasting money on a full page yellow page and focused on what his company does, so he wrote Volvo Expert Service in the yellow page. Conceptually like Google AdWords today. Get granular.
In General
Scheduled maintenance puts you in charge of your vehicles reliability, safety and cost of repair.

Some shops give a toothbrush to a customer to help them understand the need to set the next appointment; just like the dentist does.

Demographics, geographics, and psychographics will determine the success of your marketing.

Customers ask the price because they don't know what else to ask.

DVI is a great tool to show transparency in your relationship.

To bring the customer back you may sell them an oil change package.

Ask for feedback. Get reviews so your review   

Get the customer in the door. It is tough to qualify a customer without them being in your store.

Your media methods attract a certain type of customer.

Follow proper scripting and build confidence and help fix their pain point.
Resources:
A special thanks to Greg Bunch and David Roman for their contribution to the aftermarket.
Books Page HERE
Leave me an honest review on iTunes. Your ratings and reviews really help and I read each one of them.
Facebook   Twitter   Linked In   Email
---
This episode is brought to you by Jasper Engines & Transmissions. When a car's engine or transmission fails, it's

not the end of the road. A remanufactured drivetrain product from Jasper Engines & Transmissions will give your car a new lease on life. JASPER has over 2000 Associates, three manufacturing facilities, two distribution centers, and 45 branch offices across the country. They're all working to produce, transport and deliver the perfect product. That's what they do best… keep customers happy. Visit jasperengines.com
Subscribe to a mobile listening app HERE.