FTR 044: Murray Voth – Your Opportunity is Huge; Find the River Where the Money Is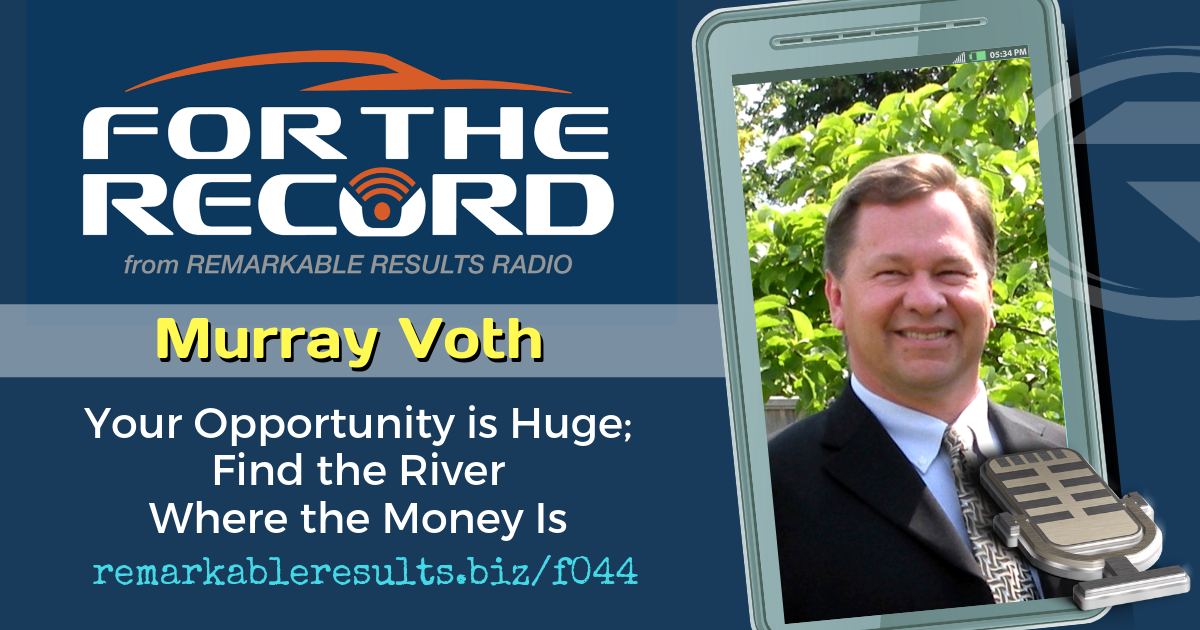 Murray Voth, owner of RPM Training learned how to service and repair cars, motorcycles, and airplanes in his youth and earned his commercial pilot's license. After college, Murray was hired by a firm doing research and development in the service station industry. That led him to own and operate service stations for the next 20 years.
After receiving extensive training from a major oil company in Canada, Murray worked in service station dealer development. His experience in training and development led to an interest in how people function. He began to think about what holds them back from learning and implementing new practices in their businesses. What causes people to change?
Murray has done extensive research into human potential and has the ability to synthesize this material and make it practical to apply.  His favorite moment is when a client says, "I get it!" or "I did it!"  He is known as an implementation coach. For the last 10 years, he has been the senior trainer, coach, and facilitator for a major automotive training company in Canada, and worked part-time in the USA as his schedule allows.  Murray has worked with hundreds of shop owners helping them to be more profitable and reduce their stress levels. Listen to Murray's episodes HERE.  RPM Training website HERE.
Key Talking Points:
North American Economy. Murray Voth knows that some in the Canadian economy that are having a tough time, however, he says there is gold out there if you go get it.
Tough still for some in the Canadian prairies

Some have done exemplary. Why?

In tough marketplace some growing 30%

It is easy to oversimplify this. Easy to make the problem into a one sentence issue. Not the right thing to do. Many factors in why no growth and why growth.

Discover:

Some are sitting back and waiting for things to turn around

It will not just come back as history suggests

Learn how to live with the economy that exists in your marketplace no matter how strong or weak

Do you have the right customer?

Have you let the dealer take your customer with an oil change program as a result of a new car sale? What are you going to do about it?

Tech and social media is your friend. Learn about how it can help you

Some shops have presence and are posting great generic content to engage their community

Some don't like to brag about themselves, but there is a way to do it that doesn't look like bragging
A special thanks to Murray Voth for sharing his passion – For The Record.
Books mentioned in the content library HERE
Leave me an honest review on iTunes. Your ratings and reviews really help and I read each one of them.
Email Carm HERE.

Be socially involved and in touch with the show:
Facebook   Twitter   Linked In   Email    Events   Instagram   Speaking
---
This episode is brought to you by FlexCheck Auto Digital Vehicle Inspection Software.
Savvy shop owners use vehicle inspections to find additional work on a vehicle that the vehicle owner may not know is needed. The most successful shop owners fully inspect every car, every time. It benefits the vehicle owner more than the shop because most vehicle

owners want their autos to be reliable.
FlexCheck Auto takes the power of a shop's inspection process and puts it in the palm of your technician's hand so that pictures, video and vehicle specific notes about a vehicle's condition can be shared quickly with vehicle owners. This simple, fully customizable system is designed to operate on any Android device. It improves technician efficiency in the bays, service writer efficiency at the counter, increases average repair order and builds trust with vehicle owners.
Today's vehicle owners want to receive their vehicles health status electronically, this makes FlexCheck Auto the most transparent way to do sell auto repair. Try it for free for 30 days! Go to FlexCheckAuto.com to learn more.
---

Download the Remarkable Results Radio listening APP for your smart device: