FTR 046: Alan Symmes: When Your Community Needs Help to Afford Safe and Reliable Transportation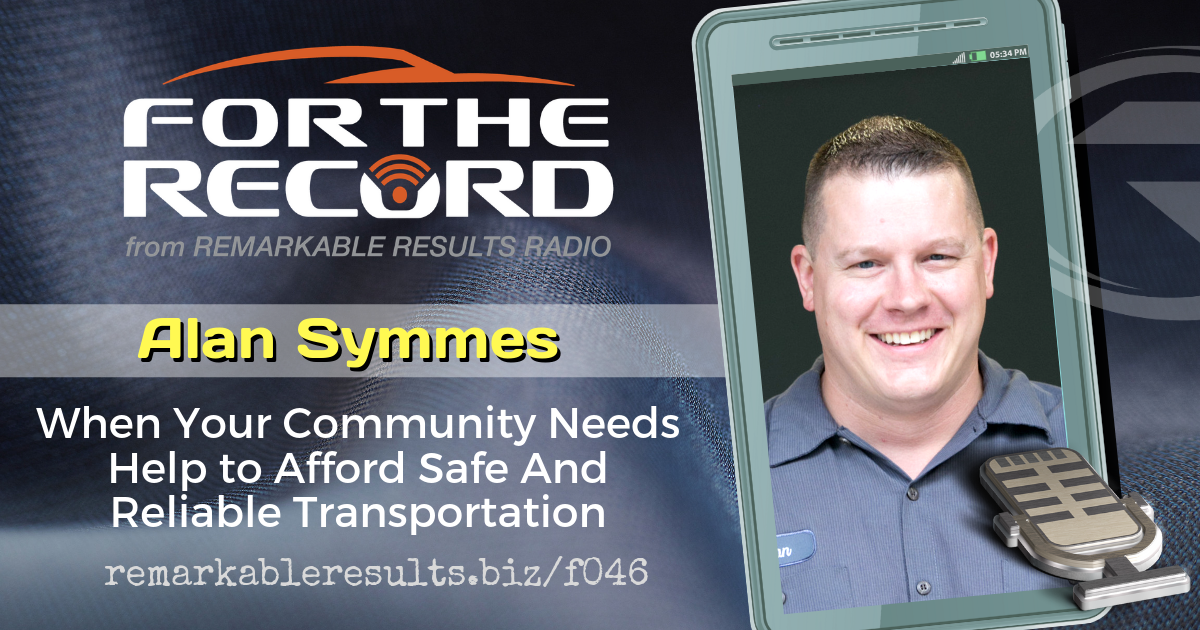 Alan Symmes, shop owner, Revolution Automotive Services, Norwood, MA.
Alan has a goal to achieve excellence in all that he does. Having a passion for cars lead him to the automotive industry at the age of 18. He and his wife Holly were even married in a Boston auto museum. But after mastering the technical aspect of cars, Alan sought out a new challenge to start his own business and 'revolutionize' the automotive service experience for both the customer AND the employee.
In 2012 he and his wife started Revolution Automotive Services, Inc. in Norwood, Massachusetts. With high energy, enthusiasm and a strong will to succeed, Alan has created a culture that not only his employees believe in, but his customers are attracted to. In less than 5 years Alan took his business from a 1-bay operation to a 7-bay shop that offers extraordinary benefits to its employees and a "WOW" experience his customers rave about. "Quality is not an act, it is a habit" and every aspect of Alan's business is high quality; including the German cars they specialize in.
Key Talking Points:
Alan sensed that there was something wrong with a great loyal customer when he presented her an estimate for tires

He discovered that he recently lost her husband and has a dog with cancer that put her in dire financial straits

Alan and his team agreed to not accept payment. He and his team agreed to provide his customer with all the services and not expect to be paid for them

Alan was happy to have the means to help her

He realized that he needs to budget for community and charity in instances like this

He is putting $10,000 into a budget each year. It is 1% of his sales
---
A special thanks to Alan Symmes for sharing his passion – For The Record.
Books mentioned in the content library HERE
Leave me an honest review on iTunes. Your ratings and reviews really help and I read each one of them.
Email Carm HERE.

Be socially involved and in touch with the show:
Facebook   Twitter   Linked In   Email    Events   Instagram   Speaking
---
This episode is brought to you by FlexCheck Auto Digital Vehicle Inspection Software.
Savvy shop owners use vehicle inspections to find additional work on a vehicle that the vehicle owner may not know is needed. The most successful shop owners fully inspect every car, every time. It benefits the vehicle owner more than the shop because most vehicle

owners want their autos to be reliable.
FlexCheck Auto takes the power of a shop's inspection process and puts it in the palm of your technician's hand so that pictures, video, and vehicle specific notes about a vehicle's condition can be shared quickly with vehicle owners. This simple, fully customizable system is designed to operate on any Android device. It improves technician efficiency in the bays, service writer efficiency at the counter, increases average repair order and builds trust with vehicle owners.
Today's vehicle owners want to receive their vehicles health status electronically, this makes FlexCheck Auto the most transparent way to do sell auto repair. Try it for free for 30 days! Go to FlexCheckAuto.com to learn more.
---

Download the Remarkable Results Radio listening APP for your smart device: