FTR 049: Tom Lambert – Discount Model Marketing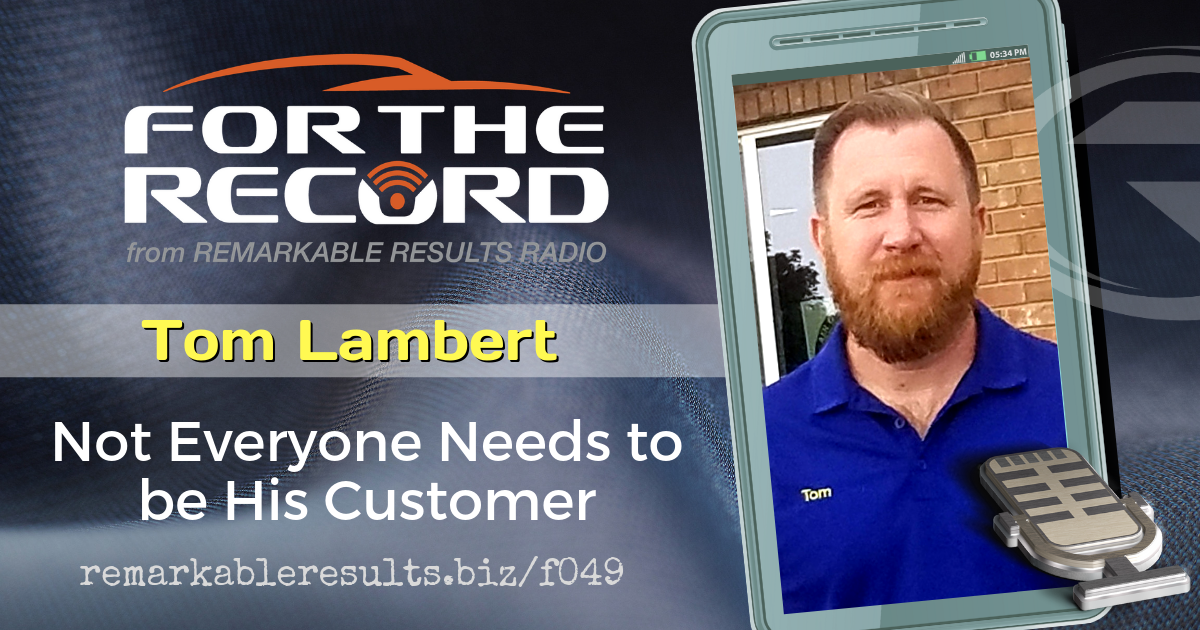 Tom Lambert, owner of Shadetree Automotive. Tom Lambert got his start right at home.  His dad and uncles always had projects going on in the home garage.  During the summer vacation, his dad would have Tom remove engines from the vehicles that were being sent to the local machine shop for rebuilding.
In the past three and a half years, Tom and his dad have made strategic adjustments in the business.  They are now a $2.5 million dollar a year shop with 10% annual growth and profitability. They continue to improve every day.  Tom says he has the best team and a strong culture. In January 2017 Tom bought his dad completely out of the business.
Tom struggled for many years because he had lost his passion for the auto industry.  After receiving all the guidance and coaching over the past few years, he is rejuvenated and has more passion than ever and is currently doing everything he can to pay it forward to other local shop owners. Tom's previous episodes HERE.
Key Talking Points:
Three Leg stool theory of marketing

Everyone wins: Team, Customer, Tom (the shop owner)

Tom's team is the largest leg on his stool

Take care of your team who will take care of your customers

Service advisor position is one of the most difficult positions

Owners job is to make everyone job easy

Provide the tools they need to get the job done and be successful

Se sets the vision and empowers the team

Marketing is one of the most important tasks to bring in the 'right' customer to keep his team busy

He markets himself as a higher price business than he really is

He believes he provides a great value to his customer

He has learned that everyone does not need to be his customer

He will refer people to the lowest price shop in town

Quality parts and how he pays his folks predicates his pricing

They market fun and they work to attract people who want that experience

They market to specific vehicle owners

A few makes and models that are more commonly knows that appreciate Tom's culture

He believes that the discount model is hurting our industry

The gaps between shops give the consumer the wrong impression that the margins are huge

Customer's perception is it

Problem most shop owners are only making a 4% Net

A $1,000 job the shop owner made $40 at a 4% net

A shop that maintains a 20% net profit will earn $200 on a $1,000 job

He is a bottom-up pricing shop to cover all his costs and then create his labor rate and parts margin

Go after the customer that fits your shop
---
A special thanks to Tom Lambert for sharing his passion – For The Record.
Books mentioned in the content library HERE
Leave me an honest review on iTunes. Your ratings and reviews really help and I read each one of them.
Email Carm HERE.

Be socially involved and in touch with the show:
Facebook   Twitter   Linked In   Email    Events   Instagram   Speaking
---
This episode is brought to you by FlexCheck Auto Digital Vehicle Inspection Software.
Savvy shop owners use vehicle inspections to find additional work on a vehicle that the vehicle owner may not know is needed. The most successful shop owners fully inspect every car, every time. It benefits the vehicle owner more than the shop because most vehicle

owners want their autos to be reliable.
FlexCheck Auto takes the power of a shop's inspection process and puts it in the palm of your technician's hand so that pictures, video, and vehicle specific notes about a vehicle's condition can be shared quickly with vehicle owners. This simple, fully customizable system is designed to operate on any Android device. It improves technician efficiency in the bays, service writer efficiency at the counter, increases average repair order and builds trust with vehicle owners.
Today's vehicle owners want to receive their vehicles health status electronically, this makes FlexCheck Auto the most transparent way to do sell auto repair. Try it for free for 30 days! Go to FlexCheckAuto.com to learn more.
---

Download the Remarkable Results Radio listening APP for your smart device: