FTR 053: Judi Haglin – Do You Know The Exact Source of Your Marketing Efforts?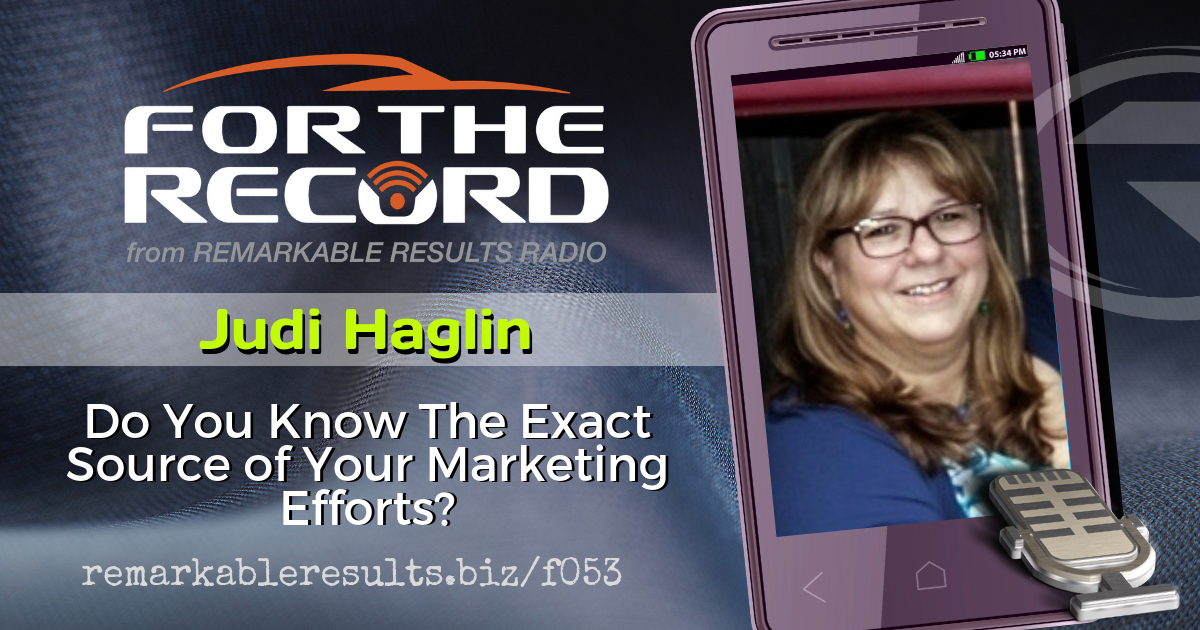 Judi Haglin and husband Dana own Haglin Automotive Inc., a full-service auto repair shop in Boulder, CO, and they've been leaders in the Boulder auto repair industry since 1981.
Judi and Dana have a super working relationship and they pay attention to details, share a core value; 'Everyone Speaks' that is part of their strong business culture.
They received Motor Age's Top Shop honor in 2015. Key to their success is they know their roles and together make a strong business owner. They say, "Fixing cars is secondary, we are primarily solving our customer's problems". Look for Judi's previous episodes HERE.
Key Talking Points:
Power over data is important to help move your business forward

Knowledge is great but implementation is most important

You must track your marketing source to evaluate your marketing ROI

How did the customer find us? Just ask. Enter in your POS system

Track number of visits from the original source.

Are your customers that you get from sources coming back for a second or third time. This is a critical part of understanding your investment

Judi believes if they come back by the 3rd time, they are a 'customer'

Your data will build up either acquisition or retention

Judi is making good decisions

Her online presence is where she should spend her money

There are no marketing silver bullets

Based on your demographics

Try many different things

Know your data to verify that your money invested will bring you a return. Best way is to ask your customer where they found us.

Know your one-time visitor percentage and the source of it. That will help you understand if you should keep investing in that source.

Frequency is very important

New customer percentage

Are you gaining 20% new customers a year.

Stat you lose 10% every year
---
A special thanks to Judi Haglin for sharing her passion – For The Record.
Books mentioned in the content library HERE
Leave me an honest review on iTunes. Your ratings and reviews really help and I read each one of them.
Email Carm HERE.


Be socially involved and in touch with the show:
Facebook   Twitter   Linked In   Email    Events   Instagram   Speaking
---
This episode is brought to you by FlexCheck Auto Digital Vehicle Inspection Software.
Savvy shop owners use vehicle inspections to find additional work on a vehicle that the vehicle owner may not know is needed. The most successful shop owners fully inspect every car, every time. It benefits the vehicle owner more than the shop because most vehicle

owners want their autos to be reliable.
FlexCheck Auto takes the power of a shop's inspection process and puts it in the palm of your technician's hand so that pictures, video, and vehicle specific notes about a vehicle's condition can be shared quickly with vehicle owners. This simple, fully customizable system is designed to operate on any Android device. It improves technician efficiency in the bays, service writer efficiency at the counter, increases average repair order and builds trust with vehicle owners.
Today's vehicle owners want to receive their vehicles health status electronically, this makes FlexCheck Auto the most transparent way to do sell auto repair. Try it for free for 30 days! Go to FlexCheckAuto.com to learn more.
---
Download the Remarkable Results Radio listening APP for your smart device: