Search results for: haglin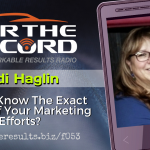 Do You Know The Exact Source of Your Marketing Efforts?
Judi Haglin from Haglin Automotive has a passion for numbers and marketing. She has a chance to set up why you need to track your marketing efforts and determine which give you the greatest return. She has a few great ideas on how to do it and why tracking and the numbers has helped her marketing investment pay dividends for her.
Listen and view episode notes