Localizing National Training [THA 156]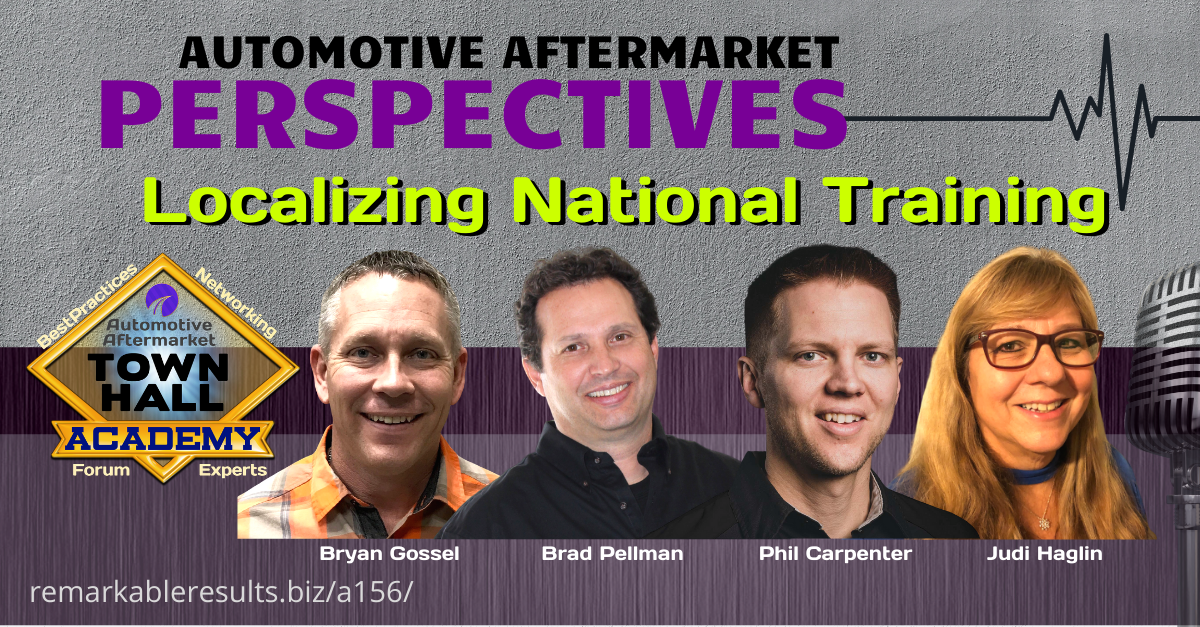 The Panel:
Bryan Gossel, BG Automotive, Fort Collins CO Brian's Previous Episodes HERE.
Phil Carpenter, Director of Operations, Urban AutoCare and Avalon Motorsports.
Judi Haglin and husband Dana own Haglin Automotive Inc., a full-service auto repair shop in Boulder, CO, and they've been leaders in the Boulder auto repair industry since 1981.
Judi and Dana have a super working relationship and they pay attention to details, share a core value; 'Everyone Speaks' that is part of their strong business culture.
They received Motor Age's Top Shop honor in 2015. Key to their success is they know their roles and together make a strong business owner. They say, "Fixing cars is secondary, we are primarily solving our customer's problems". Judi's previous episodes HERE.
Brad Pellman first started working in the automotive industry at the age of 15 and over his career has held a wide variety of jobs at both dealerships and independent repair shops. In 1995 this dream of owning his own shop became a reality when he opened up Pellman's Automotive in Boulder, CO with his wife, Lisa.
Brad is ASE master certified and AAM designated as well. He is currently on the Board of Directors for ASE and ASA Colorado, with past board involvement with CCPN and the TECHNET Automotive Council. He has had the added privilege of being designated as one of the Motor Age Top shops in the country. And hopes to continue to raise the awareness and importance of Independent automotive repair across the country. Brad's previous episodes HERE.
Key Talking Points:
Training is Maintenance
Why is the participation low at so many regional and/or national events
Listen to the commitment from Phil Carpenter as to the number of venues and how many of his team are going to matter how far including Vision, ASA Colorado Summit and STX
Localize training with your fellow shop owners. Don't call them competitors call them allies
Classes for technicians, service advisers and owners
The power of networking beyond the training
Build grassroots in your community and create a culture of sharing
Be the hand up not the handout. Give.
Also, be willing to receive and then implement a great idea. Don't regret for years not implementing
Realize that there is enough business for everyone. You cannot fix all the cars
A good shop wants the shop across the street to be as good as them
Same faces show up for training
When will shops hit the wall because they are not training? Many may have already
Bring in national trainers to your marketplace, get together with your allies and split the costs
Have all local competitors work together on training. There is no competition when it comes to the power and value of training
If you don't implement the key things you learn you just wasted your time
When you teach you learn
ADAS training should be required for all owners, techs and service advisers. Understanding the complexities and calibration routines will help communicate with your customer and respect the technology while working on an ADAS equipped vehicle
Asking for help is a sign of strength not weakness
Consider a training bonus at year-end
Pay for all training
Do not ask for a written commitment to stay with the shop after you invest in training
Find a close friend who owns a shop and work together as collaborator and an ally
Resources:
A special thanks to Bryan Gossel, Brad Pellman, Phil Carpenter, and Judi Haglin for their contribution to the aftermarket.
Books Page HERE
Leave me an honest review on iTunes. Your ratings and reviews really help and I read each one of them.
Listen to all Remarkable Results Radio, For The Record and Town Hall Academy episodes.
Facebook Twitter Linked In Email
Join the Ecosystem – Subscribe to the INSIDER NEWSLETTER HERE.

This episode is brought to you by Shop-Ware Shop Management. It's time to run your business at its fullest potential with the industry's leading technology. Shop-Ware Shop Management will increase your efficiency with lightning-fast workflows, help your staff capture more sales every day, and create very happy customers who promote your business. Shops running Shop-Ware have More Time and generate More Profit—join them! Schedule a free live demonstration and find out how 30 minutes can transform your shop at shop-ware.com