Don't Get Over-focused on KPI's Without Putting the Customer at The Center [RR 505]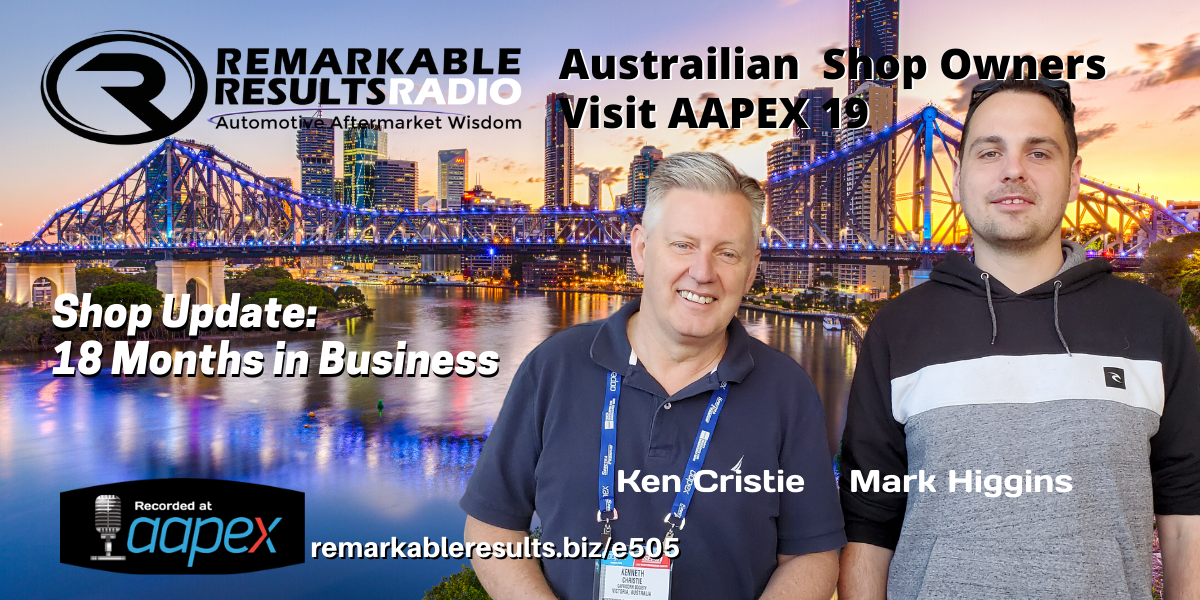 Ken Criste is the Chief Financial Officer of the Australian Bank division of National Australia Bank. In addition to this fulltime role, Ken is a passionate car owner and collector and has a 50% equity ownership in an Independent BMW & MINI workshop in Melbourne Australia "BM Performance Centre". This ownership with Mark Higgins blends his passion of cars with that of building and growing a small business.
He has an Undergraduate Degree in Banking and Finance from Victoria University, an MBA from Melbourne University and is a graduate of the Advanced Management Programme at Harvard Business School. His passions outside of work include snow skiing, car racing and vehicle restoration and spending time with his family. As a side note, his passion for skiing has led him to pass his level 1 and 2 Canadian Ski Instructor exams. Check Ken's other episodes HERE.
Mark Higgins is the Co-Owner of BM Performance Centre and is an experience BMW Mastertech. His experiences have brought him to New Zealand, US, and the UK. He is already in the business for 8 months and has set the roles and responsibilities of the shop. He has worked before as a workshop manager and a BMW Diagnostic Technician. Check Mark's other episodes HERE.
Key Talking Points:
Original episode 379
Review the new business success
Made a slight pivot and added VW to their specialty BMW and Mini.
The business has grown successfully
Mark had a friend who they brought in to do VW
Ken wrote the business case and he is happy with how it has turned outSales volumes are slightly higher than the plan and margins are slightly lower
VW volume is 50/50 in the last 6 months
Labor rate the same as when they started in the last 18 months $175
A 50/50 partnershipIt works by empowering the role and responsibility
Ken has had to learn to back off. He does the financials and has helped Marked learn it
Mark is still turning wrenches until he gets another tech in
They are starting to replay the equity they invested
The business has been cash flow positive without paying the rent to Ken
To grow their VW/Audi business they used a card drop and Facebook
Growth with an equity partner
Don't get overfocused on KPI's without putting the customer at the center
Resources:
Thanks to Ken Christie and Mark Higgins for their contribution to the aftermarket's premier podcast.
Link to the 'BOOKS' page highlighting all books discussed in the podcast library HERE. Leaders are readers.
Leave me an honest review on iTunes. Your ratings and reviews really help and I read each one of them.
Love what we do, buy a cup of coffee HERE.
Be socially involved and in touch with the show:
Facebook Twitter Linked In Email
Listen for free on Apple Podcasts, Google Podcasts, Spreaker, iHeart Radio, Spotify, Podchaser and many more. Mobile Listening APP's HERE
Join the Ecosystem – Subscribe to the INSIDER NEWSLETTER HERE.

NAPA AutoCare's PROimage program makes it easy for you to make the most of the NAPA brand. A PROimage upgrade lets you maintain your shop's identity as a reliable, locally-owned business while letting your customers and potential customers know you're partnering with NAPA, the most recognized and trusted name in the automotive aftermarket. AutoCare Centers that have completed a PROimage exterior upgrade enjoy an average 23 percent sales increase during the first year. You can also choose to go PROimage on the interior and transform your customer waiting area from merely utilitarian to warm and welcoming. You can even get a free look by visting www.NAPAAutoCare.com and clicking on the NAPA PROimage link under the NAPA PROimage tab. Of course, the AutoCare site is also the place to go to find out about all the advantages being part of the NAPA family has to offer.
Learn more about Pro Image and the hundreds of other benefits NAPA offers. Talk with your servicing NAPA store or visit www.NAPAAutoCare.com.