Aftermarket Acumen Part 2 – HR Concerns [RR 506]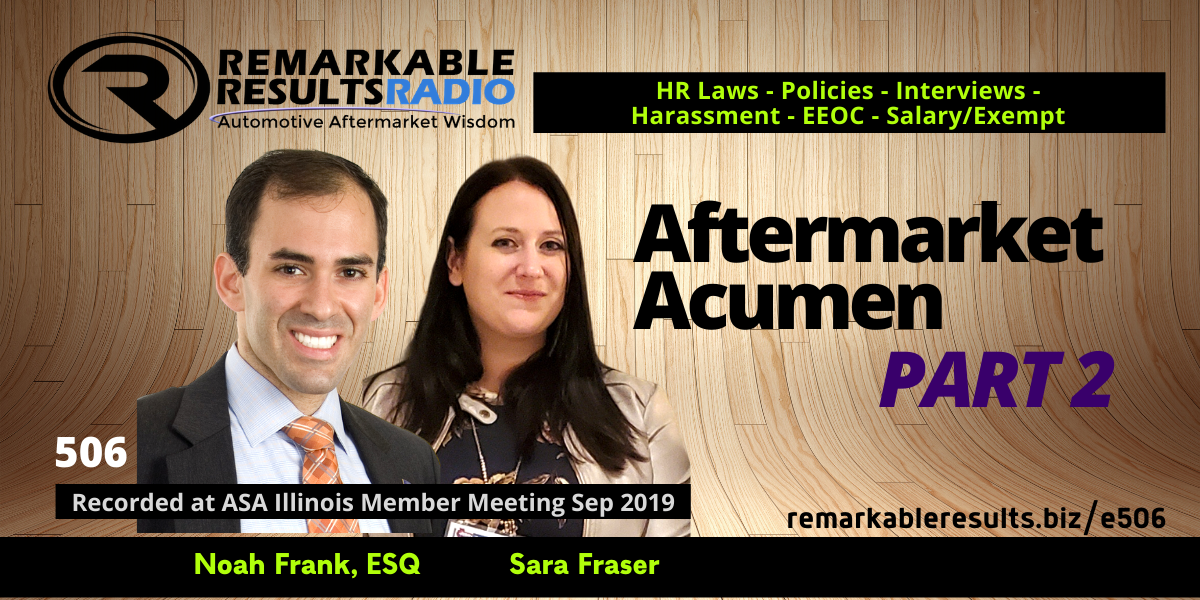 Sara Fraser is a millennial who has a love for life, travel, and connecting with other humans! She has over 15 years of retail management experience, the last 6 of them as an office manager for a used car sales and service center. To bring her customer service, marketing, and business knowledge to the automotive industry she has recently joined the team at Haas Performance Consulting.
Sara loves helping others grow and succeed and is excited to share her expertise on management and social media, her views on how and why the younger generations think and act, and how to work and manage a business within a multi-generational workforce. When she isn't working Sara spends her time traveling, attending theatrical productions, music festivals, concerts, advocating for human and animal rights, celebrating life in general and connecting with other people from all over the world. Look for Sara's previous episodes HERE.
Noah Frank, ESQ, enables businesses to excel under increasingly regulated and taxing environments while protecting them from harmful litigation. He is a trusted partner to a variety of businesses, such as manufacturers, professional services, restaurant chains, medical practices, importers, contractors, and closely held companies.
As a member of the Labor & Employment Practice Group, Noah provides practical and thoughtful advice, strategy, and solutions in a full range of employment, corporate, and workers' compensation matters. He provides comprehensive labor and employment counseling on compliance, policy implementation, and risk mitigation of wage and hour, discrimination, harassment, leave interference and retaliation claims, including under the FLSA, Title VII, ADA, ADEA, FMLA, OSHA, NLRA, Worker's Compensation, unemployment, and state and local laws.
He provides advice to cannabis businesses on their employment practices. Previous episodes HERE.
Key Talking Points:
Noah FrankNew laws in Illinois
No matter what state you do business in you can benefit from this discussion
You must know what you can and cannot ask in an interview
You have to protect all the information you receive from a job applicant.
Sexual harassment training in many states now have mandated training per year
Independent contractors in Illinois are protected. Check with your state
Classifying contractors and salary exempt employee
You must protect your employees from all form of harassment both internal or external
If the government shows up get your attorney
You can file an EEOC charge of discrimination online
If you get an EEOC complaint:Take a deep breath
Speak to the council that is competent in employment law
Reply in proper time limits
You can have a salary/non-exempt employeeAgreement with the weekly amount and an overtime rate if they work over 40 hours
Progressive discipline will support a solid termination
Consider support for a terminated employee into their next role with a severance agreement
Consider a PEO (Professional Employer Organization)
Sara FraserShe will not accept 'shop talk' at the workplace. Especially millennials
Resources:
Thanks to Noah Frank and Sara Fraser for their contribution to the aftermarket's premier podcast.
Link to the 'BOOKS' page highlighting all books discussed in the podcast library HERE. Leaders are readers.
Leave me an honest review on iTunes. Your ratings and reviews really help and I read each one of them.
Love what we do, buy a cup of coffee HERE.
Be socially involved and in touch with the show:
Facebook Twitter Linked In Email
Listen for free on Apple Podcasts, Google Podcasts, Spreaker, iHeart Radio, Spotify, Podchaser and many more. Mobile Listening APP's HERE
Join the Ecosystem – Subscribe to the INSIDER NEWSLETTER HERE.
This episode is brought to you by AAPEX, the Automotive Aftermarket Products Expo. AAPEX represents the $740 billion global automotive aftermarket industry and has everything you need to stay ahead of the curve. With 2,500 exhibiting companies, you'll see the latest products, parts, and technologies for your business. As a result, the event also offers advanced training for shop owners, technicians, warehouse distributors (WDs) and auto parts retailers, as well as networking opportunities to grow your business. AAPEX 2020 will take place Tuesday, Nov. 3 through Thursday, Nov. 5, at the Sands Expo in Las Vegas. Therefore, more than 48,000 targeted buyers are expected to attend, and approximately 162,000 automotive aftermarket professionals. They will be from 135 countries which are projected to be in Las Vegas during AAPEX 2020. For information, visit aapexshow.com