FTR 056: Justin Barrett – Hard Talk on Areas of Improvement for Independents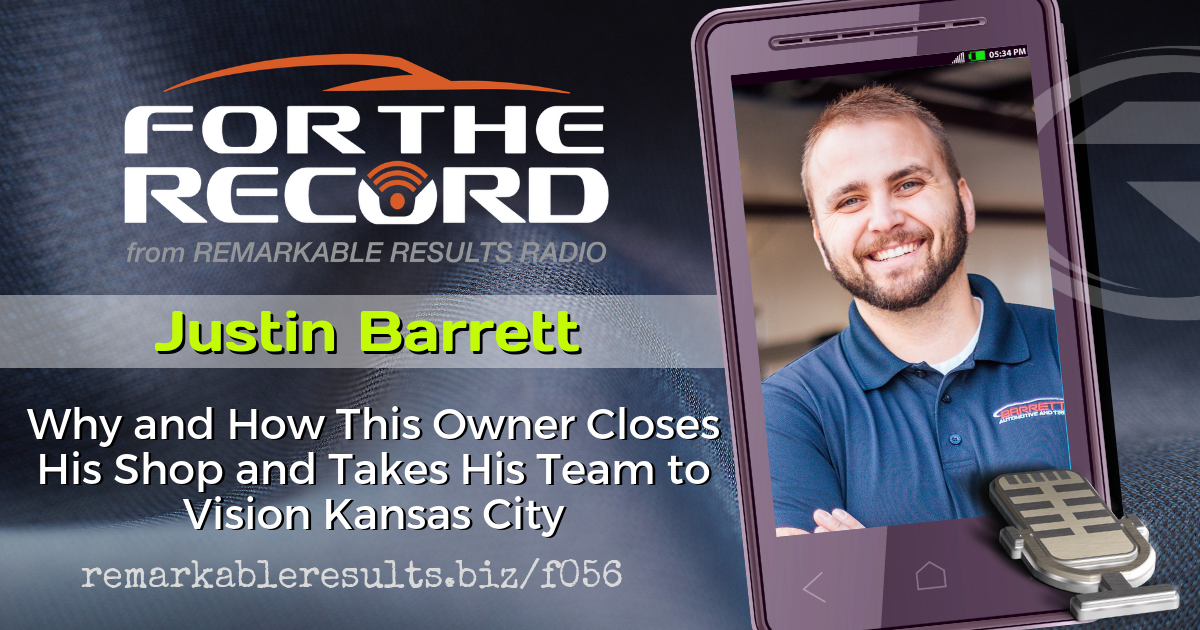 Justin Barrett
is the owner and operator of Barrett Automotive, Cornelia, GA. He is excited about the future of this industry with autonomous vehicles and the role the independent repair shop will play in that arena, and with the changing landscape how we are going to have to be nimble and adapt to stay relevant.
Leadership is something that is extremely challenging to him but rewarding when done right. He had some leadership failures and wins which are adding to his growth in that area. His biggest challenge right now is the same thing that he is working on and that is building a great team. In the last 18 months, he had gone from leading himself and one other to leading 6 and still adding to keep up with growth.  Find out more about Justin's episodes HERE.
Barrett Automotive Website HERE.
Key Talking Points
What does your customer expect from you?

Clean and Organized should be the rule  

Dirty and cigarette smoke doesn't make it today

What would be the customer expectations of this environment?

Your shop needs to be intentional on how it looks and smells to the customer

This develops trust and it starts in the lobby

Your customer will realize how much you care about their vehicle if you don't care about your facility

Your 'internal' customers also want a clean and organized facility

How will you attract top talent

Clean and organization is on purpose

Tech clean their bay at lunchtime and at the end of the day

The appearance of our technicians is also important

Our technicians are critical to the overall success of the company

Minimum hours of training for Justin's shop is 40 hours per year with 80 being a goal

Why aren't every training venue maxed out with 50,000 technicians getting training?

We close the shop to get the training required

Put a line item in your budget

Inspections are required for every customer

Customers appreciate this service

Helps minimize the visit of a tow truck to his shop with his customer's  car

When you start DVI you'll find so much wrong with the vehicle and you'll be nervous about quoting the most critical service needed
---
A special thanks to Justin Barrett for sharing his passion – For The Record.
Books mentioned in the content library HERE
Leave me an honest review on iTunes. Your ratings and reviews really help and I read each one of them.
Email Carm HERE.


Be socially involved and in touch with the show:
Facebook   Twitter   Linked In   Email    Events   Instagram   Speaking
---
This episode is brought to you by FlexCheck Auto Digital Vehicle Inspection Software.
Savvy shop owners use vehicle inspections to find additional work on a vehicle that the vehicle owner may not know is needed. The most successful shop owners fully inspect every car, every time. It benefits the vehicle owner more than the shop because most vehicle

owners want their autos to be reliable.
FlexCheck Auto takes the power of a shop's inspection process and puts it in the palm of your technician's hand so that pictures, video, and vehicle specific notes about a vehicle's condition can be shared quickly with vehicle owners. This simple, fully customizable system is designed to operate on any Android device. It improves technician efficiency in the bays, service writer efficiency at the counter, increases average repair order and builds trust with vehicle owners.
Today's vehicle owners want to receive their vehicles health status electronically, this makes FlexCheck Auto the most transparent way to do sell auto repair. Try it for free for 30 days! Go to FlexCheckAuto.com to learn more.