FTR 059: Greg Buckley on LYFT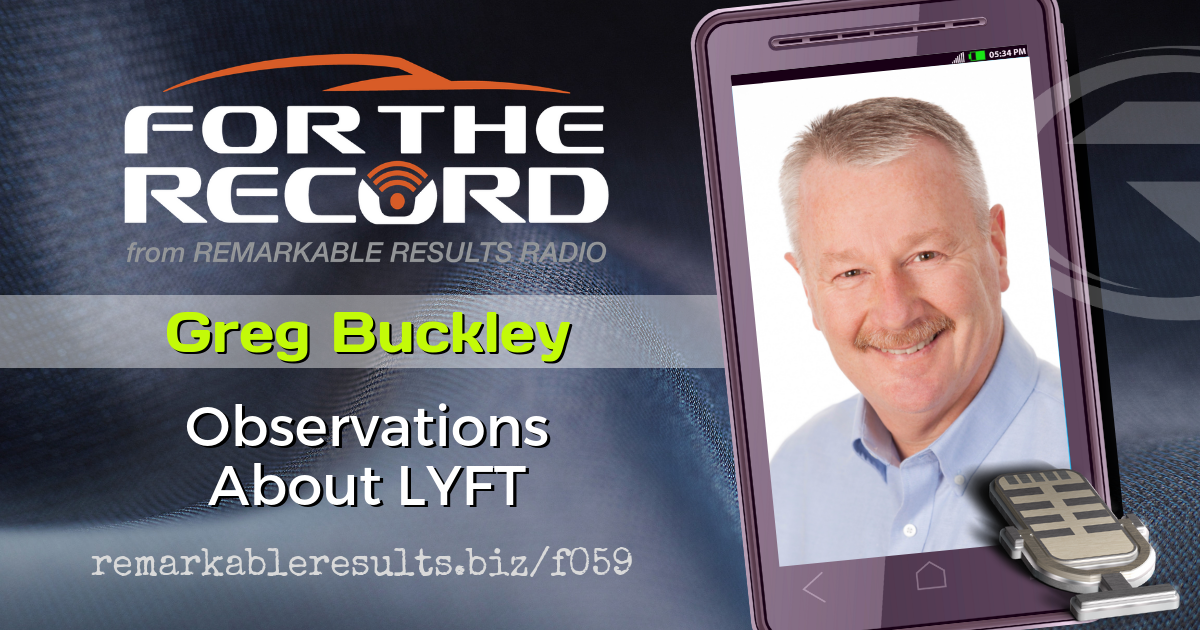 Greg Buckley is the CEO the 50 + year young Buckley Personalized Auto Care in Wilmington, DE. He's a member of ASA, an ATI Coach, a member of the Delaware Automotive Service Professionals, past member of the NAPA advisory board council, is vice-president of NAPA business development groups, and is involved as an advisory board member of Kukui, along with AutoVitals. Hear Greg's previous episodes HERE.
Key Talking Points
Lyft plans to start with 25 service centers around the country

Wanted to see the activity in the Lyft Service Center in Philadelphia

Plans to service the ride-share industry

Shocked about the volume that was going through this location. It was ¾ full

Reluctant to accommodate this marketplace in his shop

The waiting room was sparse but did have coffee and water

Observed a brake job being done and a detailer cleaning the inside 

GM has invested $500 million in LYFT

He observed discount cards from a dealership on the counter

Can independents bring in some of the ride-share maintenance business?

It is possible that the ride-share driver may not know how to extract the most value from their vehicle

Don't ignore this LYFT business model. They will become a fleet operator and pull volume from the market

Ask your customer base to help keep their ride-share vehicle safe and reliable
---
A special thanks to Greg Buckley for his contribution to the aftermarket.
Books mentioned in the content library HERE
Leave me an honest review on iTunes. Your ratings and reviews really help and I read each one of them.
Email Carm HERE.


Be socially involved and in touch with the show:
Facebook   Twitter   Linked In   Email    Events   Instagram   Speaking
---
This episode is brought to you by FlexCheck Auto Digital Vehicle Inspection Software.
Savvy shop owners use vehicle inspections to find additional work on a vehicle that the vehicle owner may not know is needed. The most successful shop owners fully inspect every car, every time. It benefits the vehicle owner more than the shop because most vehicle

owners want their autos to be reliable.
FlexCheck Auto takes the power of a shop's inspection process and puts it in the palm of your technician's hand so that pictures, video, and vehicle specific notes about a vehicle's condition can be shared quickly with vehicle owners. It improves technician efficiency in the bays, service writer efficiency at the counter, increases average repair order and builds trust with vehicle owners.
Today's vehicle owners want to receive their vehicles health status electronically, this makes FlexCheck Auto the most transparent way to do sell auto repair. Try it for free for 30 days! Go to FlexCheckAuto.com to learn more.