FTR 061: Bill Haas – Let's Not Make The Same Mistake We Made With R12 With Ownership Of Data? Let's Re-think This.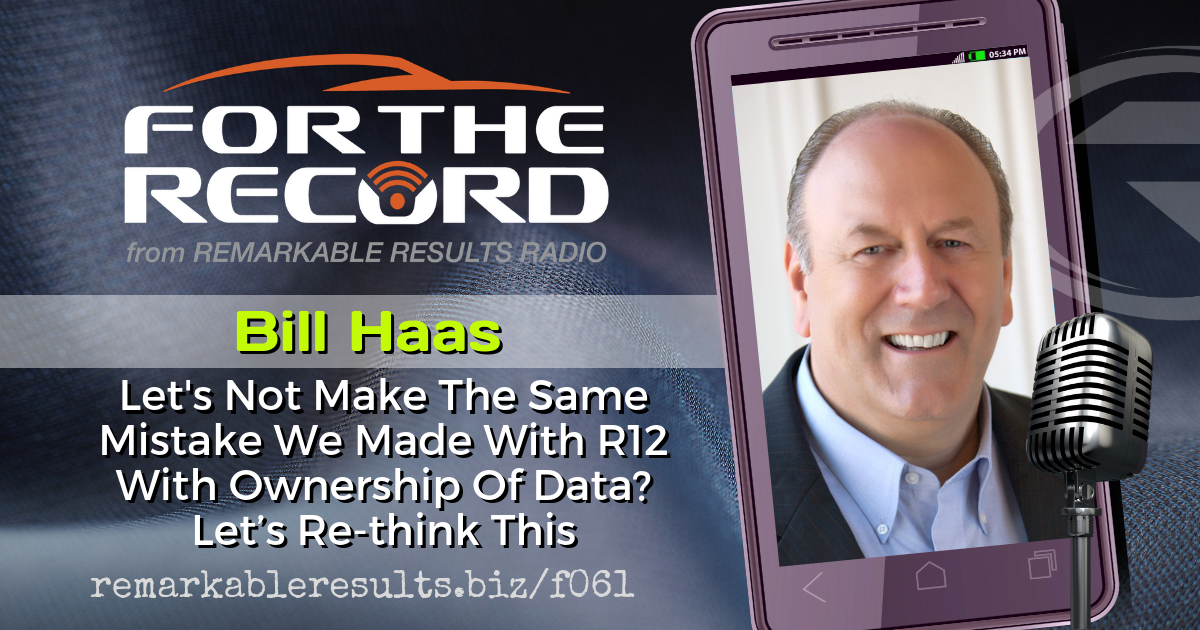 Bill Haas, AAM, is the owner of Haas performance consulting LLC, with 40 years of experience in the automotive service and repair industry. Clients have access to Bill's solution based focus, expertise, unique perspectives and in-depth knowledge of the industry.
Bill began his career working part-time at a full-service gasoline station in Appleton, Wisconsin. His career includes time as a technician, shop owner, technical trainer and on the staff of the automotive industry's oldest and largest association representing automotive service and collision repair businesses. While at the association Bill had the opportunity to work with all segments of the industry.
His knowledge of the industry has been shared on many occasions as he has been invited to speak at numerous industry events as well as providing testimony at hearings of the US Congress and several state legislatures on important legislation and regulation affecting the automotive industry.
Bill received the Accredited Automotive Manager (AAM) credential from the automotive management institute in 1996 and has been a member of the automotive management institute's faculty since 2002.
Bill is also the business manager for NACAT, the North American Council of Automotive Teachers. His services include business management seminar development and delivery, keynote presentations, business consulting, performance coaching, and strategic planning facilitation. Listen to Bill's previous episodes HERE.
Key Talking Points
Back in the day when R12 rose in price because of a tax, we had a chance to change who purchased refrigerant. 

Today the Clean Air Act requires all technicians who work on refrigerant systems who purchase refrigerant R134A and R1234YF in quantities of 2 pounds or more need a certification called 'Section 609'.

MACS hold these certifications

Anyone can purchase refrigerant in sizes below 2 pounds.

Bill says we missed an opportunity to take this product out of the hands of the consumer.

Since we are on the verge of the data issue; ownership, privacy, access.  Will we use this opportunity to be sure the 'right' people are qualified to vehicle data?

 What will the vehicle owner do with their data if they get access to it. Will they have access to repair ADAS systems on their own?

Who are the professionals going to be?

We could elevate the industry to a new level of professionalism by limiting who gets access to the vehicle data

They will need training, skill sets, and equipment to qualify access to vehicle data

Consider security professionals and their access to key codes. This template exists to take data access to the right people (definition to be determined)

We need to be proactive to be sure this is done correctly.

It needs to be supported by the entire industry. Across the board

United we can approach the OE's with a strong plan for data access

They may be worried about

liability

instead of taking all the work to the dealership.

They don't have the capacity to do all the work 

The data needs to be safe  
---
A special thanks to Bill Haas for his contribution to the aftermarket.
Books mentioned in the content library HERE
Leave me an honest review on iTunes. Your ratings and reviews really help and I read each one of them.
Email Carm HERE.


Be socially involved and in touch with the show:
Facebook   Twitter   Linked In   Email    Events   Instagram   Speaking
Subscribe to a free mobile listening app HERE.
---
This episode is brought to you by FlexCheck Auto Digital Vehicle Inspection Software.
Savvy shop owners use vehicle inspections to find additional work on a vehicle that the vehicle owner may not know is needed. The most successful shop owners fully inspect every car, every time. It benefits the vehicle owner more than the shop because most vehicle

owners want their autos to be reliable.
FlexCheck Auto takes the power of a shop's inspection process and puts it in the palm of your technician's hand so that pictures, video, and vehicle specific notes about a vehicle's condition can be shared quickly with vehicle owners. It improves technician efficiency in the bays, service writer efficiency at the counter, increases average repair order and builds trust with vehicle owners.
Today's vehicle owners want to receive their vehicles health status electronically, this makes FlexCheck Auto the most transparent way to do sell auto repair. Try it for free for 30 days! Go to FlexCheckAuto.com to learn more.