FTR 070 Tim Dwyer – Why You Need to be Involved in Skills USA or Canada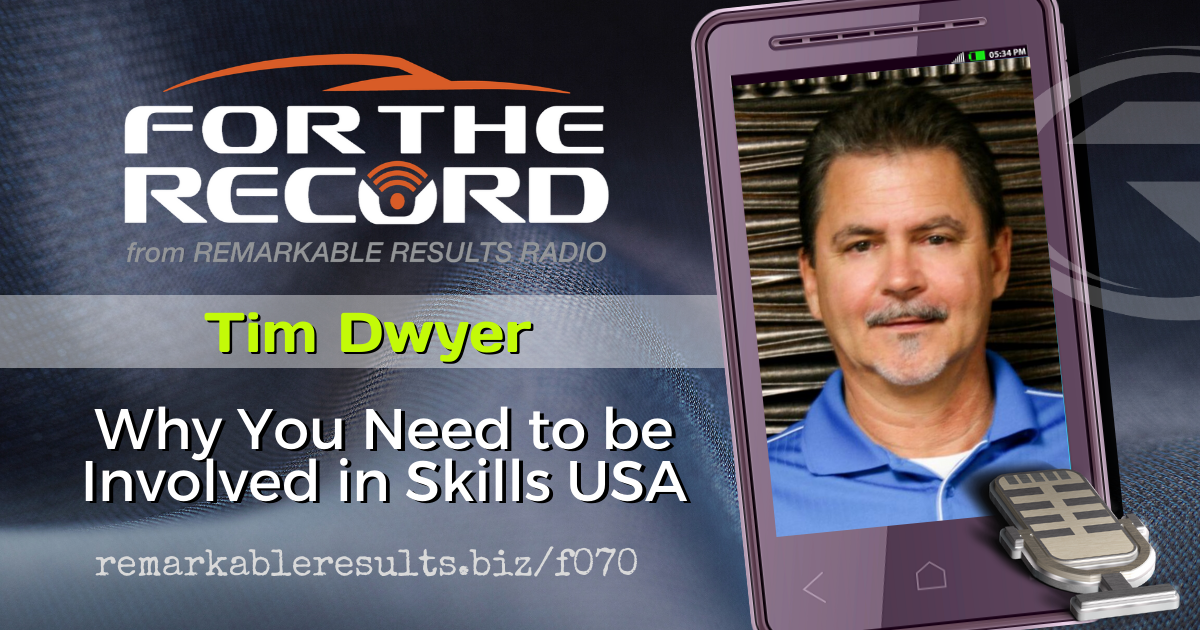 Attracting young people into our industry: Help to Take Skills USA to the Next Level 
Tim Dwyer is an automotive education specialist at ConsuLab, a manufacturer, and provider of automotive training aids.  After 25 years of ownership, he sold his business Superwrench Import Auto in Tulsa, OK to pursue a teaching career at Oklahoma State University Institute of Technology. There he helped start and instruct the Pro-Tech Automotive Internship program for 12 years. Hear Tim's previous episodes HERE.
Key Talking Points:
Skills USA Nationals has 103 different contests going on at once. It is all Career and Technical Education under one roof (CTE)

Perfectly placed  but mostly unrecognized by many in our industry

Skills  begin locally,  then through state and national

Over 20 football fields full of Skills test stations 

There is also a World Skills every other year 

Some countries offer award money and  lifetime jobs for the winners of this contest

$36 Million is spent to put on this event

GM donated a 2018 Malibu to the gold medal winner's program

We need to start bragging about these events that will help attract young people into our industry

Designing a skills contest:

Attention to detail

All stations need to appropriately challenging

Consistently repeatable

Have a real-world application

Equipment, tools, and information

Bond with parents and a reason to go to school

Skills show a career path

Instructors need to step up their game

Consulab supports Skills at many levels

As an industry, we must support this program

Volunteer to judge a local contest

Offer financial support to help pay for travel to the next level contests

Some state and local winner don't go to the next level because of funding issues

We should offer an additional celebration of excellence to all participants and the winners

Shops can promote Skills in their own network and community

This is a spectator sport
---
A special thanks to Tim Dwyer for his contribution to the aftermarket.
Books mentioned in the content library HERE
Leave me an honest review on iTunes. Your ratings and reviews really help and I read each one of them.
Email Carm HERE.


Be socially involved and in touch with the show:
Facebook   Twitter   Linked In   Email    Events   Instagram   Speaking
Subscribe to a free mobile listening app HERE.
Love what we do? Love what you hear? Buy Carm a cup of java. He loves his coffee.

---
This episode is brought to you by FlexCheck Auto Digital Vehicle Inspection Software.
Savvy shop owners use vehicle inspections to find additional work on a vehicle that the vehicle owner may not know is needed. The most successful shop owners fully inspect every car, every time. It benefits the vehicle owner more than the shop because most vehicle

owners want their autos to be reliable.
FlexCheck Auto takes the power of a shop's inspection process and puts it in the palm of your technician's hand so that pictures, video, and vehicle specific notes about a vehicle's condition can be shared quickly with vehicle owners. It improves technician efficiency in the bays, service writer efficiency at the counter, increases average repair order and builds trust with vehicle owners.
Today's vehicle owners want to receive their vehicles health status electronically, this makes FlexCheck Auto the most transparent way to do sell auto repair. Try it for free for 30 days! Go to FlexCheckAuto.com to learn more.